Our first summer of repairs with the Mac25
by Hal Streeter and Mary Moran
It was June 1997 and Mary and I felt the need to spend some time near the ocean. Instead of renting a cottage and have nothing to show for it at the end of the season, I rationalized it would make sense to purchase a boat. Although I have motorboats and some water skiing in my background, I have always been fascinated with the skills needed to sail and admired the non-invasive nature of using the wind to propel yourself along. I also reasoned that a used sailboat would be easier to evaluate and maintain than a used power boat. I knew seawater has a way of corroding engines from the inside out so why risk the uncertainty. Mary liked the idea and thatís all it took.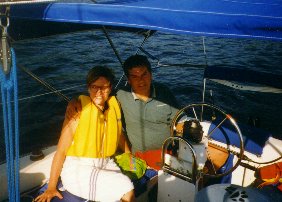 Without further thought I found a well-used Mac25 on the web at Havencraft in Sudbury, MA. The boat was old but the gel coat was thick and it came with an almost new 9.9 hp 4 stroke Yamaha with remote started. Plus, it had an Edson wheel. (I hadnít noticed any other Macs with a wheel) Stowed below decks and crammed into the head were an assortment of sails (Iíve since learned that is called sail inventory) and all kinds of custom fabricated cloth pieces and aluminum tubing that was possibly a bimini top. Beyond the interesting features and cosmetics the vessel still failed 12 of the 25 USCG Inspection points. But I wasnít worried and still knew it was an excellent buy. We purchased it within two days and trailered it home.
We spent a good month working on the boat. There was so much to do. I decided the first season only repairs, safety and functional items would be tackled. Non-essential improvements, instrumentation and interior luxuries will have to wait a season or two.
First we emptied out everything and discovered a pesky red ant nest below the cockpit floor. They had been living in and feeding off several old moldy 2x4ís. Then we started working on "the list". This included: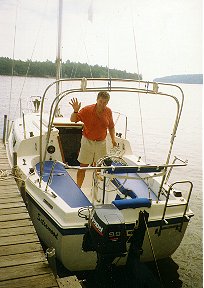 Replacing the bent prop shaft and propeller plus tuning up the motor.
Straightening out some bent steering arms inside the transom for the Edson wheel.
Rewiring essential systems damaged by an aggressive chipmunks or mice.
Rebuilding and enlarging the rudder which had suffered a propeller slice.
Repairing the ship-to-shore radio.
Removing all the black mold that had grown throughout the interior.
Figuring out an easier way to climb onto the boat while it was on the trailer.
Adding trailer brakes
As you know, the old Mac25 has a swing keel which means it sits up about 12-14 inches higher than more modern water ballast Macs. My brother had an old metal fire extinguisher ladder which we narrowed and shortened and welded into place at the tongue of the trailer. This ladder worked great! While I was at it, I cut the steel holding the tongue winch and moved the entire boat forward on the trailer by 2-3 inches because the weight didnít seem distributed correctly.
The trailer continued to be my focal point for several weeks. It did not have brakes and I calculated that my boat, motor, trailer and a full load of gear probably weighs 3200-3500 lbs. moving down the highway. Since my tow vehicle (í95 GMC Sonoma, V6 4x4) only weighs 3600 lbs. I didnít dare drive beyond 45-50mph for fear that I couldnít stop. This was unacceptable. Thank goodness for some tips from the Moane Club. My searching for a suitable brake retrofit kit led me to Champion Trailers in Lacombe, La. Within a week via UPS I had a new galvanized drop axle with backing plates, new surge brakes with drums, bearings, and a new Dico master cylinder with all the hydraulic lines. With some effort and a few Saturdays my conversion was complete. Now I allow myself to drive 55-60mph.
Three full seasons have passed since we brought "Setsamood" home. This past season we installed a Horizon Multimeter (depth and speed) gauge. Now we can see precisely how fast we travel which is a good measure of our sail trimming techniques. For the first time I noticed 8.5 knots several times last summer. Another important recent accessory was a cocktail table which attached to the Edson wheel. At this point we knew we were clearly in the non-essential improvements mode.
We have thoroughly enjoyed the entire process. Although we tend to launch the boat and stay in one location for a month at a time we have had an excellent time. While trailer sailing takes significant effort, planning and preparation we have always met many new friends and had an excellent time.