Seven days of great sailing or
Why, in the summer of 2000, it was great to be self employed
by Barbara Garland
We arrived at August 14 having only sailed 7 days on Champlain and 3 weekends. We were feeling the summer was mostly over and we had family commitments for the last two weekends in August and Labor Day weekend. The plan - to take any available days and go sailing - work could wait.
TRIP 1
There was a front coming through on the 16th to finally clear out the last 2 weeks of dreary rainy weather. We packed the boat and headed to Rockland Maine for 2 days. Visiting relatives took up most of Thursday, and we launched right before dinner. We sailed for about 2 hours and anchored in Rockland harbor for the night. There we planned our strategy - sail long and hard on Friday. The wind was out of the northwest expecting to turn on shore (southerly) in the afternoon. So we headed out of Rockland Harbor, past Rockland Breakwater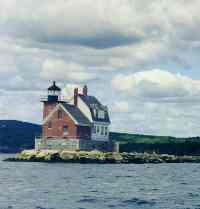 by Owls Head Light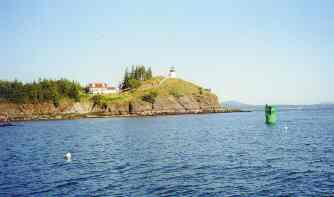 and down the Muscle Ridge Channel. The only negative was the current. The day was sunny and pleasant. The wind was 10 knots. The scenery was beautiful. By the time we got to Whitehead Island Light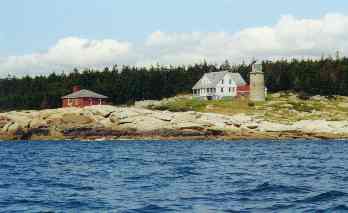 the wind had shifted so we beat the rest of the way to Tenants Harbor Light.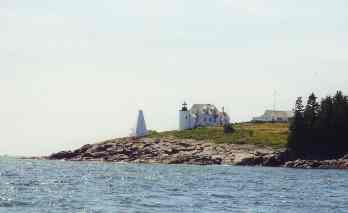 We sailed into Tenants Harbor. Distance traveled 13 miles. We are not people to spend time on shore. Our goal was to sail like crazy. So what did we do but head down wind, break out lunch and head back to Rockland. We arrived back at the ramp at about 4pm, hauled and headed home for a Saturday meeting. Total distance traveled in 2 days 30 miles.
TRIP 2
Come Sunday night, the weather report again looked good - front coming through and clearing out. This time we headed to our favorite ramp - Allen Harbor, Quonset Point Rhode Island. We started late and made a few stops so we didn't launch till noon. We sailed about 15 miles on Monday and a 25 on Tuesday. We got as far as Point Judith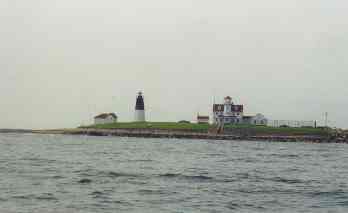 and could see Block Island,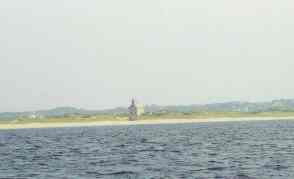 but the weather was going to turn bad so we headed home for a little work and again family obligations on the weekend.
TRIP 3
By now I was getting good at packing the boat up fast. We sat home for the best weekend of the summer - but - a front came through Sunday night so we were packed up to go early Monday morning. The boat was in the water at Allan Harbor at 10 a m and we were headed down wind toward Block Island. We've been there twice before. It's 5 miles off of Point Judith Rhode Island and most of the time it is a beat into a southwest wind to get there. The northwest wind after the front made the trip easy. We had logged 24 miles on our gps and were in the harbor by 4:30.
The currents around the tip of the island are strong and we were fighting them on the way out. Our plan was to wait till 10 o'clock to leave. (Any one who has sailed with Roger, understands how unusual that is) That way the current would be with us most of the way home We were hoping for a Southerly to take us home, but the front didn't move as fast as expected, so we were faced with a 20 knot northeast wind to beat into for the first 3 hours. Current and wind were opposing each other so by the time we reached Newport the boat was covered with salt.
The weather report was not good but we were reluctant to leave. We sailed into Allen Harbor, washed off a lot of the salt and hunkered down for the night.
We woke to a beautiful breeze Wednesday morning. We weighed anchor at 7:30 (much more like Roger) and got a good 2 hours of sailing in before the fog rolled in and we headed home. Before leaving Rhode Island we decided to drive down to Point Judith to see the sights from land.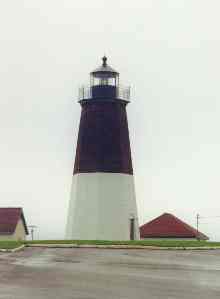 Total on the GPS - 60 miles.
The bottom line - 130 miles of sailing - by sailing 7 out of 14 days.
As I write this it is Sept 8 at 9 pm and the boat is packed ready to go tomorrow. We're headed back to Rockland Maine for 3 days of sailing the glorious Maine coast.