Little did Wendy know that a simple challenge on a beach at a Sandals resort in Negril, Jamaica would start a lifetime adventure. The challenge was to sail a Hobie Cat to an island in the bay and back. The pay off was we could buy a boat and get into sailing.
We both grew up with some boating experience and missed it . I had a few runabouts as a teenager and my neighbor would take us kids out for a day sail every now and then. Wendy sailed sailfishes on a lake but many times had to be towed back. Latter in life she enjoyed a family trip up the Long Island Sound to Rhode island for 3 weeks on her Dad's Pearson 36. Back in Jamaica the water was warm, the wind was mild and the seas just perfect. If  I didn't return the Hobie Cat by night fall the resort would come get us. So off to the island we went on a down wind run and then back to the resort with many  successful tacks.
Sitting on a piece of property we bought in Vermont was a 1970 Oday Mariner 19. It was covered with 5 years of decaying mulch. I found the mast under the trees 100s of yards away and the sails in the loft of the sugar shack. After we got back from Jamaica I went to work on that Oday. Armed with permission to venture into sailing and a boat that was as clean as it could get we tried out our skills on a few lakes in New Hampshire. That made us comfortable enough to trailer the boat to South Portland Maine for 3 days of sailing to celebrate 10 years of marriage. The first day was wonderful. Going out past the islands was a little scary,  but we blamed it on the small boat and the cool water temperatures. Besides our 80 pound puppy couldn't swim well.  The next day ended with a big scare as we approached the rocky side of the harbor and needed to tack. The jib sheet shredded in the keeper. We heaved too (didn't know that was what we did), I fell on top of the dog. Wendy saw rocks coming closer and I got out a knife to cut the line. Well the 3rd day was uneventful as we just motored around the bay to the launch area. Just as well we were tired from the walk to pick up the truck and trailer that was in the shop. Did I forget to mention we blew a bearing and lost a wheel on the trailer?
            The next sailing season came and our dog grew into a small Mastiff of 130 pounds.  While dreaming on Ebay I found what I thought to be our solution. A 1985 Macgregor 25 ready to sail and going cheap. At the last second I put in a bid and told Wendy I found a boat big enough for the dog. The Macgregor turned out to need a little less work than the Oday did. But it did need sails and running rigging but the sale of the Oday paid for that. First launch was Lake Champlain. Everything went together just fine and we had it all rigged in 2 hours (Yes we do have that down to under 30 minutes now) and down the ramp we went. We got out to the middle of Mallets Bay, which we thought was Lake Champlain itself, when dark clouds and heavy winds came upon us. How far can you heal in a MacGregor? That was enough for us we motored back in. That's when Wendy said we needed a cocktail and went below! I really expected Wendy to ask if I wanted tonic or not but instead she informed me there was more than 6 inches of water in the boat. I figured with the flotation and the gin we could make it back to shore and we did. Oh the weight on that poor trailer.
            Back on the internet, I decided we could rescue this dream with sailing lessons.
We looked at ones in Florida and then found better ones in Tortola. But they all cost more than the boat. But then a 7 day sailing coarse in St Croix showed up on Ebay. 2 day keel boat and 5 days basic cruising with two 40 mile crossings. A little more cautious in the bidding process I called St Croix and talked with the owners of Jones Maritime Services Kim and Rob. We knew instantly this was the right school for us They were very flexible with the dates and matched us up with another couple with similar experience. I checked up on their credentials and it turned out Jones Maritime were   part of Annapolis sailing school and were a US Sailing school. The price was right the course was designed to take care of our immediate needs and future dreams.
Our accumulated air mileage forced us to fly down to St Croix a week early. The Jones's recommended the Hotel on the Kay and introduced us to a great dive shop and great restaurants that filled up the week. Jones maritime services is a small marina at the end of the boardwalk of Christeansted. Its not a fancy marina but it is homey It consist of a single dock about 15 slips and a couple of moorings   There are transient slips, some liveaboards, the schools boats and a few project boats of Robs. The security system consist of 2 macaws and 4 coconut retriever dogs. There are people coming and going and thing happening everywhere. The night we arrived we were invited to a marina social that was hosted by the Joneses at the hurricane salvage cockpit and transom bar surrounded by Christmas lights.  I wish I never got rid of that old hull behind the barn! After a week of being island tourist Week 2 started with us and ship mates moving on to the schools 50 foot Gulfstar Ketch. This would be our home and class room for 7 days.   The first 2 days covered all the basics with a Keel boat certification. With a half a day reviewing the books that they sent to us way a head of time, we jumped in to a Rainbow 25. I knew they were serious about teaching sailing since there was no motor. Leaving and docking by sail were required skills and proved to be important to us in the future on Shelburne bay( but that's another story).
We mastered going in and out of moored and moving boats in a busy bay.  It was an intense lesson in tacking, jibbing and terminology. No more saying "right turn Clyde." We got to know all the parts of the boat and how they worked.  Suddenly at the end of our second day Rob Jones motored out  to us and told our instructor Mathew of incoming weather. We hightailed it back to the dock taking turns at the helm in building winds. That was just the lesson I was looking for. Well the winds kept building up to a steady 40 knots and the seas were over 12 feet. First lesson of basic cruising: stay tied to the dock when the weather is bad. There was plenty to learn about the gulfstar and big boat handling while at the dock.. After 3 days of rereading the books the winds died down to a mire 30 knots. Rob asked if we up to the challenge, and we set sail. 2 miles out the wind kicked back up and while we held our stomachs and hearts we headed back to Cristanstade harbor. Towering waves hit us from every direction while markers for the harbor kept disappearing. Christianstad harbor has a difficult entrance with reefs on both sides. Kind of reminded me of finding sandy beach on a rocky coast. Just bigger and more dangerous. Once we were safely tide up to the dock Kim and Rob announced that this was the first time in 20 plus years they had canceled a course. They immediately talked to us about rescheduling in the fall.
The following sailing season put our newly acquired knowledge to the test. Although we missed the NETS Champlain July 4 rendezvous we did get a number of days on Champlain. We confidently and comfortably navigated Mallets bay, Valcour Island, Shelburne bay and Thomson point bay. We had light winds and heavy winds a much dryer boat and a happier Dog. She learned how to grab the cheese of the bench while tacking!  With just a little sailing time at Jones Maritime and a lot of reading and quizzing we learned a lot. It was enough to make sailing fun again and we did a number of high 5s
Fall came and we put ALEGRIA in the barn for winter.  I called the Jones and gave them a date for the first week of December. They had 2 new classmates for us and informed us that we could take the Bareboat certification. We have never vacationed in the same place twice, not even in our own boat. Arriving at St Croix was like coming back to visit an old friend. At the Marina it took us 20 minutes to get down the dock with all the hugs and summer stories from the Jones and couples we met who live aboard at the marina. The Gulfstar 50 "VIXON looked great and this time we got the honeymoon aft cabin. The first night we all got to know each other. I think we got in little trouble for introducing Stewart to Cruzen rum but he recovered by morning. Our other shipmate Larry ,a local, moved in the following morning packing his own supply of Cruzen rum After that Captain Rob kept a careful eye on all of us. The first lesson was on provisioning the boat and how to pack things according to your plan. Water, Ice and Food for 5 days. This was far more involved than passing the cooler to Wendy after launching the Macgregor. With a stocked boat and a review of line handling we set sail to Buck Island just a few miles from the entrance of Christiansted harbor. What a feeling to be sailing the big boat leaving the harbor and not just looking at it. Sails trimmed and the motor shut down we sailed for just over an hour and arrived on the lee of buck island, a state park in paradise. Our first lesson on anchoring was a success. After a snorkeling the bay and inspecting the anchor we all helped to prepare dinner. Every night we took turns cooking and cleaning. After dinner we would read or watch instructional videos like " Safety at Sea" or "Pirates of the Caribbean"
With the sun working its way over St Croix,  we all enjoyed breakfast and a morning swim. Class started with an inspection of the engine and all the systems. While the diesel ran to charge up the batteries the class work started in the salon. With partners we reviewed charts and plotted a coarse for the week. With 5 stops given to us in the Virgin Islands we had to come up with directions, headings, references, depths, hazards, currents, wind directions, sail time and more. Both teams had close to the same results so we put our new skill to the test and set sail to Red Hook St Thomas.   20 miles out, half way across in 20 knot winds with 6 foot rollers Captain Rob said "see that fishing buoy we just passed? Lets do a man overboard drill rescue that buoy." What a fiasco that was but on the second attempt we got it. Later that week we tried man overboard 4 more times with each one of us at a different station. It still amazes me to how easy it is to maneuver a 50 foot boat.  Each outing we worked on sail trim, navigation and gawking at the beautiful surroundings of the Virgin Islands. Just when the water put you into a trance you would hear "Ready about" or "tell me where we are" or " What do you do when?"  After a few days we noticed we were coming into harbors and picking up moorings better than many of the other cruisers.
In Red hook we fueled up and added a few more supplies. From there we headed to Caneel Bay in St John. If you haven't been to the Virgin Islands and you love sailing, this is a must do adventure. It is a sailing paradise. Always good wind, gorgeous clear water, tropical islands always in view, unspoiled quiet bays with sandy beaches and sailboats everywhere.  All of the bays we visited had State park moorings that cost $15.00 to $20.00 if you stayed overnight. Granted it was early in the season but I was surprised that none of the bays were crowded. Cinnamon bay and Trunk bay had only a few other boats moored there. Going from the USVI to the BVI we had to check into customs at Soppers hole. When the captain dinged back with all our paper work done we went ashore for lunch. I can't believe I ate at the famous Pursers Pub and only had Ice Tea…we were still in school with more sailing that afternoon! While on the docks Stuart, Wendy and I checked out the charter companies. At the first office we told them about our schooling and pointed out the Vixon. After asking what they would lease us we were brought on board a 48 foot Catamaran and then were told we would be much more comfortable on the 55 footer. Captain Rob stood patiently on the dock checking his watch  so we had to give up the idea of the cat for this trip. From Tortola we sailed to The Bight at Norman Island. This was the only bay that had lots of other boats. Many of them were Moorings charters out for the weekend. The caves outside of the Bight are said to be the inspiration for Treasure Island. Inside the Bight there is another great attraction, the "Willy T" an old steel boat that has been converted to a restaurant and bar. The tradition here is woman get free drinks for jumping of the upper deck topless. Wendy challenged us to jump bottomless but with the light rain and an early evening we decided to pay for all of our drinks We enjoyed wonderful ribs, beer, music and people watching till 10 pm and then back to Vixon to finish our rum and tell more tales.
 Our last day was a 40 mile cruse back to St Croix, 2 tacks off Norman Island and it was a bee line back to Christianstad. Not a very straight line but we were on target. On our last morning on Vixon Kim Jones greeted us with our test.  The pressure was on since Kim had also arranged for Big John the taxi driver to take us to the airport for our 2:00 pm flight. We handed in the test, grabbed our bags and in a flurry of hugs we were on route to Vermont. Wendy said: Hey did you know Christmas is in 15 days!  I can't believe it, I was just on a boat in a bathing suit.
<![if !vml]>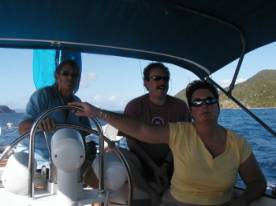 <![endif]><![if !vml]>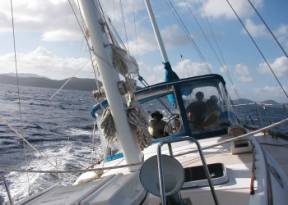 <![endif]>

<![if !vml]>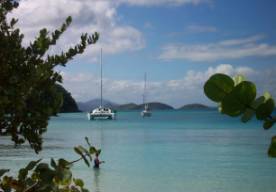 <![endif]><![if !vml]>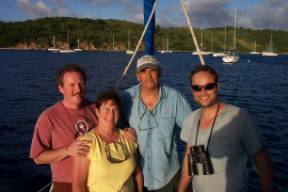 <![endif]>
<![if !supportEmptyParas]> <![endif]>