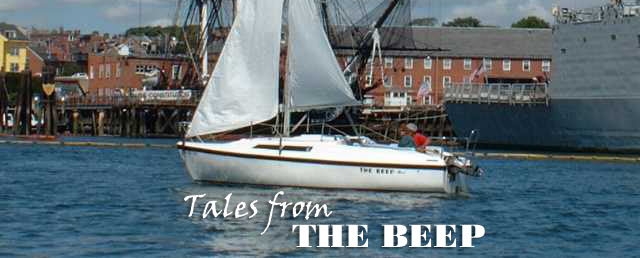 Installment #1: Champlain 2004

Go to home page
I'm a 1990 Macgregor 26s. My ownership history is not important but currently (for the last 7 years) I have been owned by Tony and that has been something to talk about. I'll save our first trip to Allen Harbor for another time but this last one to Lake Champlain (love it there) was one for the books. Let's go back to the Thursday, July 1st.
We were to leave at 5 PM but my mast had not been fixed from the accident the week before (still another story) and the methods and means used all week did not work. (If Tony would work a little harder and remove all the stays, etc., and just fix the mast it would have been done but no he does the quick fix). Finally the mast was removed from the boat and the Ford that tows me was used as a fixed point to bend the mast back into shape. But it was dark by now so tomorrow would be the take off day.
Well, Tony went to work for the morning and there I sat in pieces. Just after noon he returned and said the lights were fixed on the truck (4 trips with no trailer lights, but we do not have a license plate either [lost on some other tow]). He spent four hours with me getting all my parts back in place and filling me with fuel and water. Putting all the wine and stuff inside looks good for a trip tonight. One check of the lights (they worked) and it was off we go with just a stop to fill the tires with air. By 6:30 p.m. we were on the way.
We got to Willsboro about 10:30 p.m. and even with the party going on the boats anchored in the bay we slept the night away. In the morning Bob from Time Enough came in from anchor and helped us get in the water. While backing down the ramp he said my trailer fender was broken and it was rubbing against the tire, well that fender was new last year but I guess it just got tired. Tony put a bungee in it and we launched (this should have told me what was to come).
We did a little sailing with Time Enough then the wind stopped and we put the motor on and headed to Valcour to meet up with the other Mac's. Everything was great until we tried to slow down then the motor would just stop. Off The List was going by so she let us raft up to her and took us to shore where helpful hands got us in line. My motor was the talk of the beach. People and things came out of the woods and the motor cover was off, they were poking and prodding the motor and finally they put some spray in it then went to drink. A few hours later they still could not start the motor but tomorrow is another day and we were off the Burton Island.
Well, in the a.m. the motor still would not start and talk of the stuff that was sprayed in the motor should not have stayed there and things looked bad. Off The List said they would take us thru the bridge at the end of 'the Gut' so we were happy. After a great sail to the Gut, I never sailed better. As the bridge was opening Puff Stuff and I were the first ones there with the X's coming up quick. Tony felt macho after the good sail and chose to sail thru the bridge (motor would not start). I followed Taurus Two and somehow we made it (there seemed to be a lot of O S__t's said on deck as we went thru). Again the sail to Burton was great, this made for another good day of sailing. But I had to be put on a mooring and we had not done that without a motor. After macho Tony tried to get me close to the mooring just using wind with no success the dink from Puddle Hopper came out and took me to my mooring. Great fun and food and drink and song followed even with the weather getting bad.
Since we were staying on Burton for the day it was a good Idea to take the motor apart and fix it (at least Tony agreed to this some time after the 3rd bottle of wine). The crew at Burton towed me to the dock and then the group came all around me and whoosh the motor was gone and on a golf card to parts unknown. When it got back it told me that the owners of Off The List, Puff Stuff, Puddle Hopper, many interested on lookers and the Chadowitz boat (Cannot remember the name but at least no ch or r"s). Took it's heart out and blew air all over it then put it back together. It then worked like a dream. After they put the motor back in place we took off from the dock and went back to our mooring (a little help from the dink of Puddle Hopper). Now to settle in for a stormy night. Well, not just yet, as Tony pulled up the center board the raising line broke. A job for another day.
It was a great morning and we were off to Burlington. Great sail till Puff Stuff put up her spinnaker and went so far ahead of me, I have to get one of those that Tony can handle. I caught up with other boats and other then fun, food and drink it was a normal night but still no fix on my center board.
The morning was nice but the wind seemed to be decreasing. I left with Taurus Two and we took our time going back up to Valcour. When the wind quit the motor took over and at 4 knots we went along. Then the next problem came. Puddle Hopper's owner thought it would be funny to hit Tony with a wet sponge. Needless to say Steve has no arm the sponge went into the lake. After collecting it Steve did not give up and a soggy ball was next, again no arm.
But the idea was set for the water balloon fight. Tony got me anchored and set on Valcour then left me to get the other boats in boy there was a lot of them. Then it was my turn. The owners of Puff Stuff and Puddle Hopper were on my deck, Time Enough's owner was dragging me out to sea and Tony and the owner of Mental Floss were putting masks on to look at my under belly and fix the keel. It took about an hour or more but it got done, seems the in water crew, joined by Change of Heart owner, were cold and they seemed a little blue. Also the on deck crew tried to play a joke and say the wrong wire was cut Ha Ha nobody laughed but it sure got attention. Food, fun and drink followed (do you see a pattern here)
With all my parts back in order there was not much to do but have a water balloon fight. Chuck took the Lil Beep and bought the balloons, they were filled (great job by Don, Cheni, Al and others) and Don took them out in his boat and what a war. Fun was had by all. Somehow bucket got on some of the dinks and we all got wet. Most of the fun was at the beach where I was parked as the older people laughed and pointed. Off to Deep Bay in the morning.
Again the wind did not hold steady so it was motor and sail. The fire that night and the good talk made for The Beep a fine ending to a very eventful trip.
Getting Home:
After 4 and a quarter hours motoring into the wind I got to Willsboro where Time Enough was there to help dock. After 40 minutes I was all wrapped up and heading home. We passed Time Enough as they were having lunch at a diner. Then we were on 87 and it happened. The left rear trailer tire went flat. I sat on the side of the road as Tony tried to get cell service to call boat us. Then there she was Time Enough pulled ahead of me and had a spare tire that fit my trailer and we put the tire on and I went to a garage where a new tire was put on and I got to go to Time Enough's house where she was sitting in the driveway. We gave back the spare and got home with no other problems.
Note from Tony:
Thanks to all for the help. This is why we have a group so we are as close or as far as we want to be but right there when a problem occurs. Also I must say that the young people who were at Champlain were great. After the water fight with energy high when they were told it was over it was over and they just moved on to another fun thing. If you did not go to Champlain this year make plans for next year, many more things happened that were not mentioned (The Beep has selective memory)
The Beep
& Tony