The "Newbees" First Rendezvous
Nancy Sechman Writes about Firsts at Lake Winnipesaukee '2005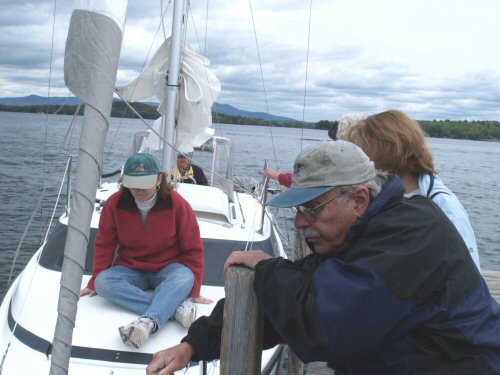 We made our way to Fay's Marina filled with excitement and with a bit of apprehension. After 7 years of talking about sailing a Macgregor, Harry's dream was becoming a reality. With all my innocence and faith in my man I saw this as a new adventure.
Roger Jones greeted us at the marina entrance and gave us directions to the launching area. He told us he would go and gather the others to help us with our first launch. Within 10 minutes, Barbara Garland, Chuck Healey, Al Hill and Roger were climbing aboard to help rig "At Ease". I stood on land numb and overwhelmed while Roseanne Carr (another newbee) took mental notes. Barbara kept asking me if I was watching so I could help rig the boat next time. Watching was about all I could do. I felt so unprepared. I knew I should have listened to Harry when he told me to learn the parts of the boat and their functions.
"At Ease" was soon launched and Al motored her over to her slip. Soon after, we all went to supper where Harry and I got to meet spouses and friends. Everyone was so down to earth and friendly. Over the weekend they gave us helpful hints from setting up the cabin to using cotter pins.
On Saturday morning, we headed to Weirs Beach. Being our first time sailing "At Ease", we were the last one out and remained last all day. At one point we were so behind, we radioed "Karamel" for direction. Later Barbara very nicely told us to "turn your motor on when you get that far behind". Of course I had been telling Harry to use the motor but, well you know guys.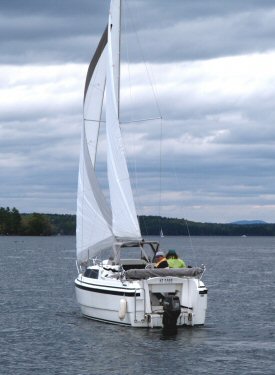 By Saturday afternoon, the rain had arrived and with that, cooler temperatures. Thank goodness we had brought a ceramic heater. On Saturday night, we went out for diner where more sailing stories were shared. I had one of my own. As we were coming into the marina that day it began to rain. Harry asked me to "hold the steering wheel "right there" while he took down the main sail. I didn't understand that he meant, "Right there, in this direction". I thought he wanted me to hold the wheel in place. Needless to say, "At Ease" started to go in circles and Harry's cap fell into the water while he was holding on the mast for dear life. Barbara told me we should have done a "Man Overboard" drill to go after Harry's cap. I told her I ran over it.
We woke up Sunday morning to the sound of raindrops. Keeping warm with our heater, we sat in our cabin sipping hot coffee and having breakfast. About eleven o'clock, Karen and Al Hill came aboard followed by Barbara, Roseanne, Roger and Chuck. They needed heat and we had some. Of course with eight people aboard we generated our own heat. Who needs a heater when you have friends?
In between the rain, we decided it was time to go home. Since Chuck wasn't leaving, he helped Harry derig. He and Al helped us get "At Ease" onto the trailer and prepared for travel.

On our first rendezvous we experienced sailing Lake Winnipesauke, engine trouble, rainy weather and most important, meeting good people who willingly shared what they love to do…sailing.
Nancy and Harry Sechma
At Ease