Winnie Rendezvous 2005
By Roger Jones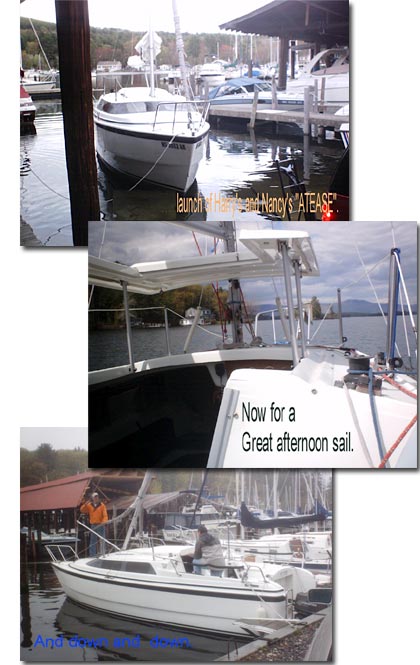 The Winni Rendezvous for 2005 was a success. Four boats and two crew arrived on Friday from noon to 4:00pm. We had a great time setting up first timers Nancy and Harry Sechman's boat. They are the third owners and the first two apparently didn't know what they were doing and gave up. By the end of the weekend Nancy and Harry were well informed and ready to go to Allen Harbor on June 10, 11, and 12
Roseanne and Roger crewed with Barbara Garland as neither of their boats were ready for the weekend. Roseanne Carr and her husband plan to be at Allen Harbor with their new boat now that Roseanne knows the ins and outs of rigging it.
Chuck and Helen Healey led the group to the best restaurants in town and daughter, Brianna, kept us up to date on her dance activities. We had two nights of great eating. The first restraint stayed open until ten o'clock to accommodate our gabbing.
Karen and Allen Hill brought us up to date on their Florida sail and showed us just how to live for and extended time on a Mac X. While sailing on the lake Saturday Douglas and Wendy Bejarano joined us. We had very nice weather and steady winds for our sail to Weirs Beach where we walked around enjoyed the sites and ate lunch. On the way back Barbara Garland showed us how to make the Mac 26D sail itself. As usual she sailed circles around the group of us. We got back by 4:00pm just as the rains started.
By 7:00pm the boats were tucked in for the evening, Doug and Wendy were waved off to their home in Vermont and we settled down to a wonderful dinner in an expensive restaurant.
We hustled back to our boats and me to my van for a sound nights sleep by 10:00pm. Rain drops lulled us to sleep all night. By Sunday morning we were tired of rain drops but they were not tired of us. We could see there would be no sailing that day so we read, gathered together for tall stories, and sang happy birthday to Harry. By mid afternoon we had retrieved all the boats and were off to our respective homes. I had a great time despite the weather and I think everyone else did also.
A big thanks go to Barbara, Chuck, and Al for all the help and instruction they gave the rest of us. In total we had five boats three crew and twelve people in all attending.
Roger Jones
Note: Lesson learned from Rick Dieffenbach, Lady-in-Red 26x. I arrived at Winnie on Thursday. When I launched the Lady, I discovered that the dealer who replaced my steering cable last fall had hooked things up backwards. It was an exciting two minutes while I maneuvered in close confinement to other boats trying to figure out why Lady was moving the wrong way! So, we left Winnie and returned to Maine.
Lesson Learned: Be prepared for life's twists and turns. You never know when a right turn will take you left, and visa versa!