The Commodore's Comments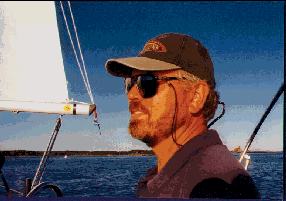 Bruce Foshay, s/v Charis
March-April 99

Level of involvement

Thank you again for your support. I am now well into my second year as Commodore. Last year brought some interesting changes in the way meetings were conducted, rendezvous were run, and what level of involvement is acceptable. Our organization demographics vary widely, while MOANE was established as a trailer sailor and particularly a Macgregor owners group, we have always held membership open to all sailors. This has proven itself to be the case through the history of the club. Some of us do not own now, in some cases have never owned trailers, an increasing number of us are no longer sailing Macs. In fact some have gone to boats that cannot fit trailers, but they remain members and the camaraderie continues to live and thrive. This is possible because everyone gets something valuable out of the organization regardless of his or her level of participation. That is success. We run a number of rendezvous during each sailing season, all over New England. Although there is a fairly regular "core" group of sailboats that show up this group is growing. Those of us who are "water locked" some do not despair you too can participate in rendezvous by planning one in your area and have the others come to you, or you could make arrangements to crew with someone. In the past Pam and I always felt that we should knock ourselves out to be at every rendezvous and have since learned a lesson. Due to all kinds of schedule reasons including simultaneous rendezvous in different sailing areas, we missed several in 99. As your Commodore and Cruise Captain we felt bad and thought that you folks would criticize this situation, well guess what everybody understood and the only people hard on us for this were ourselves. You taught us that you had learned one the lessons we were taught in Annapolis Sailing School. When all else fails just say "Oh Well" and move on with life. The lesson here is that your level of involvement is up to you, you can sit back and observe, participate a little or a lot, but how connected you feel to the group and how much the group benefits from your experiences is directly proportional to your personal involvement. Donít settle for being just an observer jump in with us the "water" is fine.

The Jibsheet

Nothing has proven itself to be as effective a method of communication as the written word (this statement will surely cause some arguments to be put before me but I am convinced that this true). Within MOANE this is definitely true. We began with a simple one page letter (a very successful one too). Then came the call for a newsletter in order to communicate to the first dozen or members. The early newsletters were often one page in length, sometimes two pages. When they arrived everybody was happy to have a vehicle through which they felt connected to new found friends (remember those were the days when out of the total membership 5-6 of us had computers, e-mail something called and "on line service". You know, when the big battle for subscribers was between Prodigy and CompuServe. At that time few of us knew really how to utilize these tools let alone anticipate what they would mean to us today). The JibSheet, along with the club evolved and changed considerably to become a multi-page impressive looking document. But no matter how good the editing and layout and design is, there was still a mad scramble every month to come up with articles and photos. For a volunteer organization to produce such and fine communication device was becoming a full time job. This year marks yet the next step in the evolution for MOANE the JibSheet. With nearly 90% of the group having access to e-mail, the World Wide Web and knowing how to use both, we are ending this decade entering ourselves into the communication method of the early 2000ís. Yes MOANE has now joined 10-11,000,000 others by setting up our own web-site. The intention is that the JibSheet is now more accessible to the entire club and around the clock. This however does not solve the issue of those members who are not "connected" yet, for them there will still be a abbreviated paper mailing. Nor does the web site solve the issue of our need for articles. Check "your" web site now and see what I mean.

Write Something

Well here we are ending the first quarter of 1999 and Iím just getting around to writing my first message of the year (with prodding from our webmaster Roger Garland). During this last year only enough material was submitted to support the issue of four issues. As is demonstrated by myself, everyone loves to receive information from the club but not many of us actually take time to write something. Why is that? Well I suspect that I know why that is; "I donít have enough time, Iím not a writer, I donít spell well, My grammar is not as good as I would like it to be, Iím shy, I donít have anything to write about, I donít have a computer". Well, I too suffer from "life in the 90ís, too busy, no time, Iím not a writer (I bet you figured that out by now). I donít spell well (I do have "spell check"), My grammar (Well I have a super editor at home the MOANE Cruise Captain; note that she left this section alone, see what I mean?). Iím shy (well okay maybe you got me there, no comment), I donít have anything to write about (youíre alive, you own a sailboat, you sail, maintain and repair it, some of you even tow itÖ). Finally, I donít have a computer (well talk to Ron "Hemingway" Judson it didnít slow him down before he got his computer. He has produced very good articles, and thankfully, he has very good penmanship though).

Tell a Story

What I was told to do when trying to write anything is to pretend that you are talking to friends about the subject. Then write as you would talk and rest will take care of itself. So what are you waiting for, tell me a story!!!

Fair Winds from the cockpit of Charis,

Bruce Foshay

Commodore MOANE

Next Month Letís Talk Sailing Safety! Spring is upon us.