June 2-12, 2006
Manicouagan Lake
Memory Bay Expedition
Quebec, Canada

This trip has been several years in the planning stage after seeing a PBS special, showing a photo of Manicouagan Lake, taken from the Shuttle and Space Station from high above in space. The lake was formed from a meteor impact about 214 million years ago. The lake has depths of over 1,000 feet and an island, 60 miles wide in the center.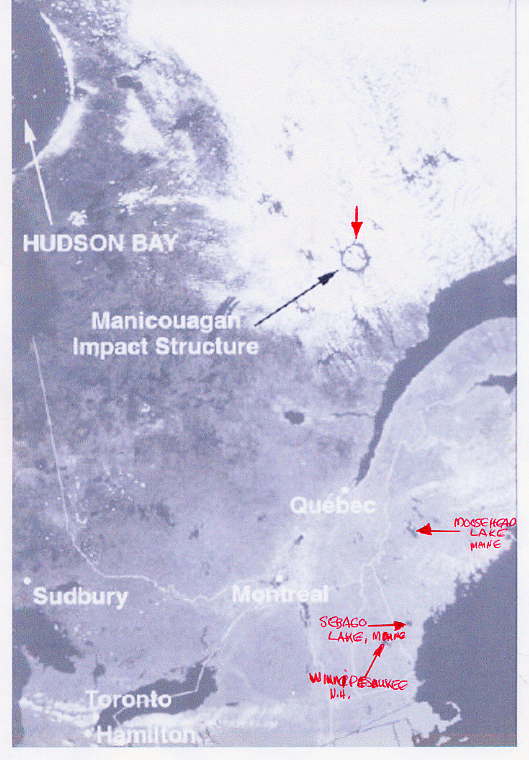 Shuttle picture of Manicouagan Lake

In preparation for the trip, I collected maps and information about the lake and added a Garmin 3010C Chart Plotter with XM weather, since we were going to be far from any radio reception. This is an amazing system and worked flawlessly the whole trip, on the lake and on the road, and we used it to do our own weather forecasts, accurately. We also rented a satellite phone in case of emergency.

A 14-hour drive to this area three years ago grew to 36 hours in length now with towing the boat up over steep hills and down inclines, around hairpin turns, on gravel roads, and on guard for the occasional wandering moose. We crossed the St. Lawrence at Matane and reached Baie-Comeau. From Baie-Comeau to the Manicouagan Dam, the road is paved; thereafter, it's all loose gravel. The extreme dryness of the area caused fine clouds of blinding dust particles to envelope us whenever another vehicle passed us. The trailer fenders suffered numerous dings to the paint from flying gravel.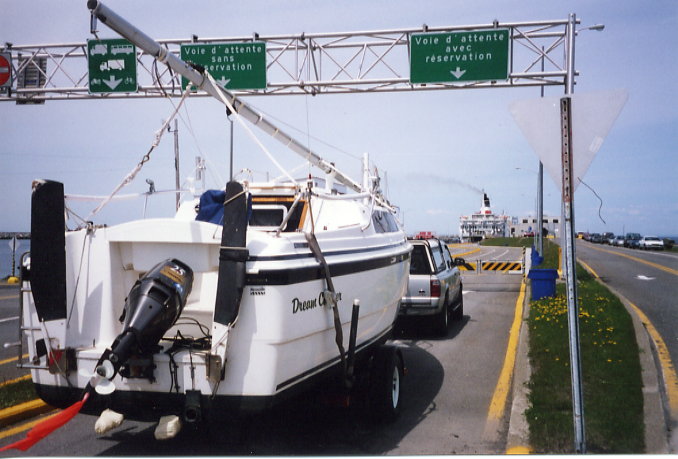 Dream Catcher at Matane Ferry Quebec to Baie Comeau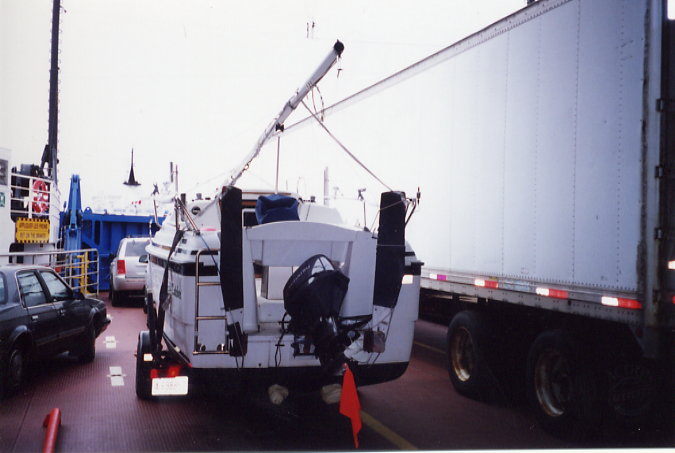 Dream Catcher next to truck on Matane ferry

Prior to leaving Maine, I had discovered that access to this lake is severely restricted. Fortunately, the owners of the Boreal 51 Camps (Lise and Jean-Marc) contacted me at the last moment. They made arrangements for us to launch at the only private boat launch large enough to handle the Mac. Lise and Jean-Marc showed us the way through the maize of islands to the main lake, and I plotted waypoints and compass bearings for our return trip. The crossing was impressive. With no houses, cabins or boats as a reference points, it seemed we weren't moving at all, but then as we got closer, the cliffs seemed to loom up faster.

After crossing, there was no wind for several days so we decided to at least explore the Memory Bay area on the central island by motor. This bay is comparable in size to Moosehead Lake in Maine. A great portion of the land has been declared a wilderness preserve and is off limits to human foot traffic. The Montagnais Indians have been given the power to oversee this area, their sacred homeland.

Our GPS showed a river near the end of Memory Bay that looked as if it might have a pool and waterfall and hills to protect us from the winds at night. After passing spectacular cliffs at close range that were caused by the meteor impact, we were astounded at this mix of molten rock that had occurred in ages past. As we motored in very slowly while monitoring the sonar, we were greeted to a glimpse of a beautiful waterfall tucked around a corner in a river, which entered into the bay. There was a large pool in which to anchor, and we lucked out finding a large sunken tree stump that we were able to tie to, and then we put out a stern anchor to hold us solidly in place.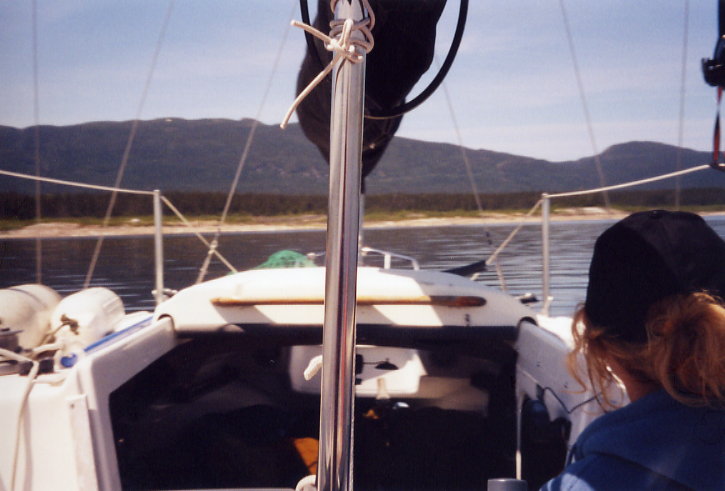 Heading towards Mount Babel peak

We settled into living on the water and took of our chores, such as filtering water for our consumption and pumping up the raft to use to fish near the falls. We retired to the comfort of the cabin at night with a Coleman lantern for heat. The opening porthole companionway door I made worked well for ventilation and kept the humidity out of the cabin. We also enjoyed the heat and light from the Atlantic Oil Lamp that we had installed, which on cool nights added just enough, to keep us toasty.

For entertainment, we joked about watching the "fish channel." Our 3010C sonar would beep when any fish passed underneath us, which was quite frequently. Then we would take a serious look at the XM weather, and it was very reassuring to be able to see what was over the horizon and heading our way. Other nights we would enjoy music over the XM radio or on the CD player. The 3 AM, sub-arctic sunrises were a bit hard getting used to, but the curtains that Jamie made came in very handy to block the light from the short nights.

With the continuing lack of wind, we motored around and up to the head of Memory Bay to look in awe at the spectacular geology found there. We explored the eastern side of the bay and checked out some rivers we found there and collected a few mineral specimens from the non-reserve land. Fishing was great. We caught and released many lake trout, waiting instead for a more sought after prize: a landlocked salmon. We were not disappointed, and it was delicious.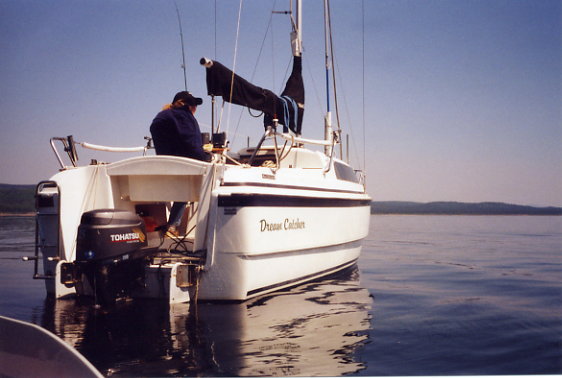 Dream Catcher

After meeting Lise and Jean-Marc at their base camp dock, on our return, we spent our last night on Manicouagan at their dock, and the next morning we dropped and secured the mast for the return trip home. They aided us in getting the Dream Catcher back on the trailer and we bid them farewell and many thanks.

The ride back to Baie Comeau was a bit easier and we spent the night in the boat at the Baie Comeau, WalMart parking lot. The next morning, after a run to the nearby Tim Horton's for coffee, we opted to head for the Saguenay River Ferry crossing and then on to Saint Simeon, to cross back over the Saint Lawrence River on a ferry there. Now we had off and on rain all the way home, but the trip was smooth.

It was a fantastic trip and as all good trips, way too short.

Now its time to look over photos and videos we took to relive the journey and be so thankful to have been able to see this rare and unspoiled remote wilderness.

If anyone would like to contact us for further information, don't hesitate.

Our email address is :

allenmeguide@fairpoint.net

Sincerely,
John & Jamie