&nbsp


26D Dessert First
Tom Frew

Bow Net
This is a shot of the monkey hammock made to fit the area above the v berth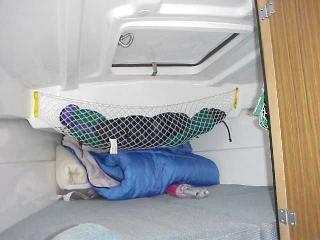 Bow Storage
I enlarged the access hole and reinforced it with 1 1/2 X 1 1/2 inch wood cut out to allow the hatch to lay flush with the v berth "deck". I also supported the "deck" with 1/2 inch plywood bulkhead foreward of the new access hole. The floatation removed from other parts of the boat is in a plastic bag foreward of this bulkhead.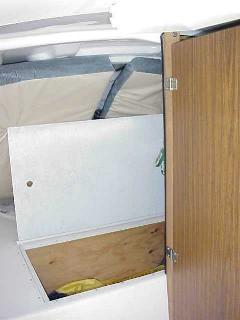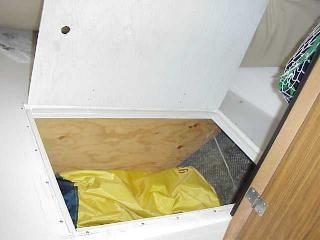 Dessert First
A picture of the boats name, made by a local sign maker. Also the electric start outboard that my wife loves.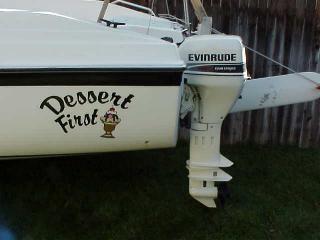 Galley storage
Modifications to the galley area include removing the propane stove the previous owner installed and covering the hole with a finished plywood top with a hole custom fit to an ice chest for day sailing. There is a silverware bag hanging on 2 inch diameter suction cups, curtains, radio/cassette deck, storage compartment next to the chronometer (a Christmas Present last year from my First Mate!).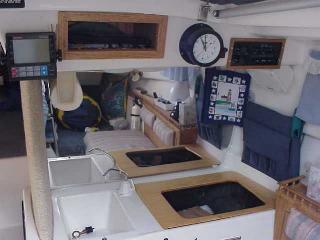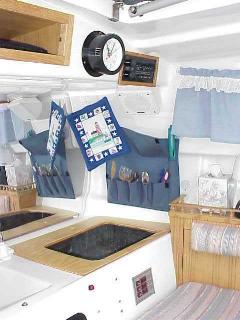 Head
A view of the head showing blue laundry bag, pinrail shelf for TP, chemicals, toilet kits, etc. Also a hanging "medicine cabinet".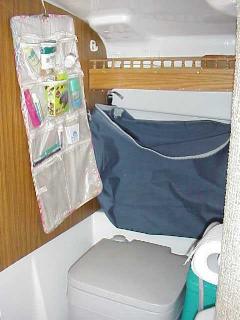 Looking aft 1 and 2
View of interior port and starboard sides Plate Storage Sheet Block access The previous owner put swivel sheet blocks/cleats on the combing top and opened up an access/storage area under the combing. Also note the neat plate rack. This idea was stolen from Windbarry, I think.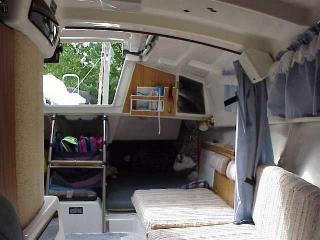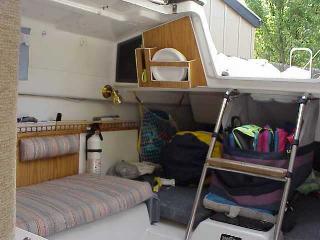 Privacy curtain
A simple curtain with hook velcro that sticks to the carpeted daggerboard trunk to hold it closed. The track was purchased at a RV shop.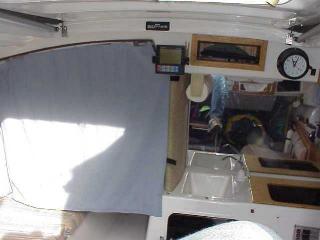 The various photos of the Port and Starboard lockers show pinrail shelves and seat back storage for lots of stuff. The seat back cushions were modified to be mounted on the locker doors because I hate picking them up off the cabin sole after each tack!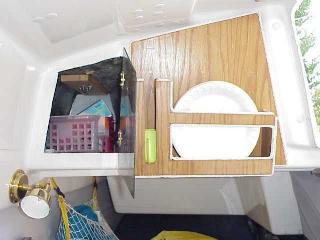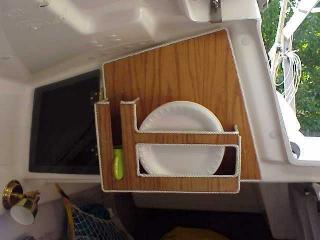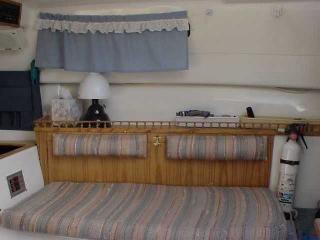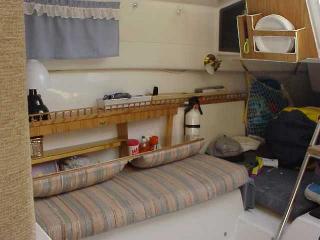 The port storage locker
This picture also shows the neat brass lamps and net bags for stowing clothes.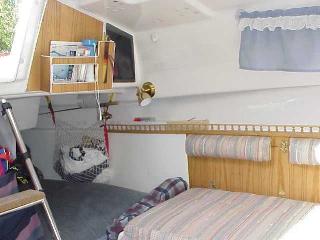 V-Berth Light
This shows a 12 V flourescent light mounted on the starboard side of the v berth and a hammock mounted on the head bulkhead.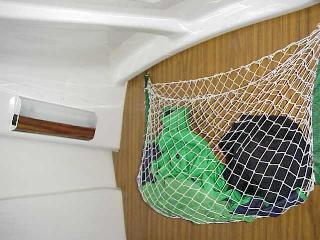 Tom Frew (tfrew@micron.net)
BACK