2007 Casco Bay Rendezvous
"A LITTLE LOBSTER AND A LITTLE SNOW" OR "LOBSTERS AND LACE(Y)"
By Dan Dobbins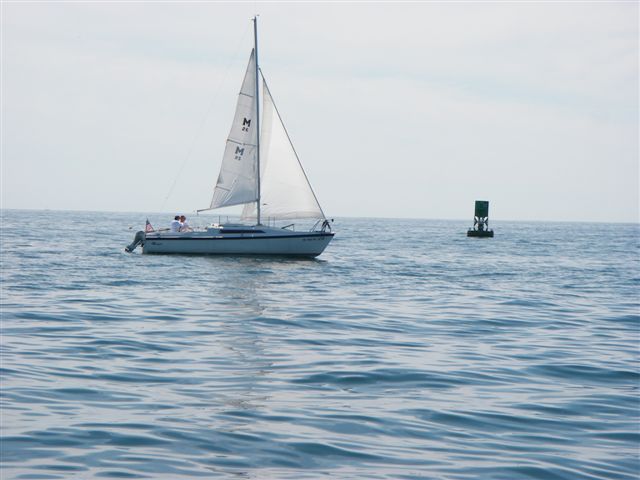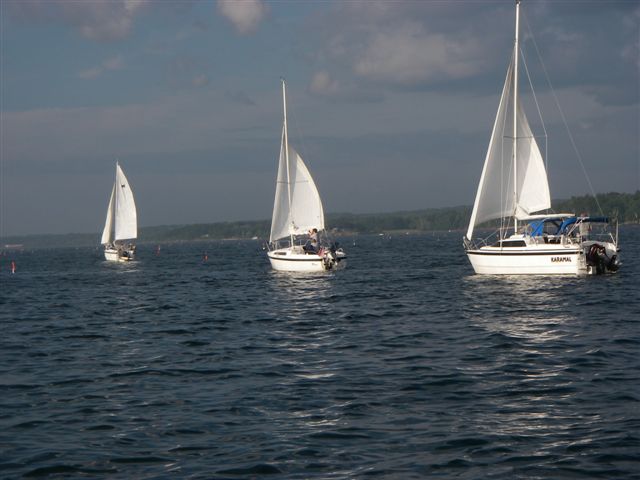 All week long the weather forecast was iffy at best and with the Lacey clan running the show it was almost a definite that foul weather was in the works!!! :) Dan and Linda hosted this most memorable rendezvous with 5 other boats in tow: Al and Karen Hill on Karamel with grandson Kyle, Paul and Millie Seeburg on Mildred Rose, Al and Deb Saucier on Magic, Andy Found on Over Easy with canine Abby, and Dan and Nancy on Y not with son Justin and daschunds Abby and Quincy also. Most of the group arrived and launched on Friday afternoon at Dolphin Marina in South Harpswell, ME. We had a pleasant and gentle sail to Little Whaleboat Island. The evening was spent rafting up together with good friends and relaxing conversation. We finally broke off into 2 groups rafted 3 to a mooring with Andy on Over Easy coming in late.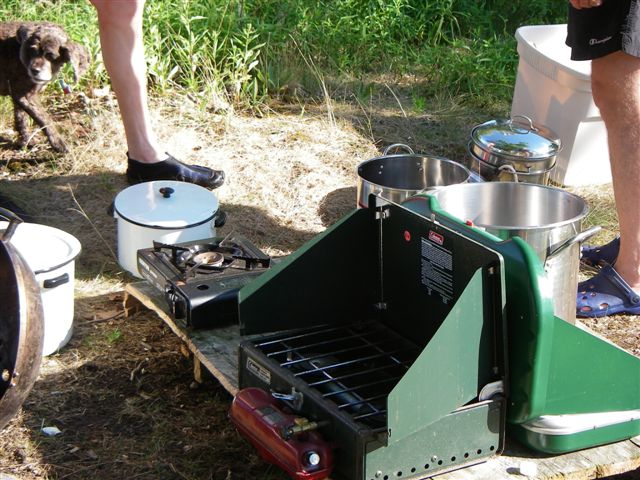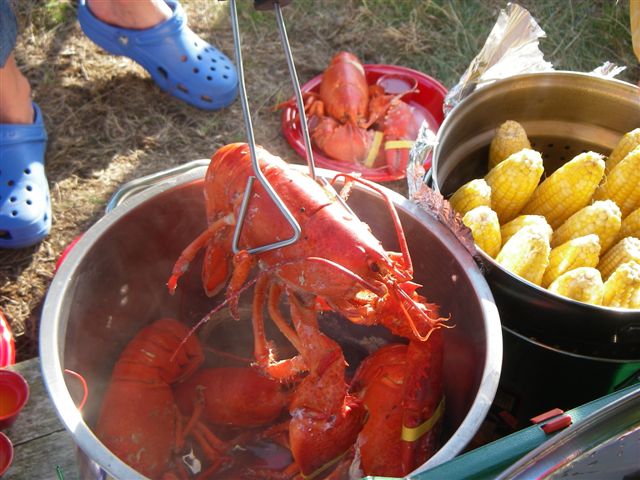 Saturday found us waking to clear skies which finally gave way to a mixture of clouds and sun. Dan and Linda had left early with Al and Karen's grandson Kyle for Allen's Seafood to pick up the lobster and steamers for that afternoons get together. The wind picked up upon Spice's return and the exchange of grandson Kyle back to Karamel was quite an adventure. Grandmom Karen came to the rescue and finally plucked Kyle from Spice's dinghy after 2 other attempts at getting him aboard had not found success. The group then headed for Little Snow Island with most having reefed mainsails as the winds were stronger than predicted. Before long, the wind calmed down to somewhere between 5-10 knots and what started out as a challenging sailing day turned into a beautiful 20 or so mile trip with spectacular views of the raw, natural Maine coastline with osprey and seals as wildlife for all to see. Al and Deb on Magic sailed the entire way with only part of a jib to show us just how well a classic can maneuver. I was truly impressed by Andy's prowess in making his 26X go as he lead the pack and at one time heard him say over the radio, " I think I can win this race fair and square!" We eventually made the turn northward into Quahog Bay and the scenery became even more picturesque with beautiful homes perched along the shoreline and numerous shoals to dodge as the waves crashed over the underlying boulders.

CASCO BAY PICTURES by S/V Karamel and S/V Mildred Rose

Upon arrival at Little Snow Island, each boat found a quiet anchorage with Spice and Mildred Rose sharing an anchor. After Justin (Y not) and Kyle (Karamel) had sufficiently scouted out the area on B' Cuz (Y not's dinghy) everyone headed for shore on the island. Linda had 4 stoves going at one time before you knew it with steamers in one pot, lobsters in 2 others and corn on the cob in another pot. It was potluck so there were many goodies on the hors d'oeuvres table with various offerings to drink. I, for one, was especially fond of the the jug of margaritas that Linda had provided. She had made them with the assistance of Paul who advised her to "just add the whole bottle of tequila", and the potion seemed to work for me. As the main meal neared, it was discovered that both Spice and Mildred Rose had dragged an anchor and we found them at the other end of the mooring field. Get this, a power boater had discovered them dragging and had towed them to a mooring. I do not want to hear any more comments about stinkpotters or those who choose not to sail! After Paul and Dan had rescued their vessels, we settled down for a wonderful evening of food and camaraderie. It was an awesome feast!!!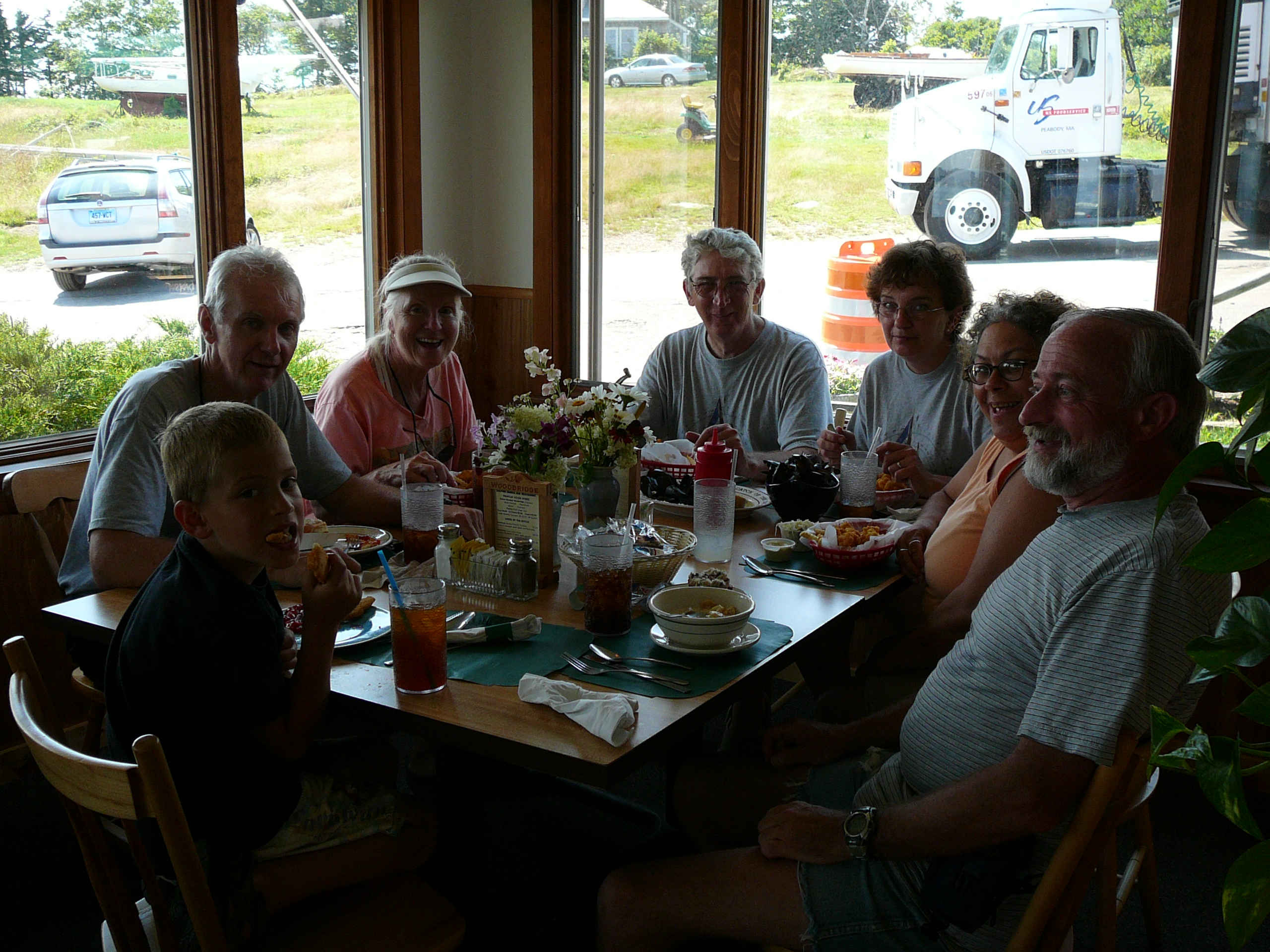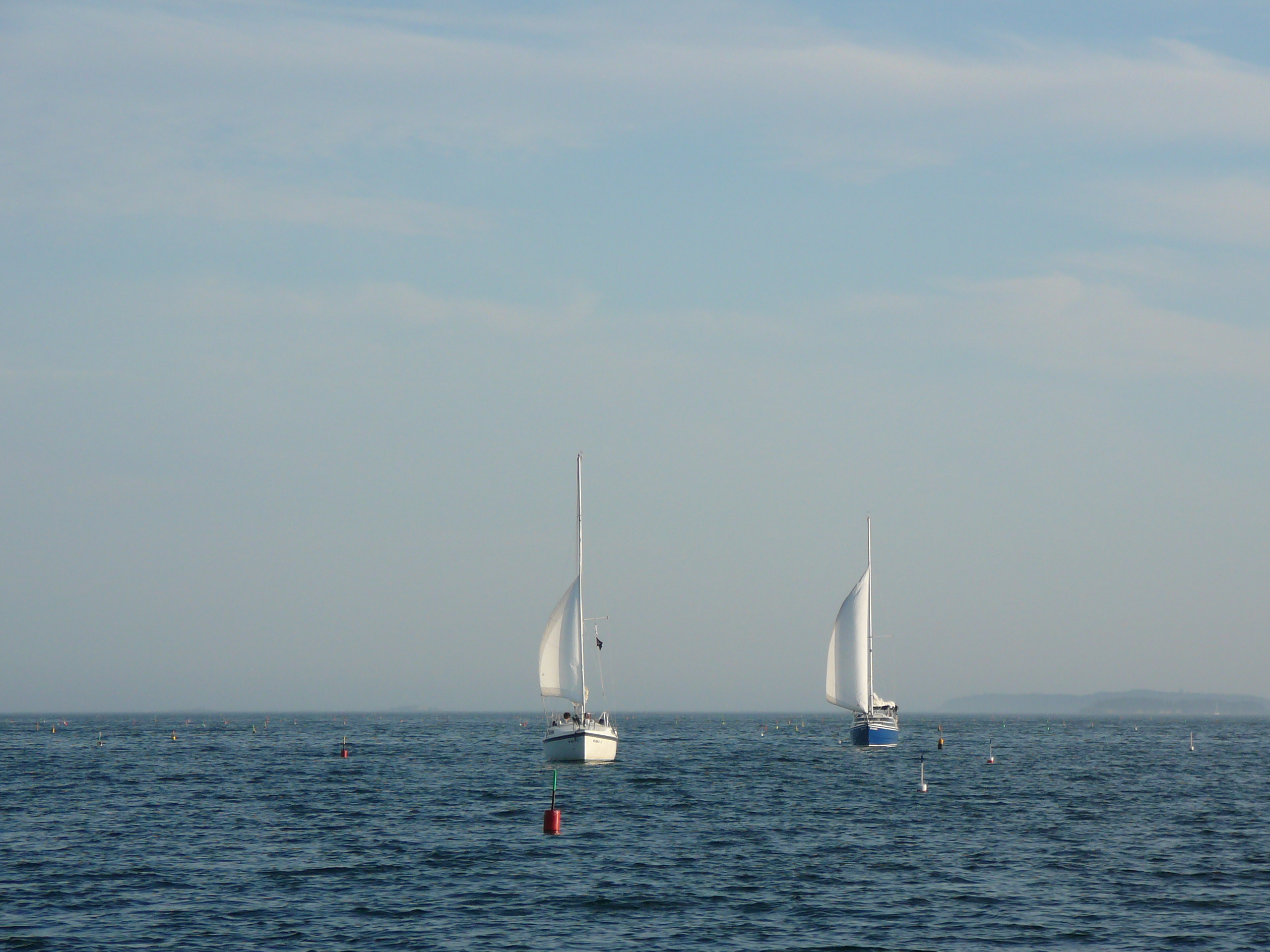 Cruise Captain Karen had provided each boat with treasure chests of booty and dish towels, Nancy had provided lobster bibs leftover from Dan and Nancy's wedding 2 years ago and Linda had thought of everything as she presented everyone with lobster utensils. As darkness set in, there were numerous dinghy crossings to get both crew and supplies back to boats. Justin must have made at least 4 trips himself and I know that Deb was appreciative as she went out of her way to tell me about how safe she felt with Justin at the helm. This was an evening to remember as everyone went to their berth with a full stomach and memories of a time truly enjoyed together.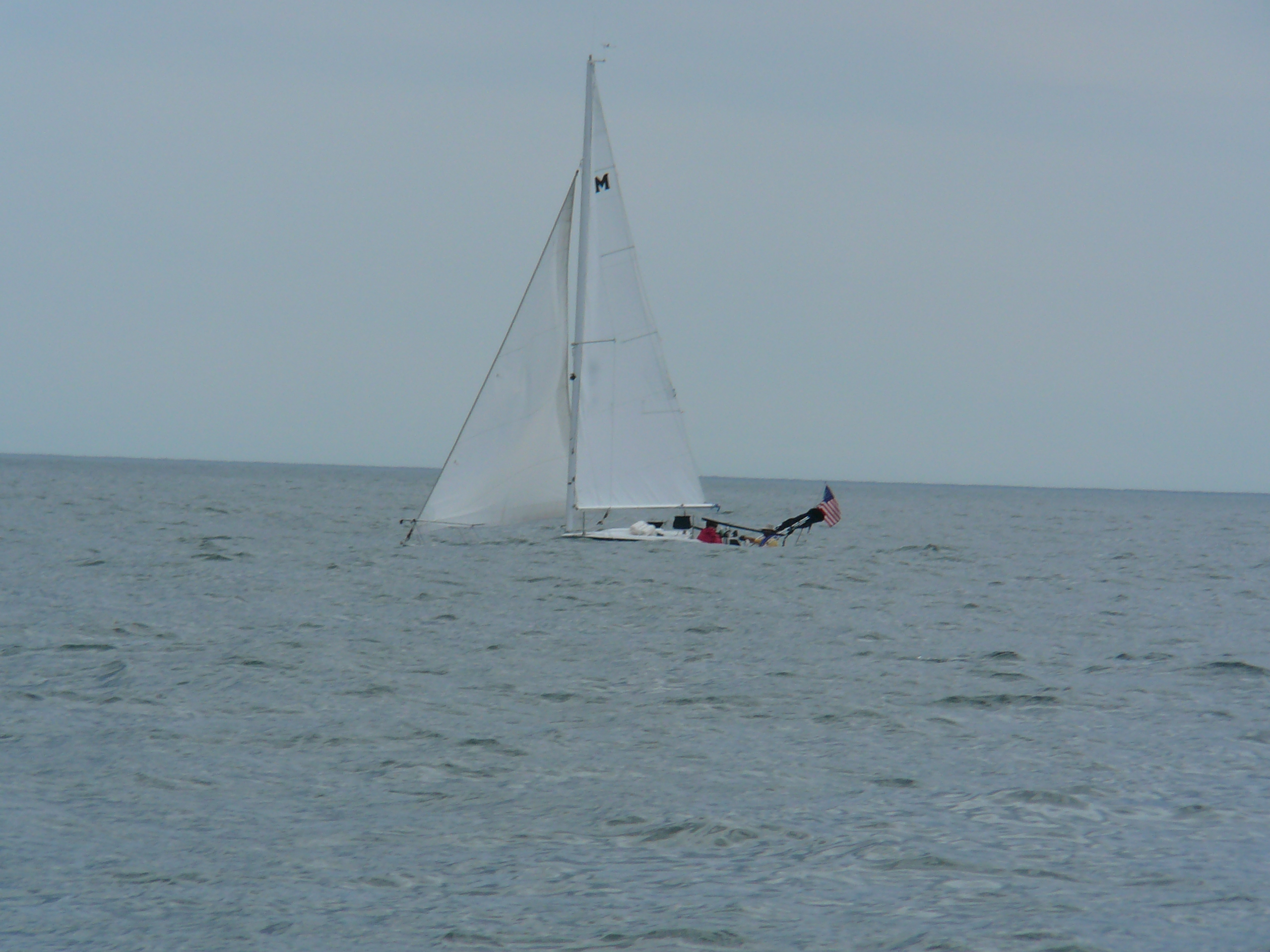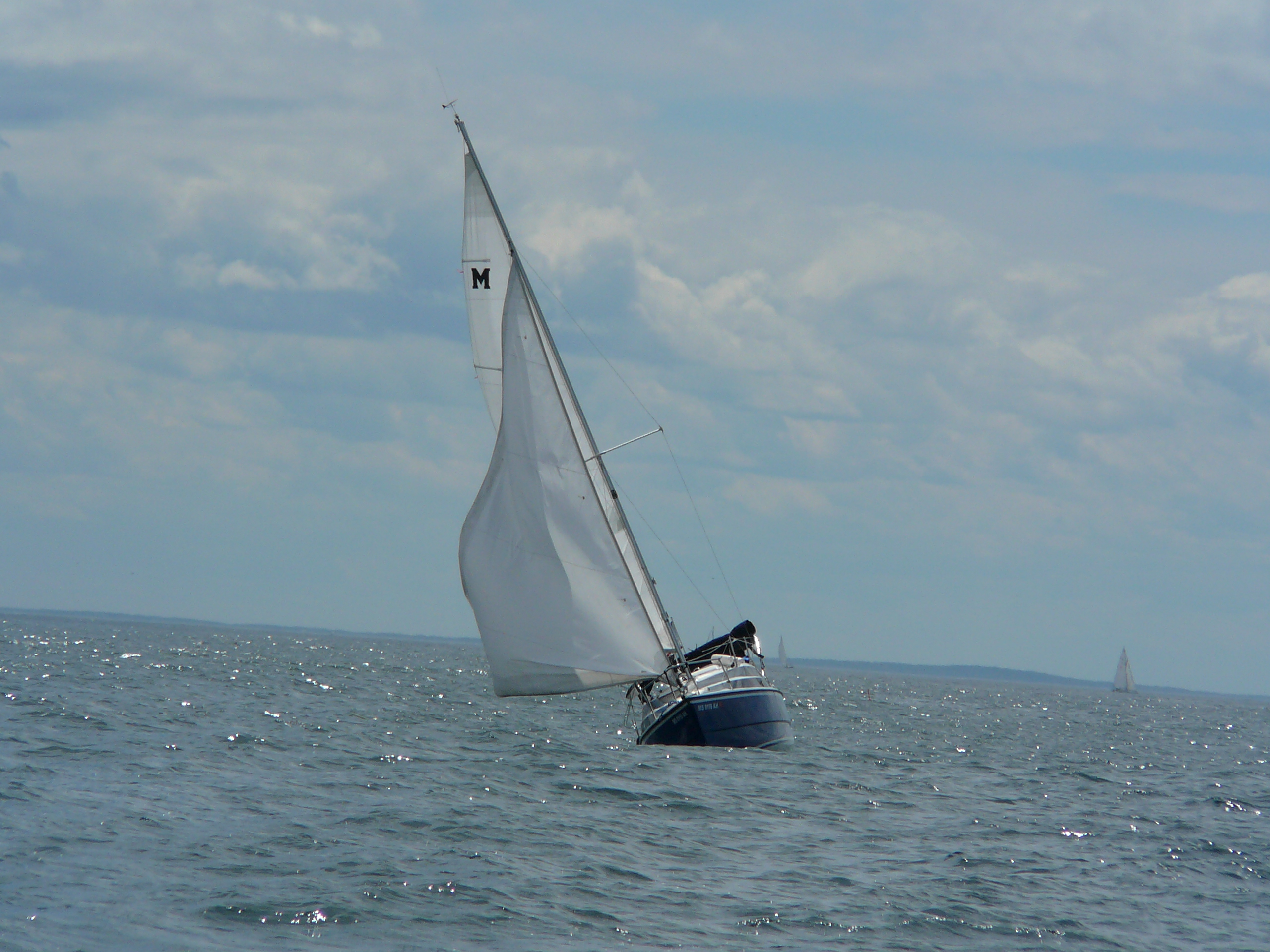 Sunday was another pleasant day with most of the group sailing almost all the way back to Dolphin Marina via a path north of Haskell Island. The winds were gentle making for quite a relaxing sail. The afternoon was spent landing the group on their respective trailers (always a challenge at Dolphin Marina) and putting the boats to bed. Eventually all great things must end and the group parted ways heading back to their homes.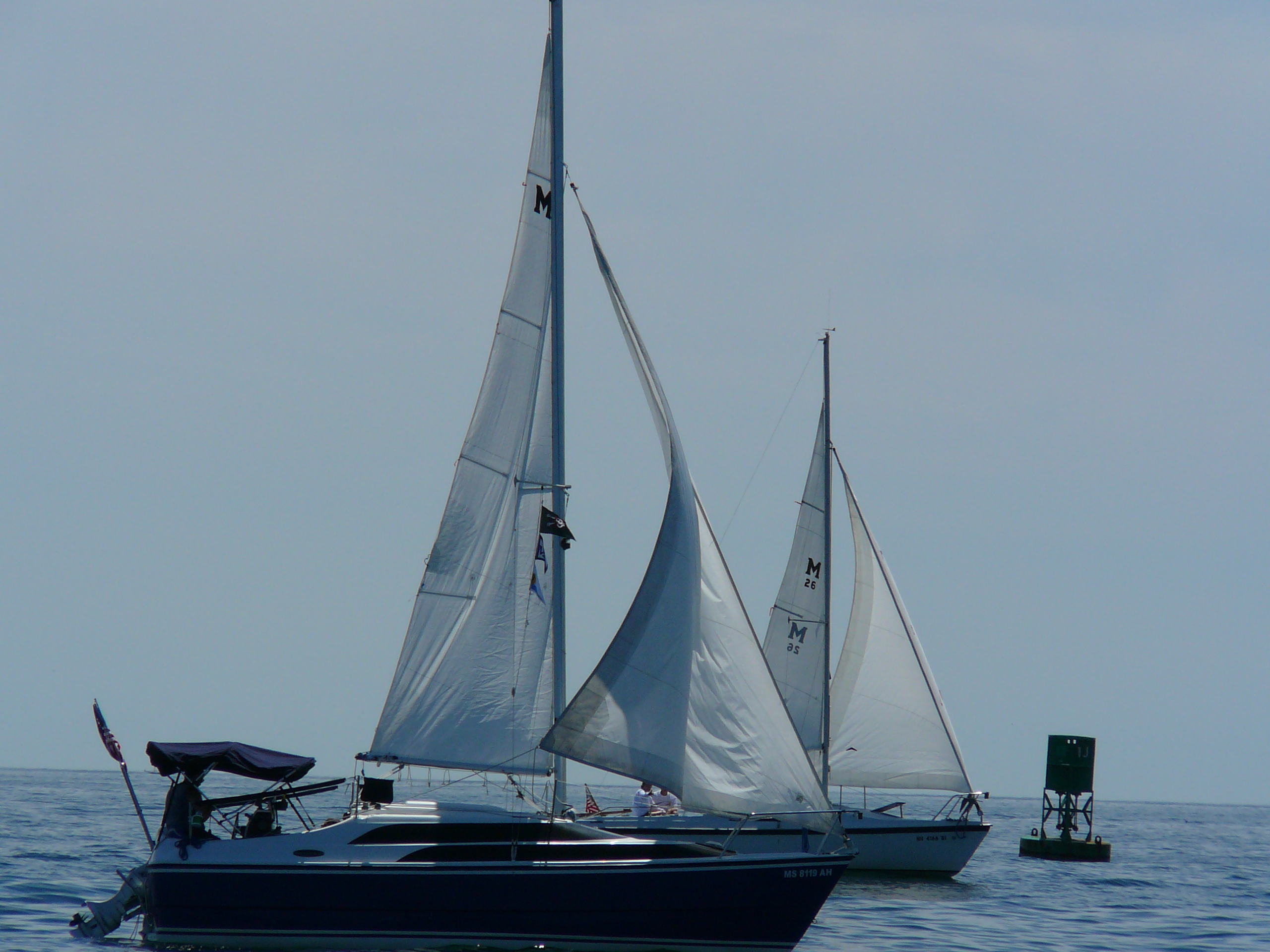 This was truly a rendezvous to remember as the weather was more than cooperative, the accommodations were breathtaking and the company was delectable (not to mention the eats!!!) Thanks go out to Dan and Linda for coordinating this event and for those of you who did not attend all I can say is put this one on your calendar for next year!