2007 Lake Champlain Rendezvous
Dan and Nancy Dobbins
SV: Y not
Champlain 2007
6/30/2007
This trip was prefaced by a 10 day stay in Alburg, Vermont to celebrate Nancy's parents 50th wedding anniversary. The entire Walton clan was there to enjoy the get together and share some quality time on the water.
Nan, Justin and I set out on Saturday morning from our anchorage in front of the cottage just after we had dragged anchor at midnight the previous evening. Evan discovered the boat hitting the dock, causing only minor scratches to the upper boot stripe. His discovery probably saved us lots of money and possibly even cancelling the trip completely as more extensive damage would have definitely ocurred. Thanks be to step-son Evan!
The morning of departure the wind was westward at 15-20 knots. I dragged the boat to the dock and Nancy had us well provisioned as usual in no time. We were off by 10:00 am and were sailing by 10:15am. This trip should be called "Partly Cloudy With A Chance Of Thunder Storms!"(This was the forecast almost everyday)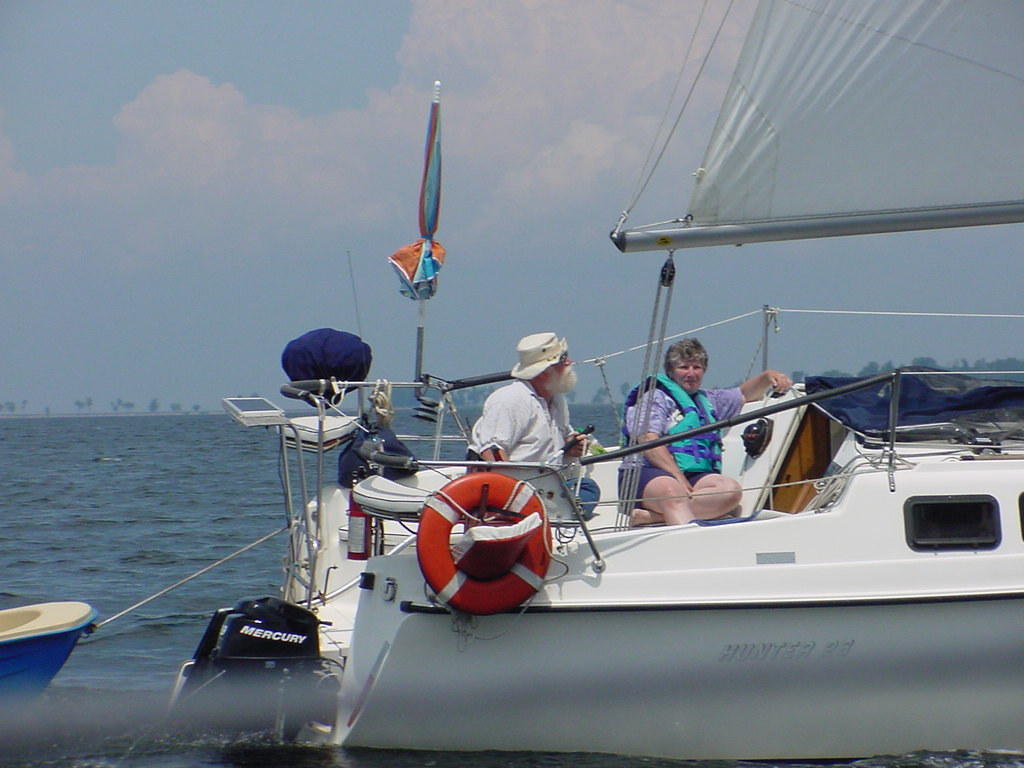 PLACES WE VISITED
Our destinations included Deep Bay, Burton Island for 2 days, Valcour Island, Plattsburgh Boat Basin, Smuggler's Harbor, Valcour Island again, and Mallet's Bay Boat Club for 2 nights to end the trip.
NEW PEOPLE WE MET
We met Rebecca (Dan) Waters from Sail Magazine who shadowed the group for most of the week so as to write an article about the group and modifications people make to their vessels. They sailed in a brand new wooden Norseman 17 foot boat. I hope she spent a great deal of time with Al Hill as he continues to impress us all with his quality of work and creative designs to upgrade his boat Karamal. We met the Dennison's and their two cute young ladies, Heather and Hannah on Relativity. Other new faces included Bob and Trish Zima on Windsong. They were very interested in mac mods as was witnessed when Bob walked around carrying a pad and pen to draw diagrams and write instructions.
MOMENTS WE'LL REMEMBER
We met up with the group just south of the Plattsburgh ferry on Sunday morning after staying in Deep Bay by ourselves the night before. Deep Bay was completely full by 4:30pm and 30-40 boats were anchored outside Middle Bay and at Armand Beach. I had never seen the lake so crowded before. We did some real sailing on a haul as we headed north to Burton Island. We rounded up 3 times, Nan let me sail through the opening to the Gut and we timed the bridge perfectly as we crossed the Gut only to sail some more once we entered the Inland Sea. The first day at Burton was a chance for the group to have a large afternoon get-together but not before fixing broken rudder #1 on Jack and Rani's Zemer Hayem. Using a borrowed mini-hacksaw and as always some Macgregor ingenuiety Jack used his broken mount as a template to carve a new mount in the already broken piece of the rudder. He lost about 8 inches of length on the rudder but it seemed to make no difference in his sailing as his boat was again doing circles around ours. Many in the group took a shot at the hacksaw as the carving was a somewhat tedious process. Phil did some wonderful shaping work and the rudder fit great. Tony entertained the group with stories and had his picture taken with the "BOAT BABES" during the cocktail hour. On day 2 at Burton Island many of us helped Tony with broken rudder#2. Phil, Loyd and Tony did the bulk of the work as the bolt where the rudder attached came out and bent the rudder bracket. The Pinata we brought to celebrate "Monster Bash" was a great success as Jennifer, Willy, Justin and even Tony took great swipes at the dragon(CHAMP) as Nan pulled on the line. The cany was shared by all. Karen had the kids do a great reverse tie-dye craft as they all created clever T-shirts to wear on the trip. I did miss two chances to sail with both Barbara on Whale and with Ken Levitt on Trioomph the tri-maran. Ken had his boat up to 13 knots that day! I'll try to never miss another opportunity to sail with those more experienced than I. We also survived another powerful thunderstorm as Gary, Brenda, Jennifer, Willy and my crew stood beside the store to avoid being on the boat during the worst weather. We ended up on the side of the store to avoid the rain and it was then that I discovered that I was standing right beside the propane tanks for the store. Jen, Willy and Justin explored in the dinghy as Justin again became more comfortable in using the dinghy motor. We did have a few exciting moments as the Island Hopper ferry came in as he was wheeling about the bay. We also watched 2 sets of fireworks one night.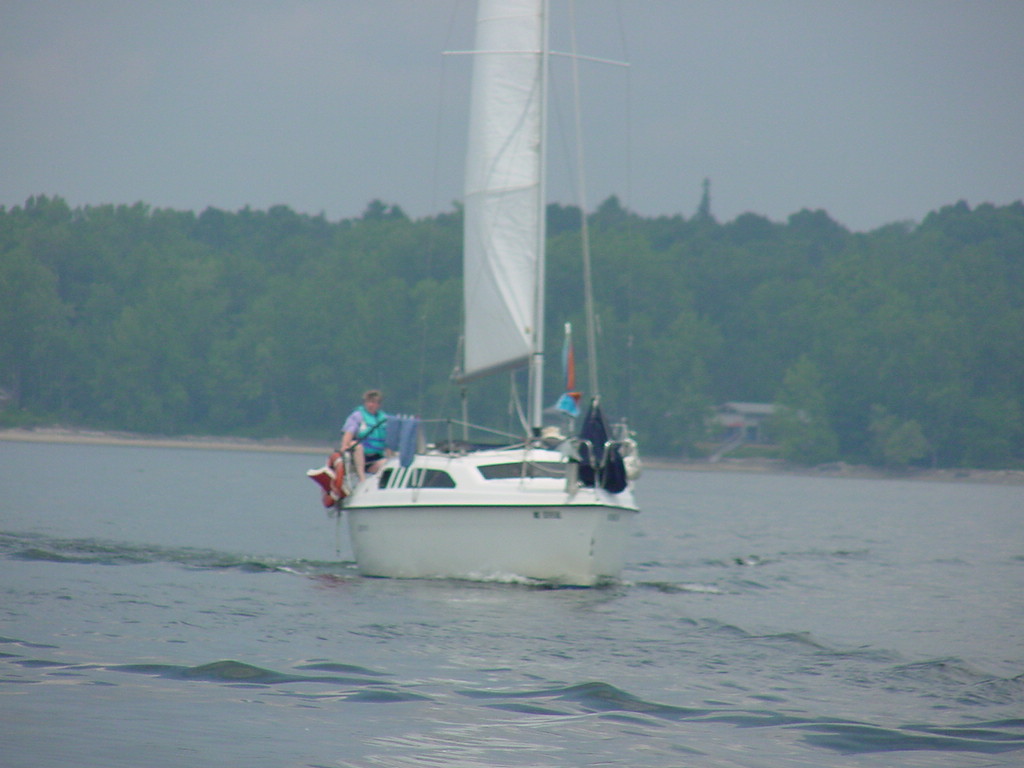 The next day we had a nice time at Valcour Island with the group even though there was a strong chance for t-storms almost every day. Some music by both Carols, Bob and Bill Dennison was enjoyed by all. We were visited by Tony, Gary, Carol and Gerrold N.and Bill Brock during happy hour with plenty of good food to go around with the pleasant conversation.
We left for Plattsburgh the next morning in 15 knot winds on a run with only our jib pushing us along at 4.5 knots. Docking at the boat basin was more than I could handle as the motor quit 3 times and the dock hand decided on downwind slips even though the wind was blowing 20 by then. We managed to get everyone landed safely. The evening meal at the NAKED TURTLE was great fun. Boats include Lady in Red, Trioomph, 3 Breezy Fleas, Tacit Blue, Knot Shore and us. They had live music that we shut down at 8:00pm. Many people got t-shirts. Rick had suggested the Fish and chip plate with the Fried Haddock and when it came it was the biggest pieces of Haddock I have ever seen. Another opportunity missed as I has a Chimichanga. The atmosphere at the Turtle is totally laid back with both indoor and outdoor dining available. Too bad the weather did not cooperate as it was cold and showery. The wind did die early in the pm so the night on the dock was quiet and peaceful.
We returned to Valcour the next day as some of the group decided to have the Final get-together on Thursday and haul out Friday. This was due to Frank and Sonya having to bug out as they had an African trip to climb Mt. Kilamanjaro planned for the next week(I once asked Frank how he prepared himself for one of these adventure trips and he replied," I played two rounds of golf."). The iffy weather also played a role in many people's decision to haul out somewhat early. Nan and I decided to have lunch in Smuggler's Harbor on the northwest side of Valcour with Knot Shore rafted along side. I met another Macgregor sailor. Rich, from Greenwich Village, NY on shore and he had just hurt his back and was getting ready to leave and haul out due to the pain. We commiserated with stories of back problems before Gary and Brenda arrived. Once at Butterfly Bay later that afternoon, where the group had erected a tarp, we were greeted with small games provided by Rani to teach us the importance of communication. You could hear many sighs or moans as the puzzles were a real challenge. When a puzzle was completed there was group celebration and conversation about how it had been accomplished without giving away all the secrets. There was more music, a marshmallow roasting, and plenty of snack food for all. Nan and I spent the evening on the boat with Gary and Brenda sharing 2 bottles of wine, one brought by us from Vermont and one by them from Nova Scotia. Their wine was an excellent blueberry wine with full bodied flavor!
Many in the group pulled early the next morning with Rick and Kathie leaving very quickly before most of us were even in "coffee mode". We had decided to try for Shelburne Bay to stay with Bob and Carol however a sudden crack of thunder just after leaving Butterfly Bay chased us right back to shore with me pulling the boat in bow first. Helen and Chuck on Tacit Blue had also just pulled off the beach only to return quite quickly themselves. We relaxed for the afternoon with Nan napping and finally left for Mallet's Bay which seemed a safer harbor with everyone pulling out and more iffy weather forecasted. We raced 2 t-storms all the way across from Valcour to Mallet's as they seemed to parallel our course but never quite hit us. We did see some lightening off in the distance however, nothing close to the boat. We teamed up with both Knot Shore and Tacit Blue at the boat club and everyone went to Friendly's for a relaxing dinner ashore and a buggy dinghy ride back to our boats as we came back after the 9:00pm last launch call and well after sunset!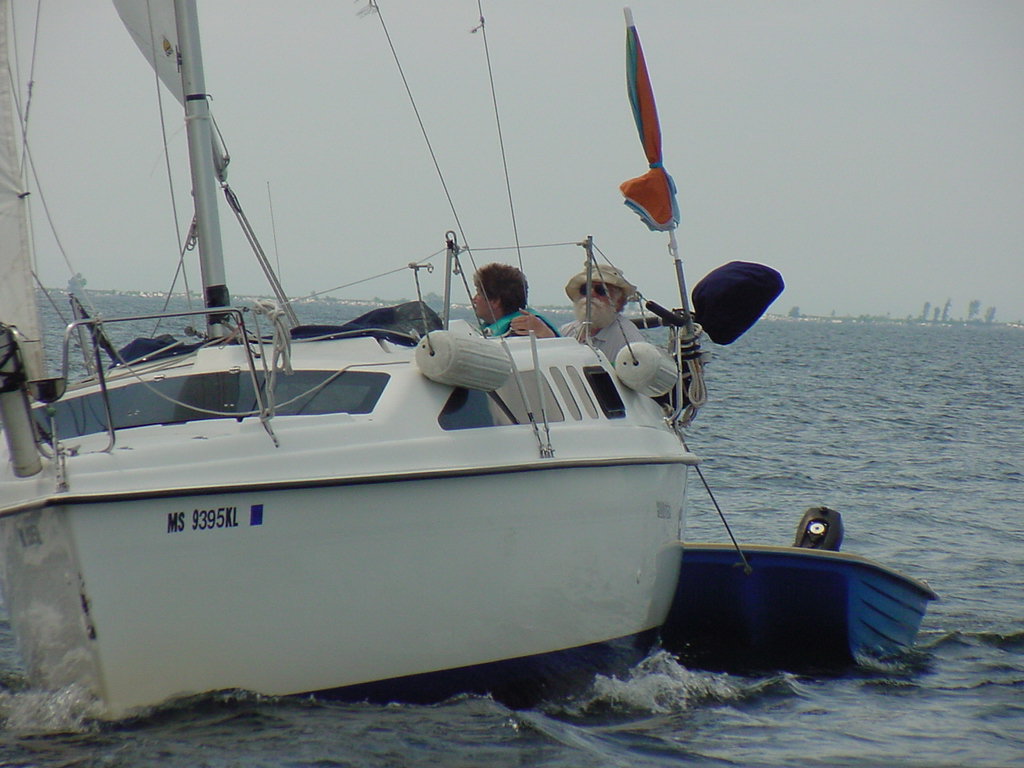 We planned to daysail on Saturday however, the weather was not exactly cooperative and Chuck and Gary both pulled their boats with intentions of leaving sometime that day. Chuck, Helen and Brianna left about 3:00pm and were trying to make it to Ben and Jerry's Ice Cream factory for the tour. We ended up going to dinner at Rozzi's with Ken and Judy, Gary, Brenda and Jen and our crew. Pam and Bruce were at another table with the Dennison's, Bob Chase and crew, and Rich and Lynn Clough. Rozzi's was overwhelmed by our presence and basically served us what "they wanted". All in all, it was a fun time. We stopped by Knot Shore on our way back to the mooring to say our good-byes. It is always sad to see our friends go who we only see once a year. They drove approximately 6 hours to Bangor, Maine as we spent a quiet night at the mooring on Y not playing Uno and eating Jiffy Pop with Justin winning each time.
It rained extensively overnight and finally let up before we hauled out. The ramp was very quiet even though a bass tournament was taking place. The takedown was uneventful and we hit the road at 10:30am with a 12:45pm stop at Peter Christian's Tavern in New London, NH (an excellent stop with awesome pub fare and a family tradition) for some lunch and mustard that we purchase to take home. We arrived home around 5:00pm to 90 degree weather and a good chance of t-storms. Nan and I emptied the boat and cleaned up the pool for the neighbors graduation party. They never used the pool but we did get treated to some good hospitality with burgers, dogs and drinks.
LESSONS LEARNED
It continues to become increasingly more of a challenge to sail Lake Champlain with our large group. I am yearning for new harbors and experiences and yet would truly miss spending some time with the group if we chose to do something different.
I wish I had half the talent many of the guys in the group have for making mods.
I am going to try and install a lazy jack system modeled after what Gary did on Knot Shore to help Nance stay off the cabin top when taking down the mainsail. I also will try my hand at installing a 12 volt plug.
Justin seems to enjoy our trips and Nan is as good to him as any mother is to her own-I love you Nan! I believe these are some of the best times I spend with my boys and Nan. Jason and Evan have outgrown some of this and I yearn for Justin to continue participating as I see our children growing up and venturing our on their own. I will miss our time together when it finally happens. On the other hand, I miss spending quiet time with Nan and look forward to having her all to myself even though it makes me feel selfish at times!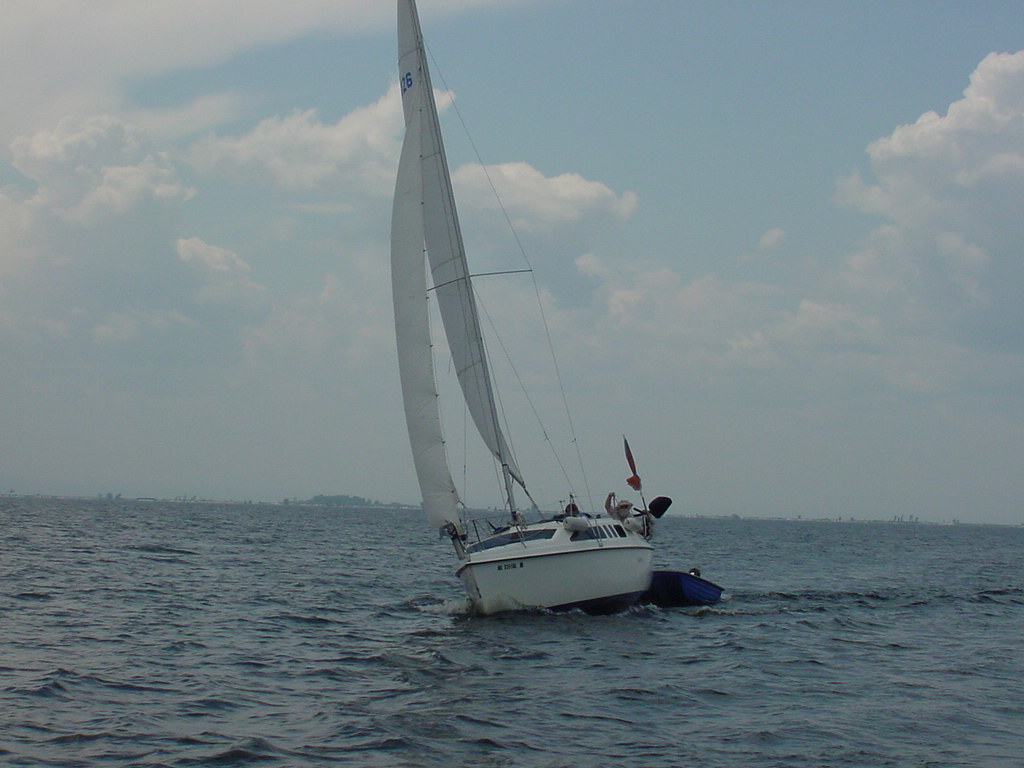 OTHER COMMENTS
Al Hill is on the take to build an all around cabin enclosure for us when he finds the time- nice work Al.
The group continues to change as we see new members like Bob and Trish Zima on Windsong and others like the Dennison's who returned to the group after being one the original group of 7 that started the club.
Sailing has seemed to take more of a backseat to socializing among the members. The comaraderie in the group is what makes these rendezvous special. Boats and sailing days will come and go but the people who you share it with make all the difference.
I cannot figure out our motor- no overheating issues this trip.
It was also funny how the boat became "my boat" while we were on vacation especially when there was daysailing duty or the engine had a problem:)
These trips on this funky boat continue to build such a vast array of memories. I continually make disparaging comments about this Mac 26X, Y not, even though in my heart I know that she takes us to new and wonderful places. Negative comments about her sailing or motoring abilities do not seem to bear any importance when I am on a beam reach doing 5 knots, sitting at Valcour Island stern in with 19 other boats that are full of friends or at anchor in a peaceful cove with just Nan and I there to revel in the beauty that this boat has allowed us to share!!!
Fair Winds,
Dan and Nancy Dobbins
SV: Y not