Allen Harbor Rendezvous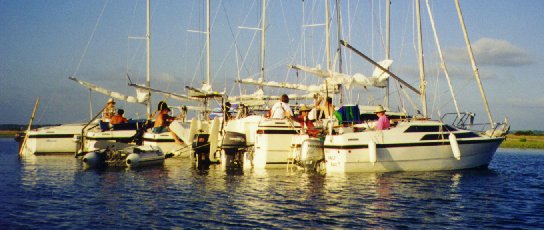 The rendezvous at Allen Harbor on June 11 - 13 went without a hitch. We had 7 boats: Mike & Di Corcoran, Ron Cyr & Debbie, Bill & Jeannie Brock, Ed Goodhue, Don Huff & Marcie (and Marcie's dog), Bob & Barbara & Mike Smith, and Roger & Barbara Garland. As Bill and Jeannie put it in an email to us this morning "great scenery, great sailing, great company." That's 4- 26C's 2 - 26X's and 1 - 19 if you are counting.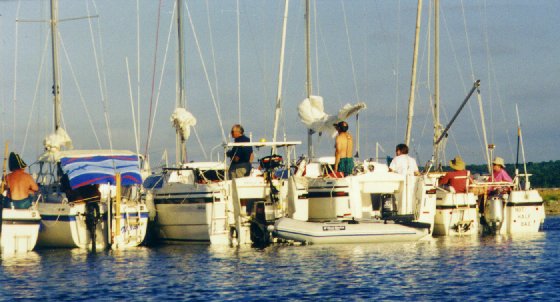 We gathered in the pavilion (did some checking out of boats and trailers) and those who were there for dinner ordered from CK Pizza. Ed said the fish and Chips were excellent. The Friday arrivals were launched and anchored by about 10:30. The Brocks arrived Saturday morning (encountering no traffic from the air show) and we were sailing by 10am.
A group headed to Newport under a north wind and arrived shortly after noon. The wind then died and we motored through Newport to see the dream boats that we were planning on buying when we hit Megabucks. The wind came in from the south east (unusual for the Bay) and not strong until about 3pm. We then sailed toward Potter Cove on Prudence Island, checking out the 2 air craft carriers on the way.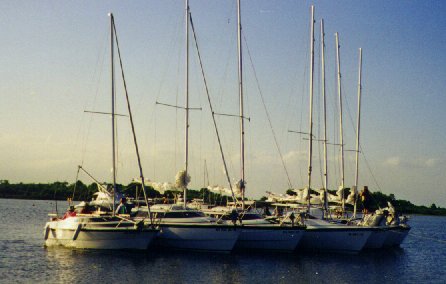 A second group stayed around Allen Harbor and watched the air show. They met up with us as we sailed down from Newport and we arrived at Potter Cove around 5pm to swims, dog walks, drinks, snacks, dinner and great conversations.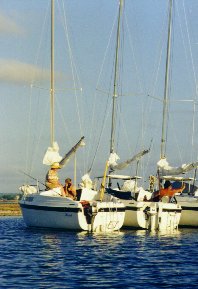 Sunday dawned foggy so we all got a slow start. Some headed north, some south around Prudence Island and all met outside Allen Harbor for some sailing around and more air show. Most of us hauled around 6pm to avoid the air show traffic (that worked great).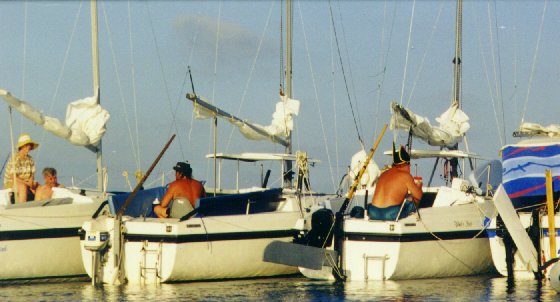 Thanks to Mike Smith for rowing me around to take pictures.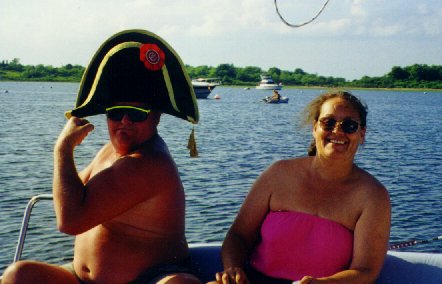 Mike brought his hornblower hat and we all admired it. All was fine until the boom sent it overboard and he had to dive in to save it.