2006 Allen Harbor I Rendezvous
By Barbara Garland - with contributions from Ed Goodhue and Roger Livingston & Sally Mitchell

Friday dawned cloudy with the promise of rain by mid afternoon. At 6:30 am, I thought about waiting till Saturday but it was too early to call my crew. By 8 am it looked brighter - I even saw some blue sky. I checked with my crew and he was up for anything so off we went.

Mark is new to sailing. His first phone call to me was "how do I learn to sail - where can I take lessons." I was on my way home from Winni when we had this conversation and I hadn't called a potential crew for Allen Harbor. I told him that if he got permission from his wife, I'd take him as crew for the rendezvous. Permission was granted..

We got to the ramp by mid afternoon - no rain yet - so we rigged and put the boat in the water. Mark got to meet some of the other members and got to see some of the other boats. Then we helped Mike Welch rig and Dan and Nancy too. Ed, Tony and Jack came in - back from delivering Jack's new boat, a 39' Oday named Dror, (Her name means both "freedom" and "sparrow", her former name, and is pronounced as written.) to her mooring in Pirate Cove on the Sakonnet River. We went out for dinner and got back to the boats around 9:30. Still no rain.

It didn't actually rain till around 3am and stopped by 10. We headed out to 20 knot winds and a double reefed main for the south end of Prudence Island - headed for Potter Cove. It started to rain again, but nothing bad. We anchored and rafted up - all 6 of the boats that finally made it. One of the group wound up anchoring so well that he never retrieved his anchor. Luckily it was his wedding anniversary on Sunday so a new Bruce anchor was his wedding present.

The theme of the rendezvous was "Surprise" and we had a surprise party to celebrate Ed's 75th birthday and Dan and Nancy's 1st wedding anniversary. Our cruise captain, Karen, supplied the cake and Nancy supplied the champagne.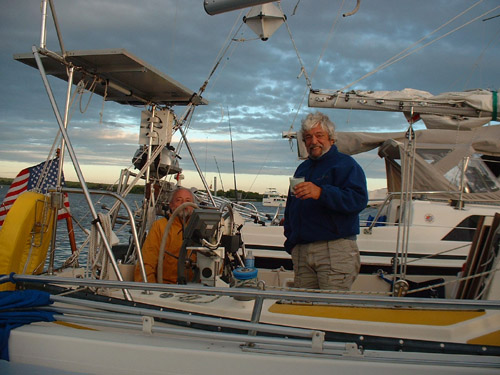 Then there was good company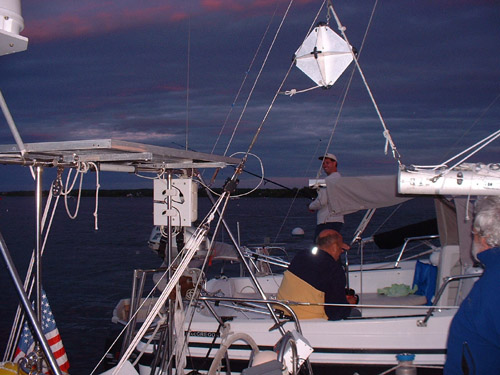 fishing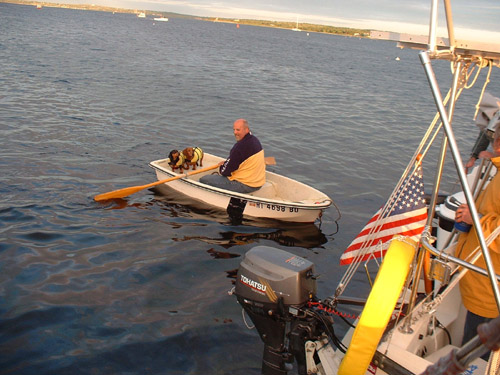 Rowing the dogs ashore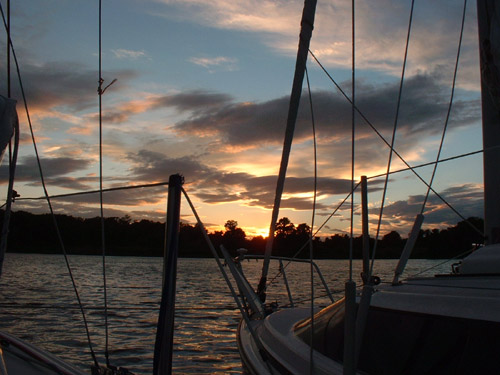 And a beautiful sunset

No sailing pictures - I was to busy sailing.

Sunday was a beautiful day and Mark and I had an extra day so we headed to Mount Hope Bay - almost to the Fall River Bridge before heading to the Sakonnet River for "Whale" to meet "Dror".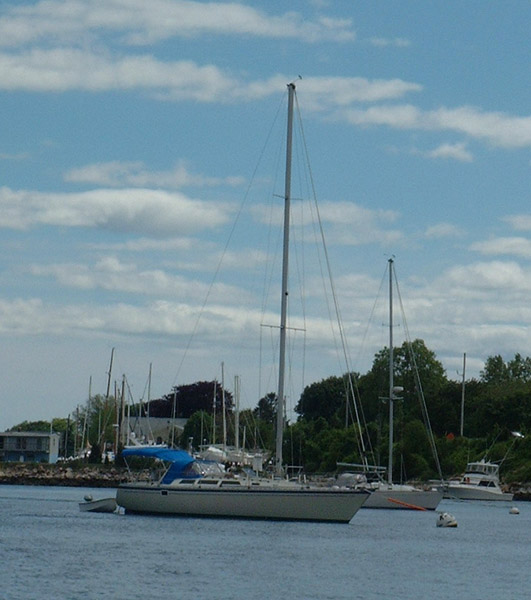 What a beautiful boat.

Because we left the group, we missed Roger and Sally in their Mariner "Ghost" They reported "We woke up Sunday to a bright sunny day. I hooked up the Mariner to the car and left Worcester, Ma around 7:30. After a couple of wrong turns at the end due to construction, we arrived at Allen Harbor around 9:00. The skies were clear and the wind was up. We asked the man taking the ramp fee if he knew of any North East Trailer Sailor boats, but he said he didn't. So we went out for coffee hoping to meet up with any late arrivals...not thinking anyone was out on the bay. Got back around 9:30 and decided to head out since no one else was there. It took about a half hour to rig and launch the boat, but Ghost was on her way by 10:00am. We motored out onto the bay into 20 plus mph winds and 2 to 3 foot seas. I got on my new hand held VHF radio, but with only 5 watts of power, I was only able to contact Dolphin. I could hear some other boats, but I could not talk to them. Ed said we could meet up at the south end of Prudence Island. With the wind and sea conditions we decided to put up the main sail only. I only have 200 pounds of ballast along the keel and a 70 pound centerboard, so this was a wise decision. Ghost was handling the winds well and we headed down the west side of Prudence flying our North East Trailer Sailors burgee. It felt good to be out on the bay sailing hard. We passed through fleets of sailboats racing, including some 12 meter yachts. What a beautiful sight seeing these classic racing machines heeled over beating to the weather mark. To the south we could see many more fleets of sailboats racing and cruising. We arrived at the south end of Prudence around 11:00 and looked around for any boats from the group. We continued south for a little while, when we were hailed by Dolphin as she was heading north. We tacked and caught up with them and introduced ourselves to Tony and Ed. We decided to sail with them for awhile and continued north. The winds remained strong, but it was fairly warm and we were staying dry. Ed had his Main reefed and jib up. We kept up with them fairly well losing a little ground along the way. At the north end of Prudence, we found ourselves once again surrounded by boats getting ready for another race...12 meter yachts, J boats and others. As we sailed through them, we took the opportunity to have some lunch. Ed tacked toward Allen Harbor, so we followed. I knew they were heading in, but we decided to sail across the bay with them. We were on a broad reach now and even though we only had the main up, we were flying along at 8 or 9 knots. At the entrance to Allen Harbor, we said our goodbyes to Tony and Ed and headed out again. We were starting to get some spray over the rail and Sally was wet. She didn't believe me when I told her the crew was supposed to block the water and keep the captain dry. We sailed near the weather mark at the north end of Prudence just as the 12 meter boats were rounding and putting up their spinnakers. What a sight!

Sally was a little wet and uncomfortable now and I was happy with my time on the water, so I decided to head in. Once again we made good time crossing the bay on a broad reach. Outside the harbor, I dropped the main and stowed it away. My little 4 hp Nissan started right up and we headed into the harbor arriving at the ramps around 3:00. A MacGregor was being taken out of the water and another was pulling up behind us. We helped Spice (I think) tie up and then we hauled Ghost out of the water. In all, there were four other boats from the group ashore. At least I got to meet some of you.

Sally and I had a great time. Most of our sailing is on Webster Lake, so it is a real treat for us to be on salt water. I've sailed the bay many times in the past, so it was familiar ground for me. Our only regret was not being able to spend some time with all of you and get to know you. Hopefully the weather will cooperate a little better at the next event."

We then sailed back to Allen Harbor, rafted with Ed and watched the nearly full moon rise.

Ed left early Monday morning to sail back to Pocasset. His report on the return trip was "It was a long trip back. No wind till I got off Newport. The I had 20 knot winds for 20 miles and then it died again for the last 20 miles. It was down wind all the way which the jib doesn't like nor does the autopilot. It was too bumpy out there to wing it. Got in about 5:30. Glad your day went better. At least it didn't rain on Monday."

Ed's last remark was in answer to my email describing my Monday. We left Allen Harbor and sailed past Newport and out to sea. We rounded Beavertail point and sailed back in west passage to the ramp. The GPS said 26NM - that's about 30 miles. The wind was perfect, the weather beautiful. I haven't had that kind of peaceful sailing in a really long time.