2006 Allen Harbor II Rendezvous
By Barbara Garland - with contributions Ken Levitt, Roseanne Carr, Rani Chadowitz, Dan Lacey and Millie Seeberg.
Pictures by Millie Seeberg
Note: my comments are in regular print and those of others are in italics
Rather than just writing a rendezvous report myself I asked all those who participated in the rendezvous to contribute. Not everyone did but, for those who did, here is our story:
As typical of all of the rendezvous this summer, the first day brought rain. I had planned on leaving early so I could sail on Friday but I didn't leave till around noon. I arrived at Allen Harbor right after the rain stopped. There were many boats already there, including Don and Ed - who had sailed from the Cape. When I talked to Ed on the cell phone on Thursday morning as he was coming into Narragansett Bay he reported 8 ft swells and 25 knot winds about 2 miles off of the mouth of the Sakonnet River. People continued to arrive and rather than having a skippers meeting on Saturday morning we met at 5pm on Friday - followed by 20 or so of us going out to dinner. From Ken: Judy and I had a great time at the dinner on Friday night. We're sure glad you guys waited for us to inflate our dinghy and get into shore. Don Huff filled me in on rural life for a sailor in North Carolina.
The plan was to head out between 9 and 10 am Saturday morning. We had 3 boats arrive on Saturday morning so things were a little slower than that. We had a northwest wind so we headed for Mount Hope Bay to meet "Dror" - Jack and Rani's "new to them" O'Day 39. The wind died so we headed to Potter Cove on Prudence Island. There were plenty of comments on the afternoon in Potter Cove.
From Millie- If there's no wind there is always Happy Hour - along with the pictures below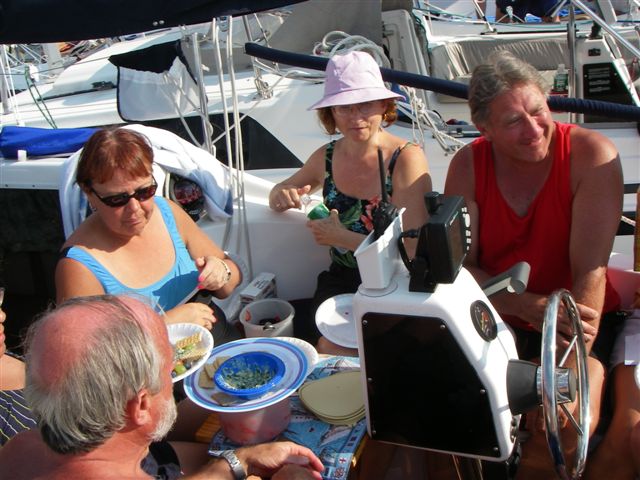 Happy hour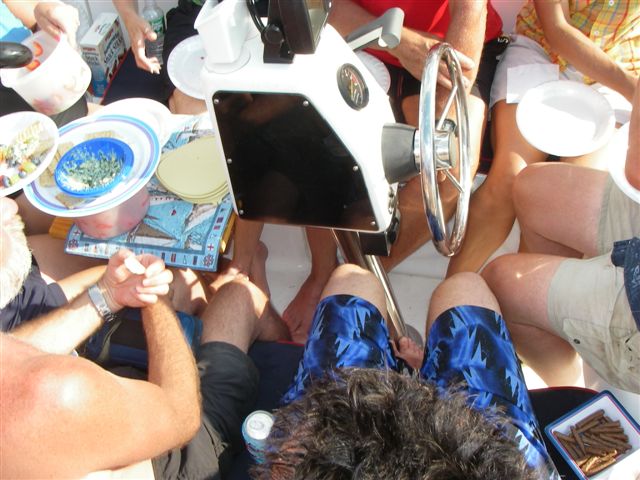 a better view of happy hour

From Ken: Water was warm at Potter's Cove. A great place for a swim or to just hang out on a water toy. I didn't know if we could raft up to a MacGregor because of the height difference, but it just required lowering the fenders on the MacGregor. The two boats fit very well together, and stayed that way all through the night. Next time we'll be more prepared for the cocktail hour raft up. Bill & Jeannie Brock put out a nice red wine and munchies for us visiting newbies. Maybe we'll be able to return the favor at Martha's Vineyard in September.

And from Dan: all those water toys-mostly occupied by adults! Floating around on a cushion in the nice warm water, with a cold Heineken. How much better could it get? Answer at the end

Rani had a different take on things: We anchored "Dror" for the first time , without a functioning depth gauge, and didn't drag our anchor! Thanks to Ed on "Dolphin" for playing depth gauge and overseeing our anchoring.(He really just wanted a big boat to raft up to.) We really enjoyed having all the visitors, and being able to host people. The boat never felt crowded

My take on the afternoon at Potter cove was a thoroughly enjoyable afternoon with 16 of "Whale's" friends and there skippers and crews UNTIL the wind switched. For a few moments that was, for me, the scariest part of the trip. We had a raft up of about 15 boats and I envisioned 8 to 10 anchors twisted together and 15 boats up on the beach. We got enough stern anchors out to avert the disaster.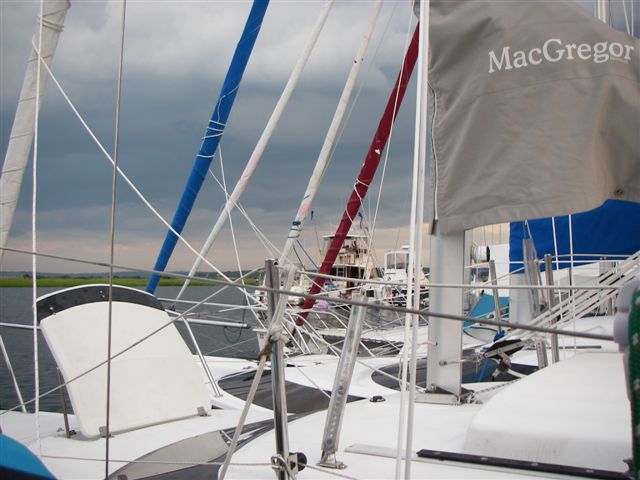 the raft up

I asked for scary moments and from Dan came: hearing Harry say that he was going into Allen Harbor under sail without power. Glad he didn't have to resort to that.

.And from Rani: Our scary moments: we had to motor back to the marina on Sunday(the winds were very light)where we keep "Dror" as we thought the holding tank was full to bursting, and the engine overheated, and the main halyard had wrapped itself, some 20 feet up the mast, around the deck light, so we had to manage with the jib until the guys untangled the main halyard. Too deep for an anchor. Ed was on his way to the rescue, in case we wouldn't be able to use the engine again. Eventually we found we could use the engine at lower revs, not pushing too hard and got back to the pump out dock at our marina in the Sakonnet River. Only to find that the problem with the holding tank was actually a blocked vent which wouldn't allow the pressure release. Is this what you call a "shake down" cruise??

Ken's comments about the evening: Could not get to sleep Saturday night. Very humid with ZERO wind. After a few hours I went outside to sleep on the cabin top. I never tried this before, but it worked for a few hours until the wind came up and was too strong to stay up there.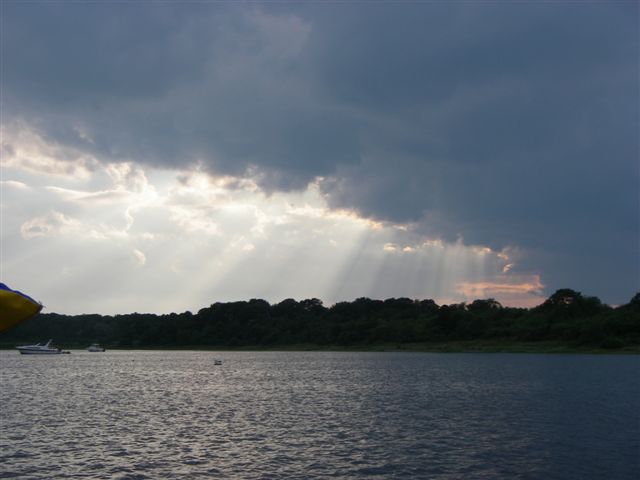 The scenery was beautiful

So Sunday dawned beautiful, with a light wind. The wind died and we motored to the south end of Prudence Island. We had a little wind - enough for Ken to make this comment: A Corsair is supposed to be a fast boat, but in 3 knots or less wind, we're as slow or slower than a MacGregor, and my 8 hp motor is no match for the 50's you guys have.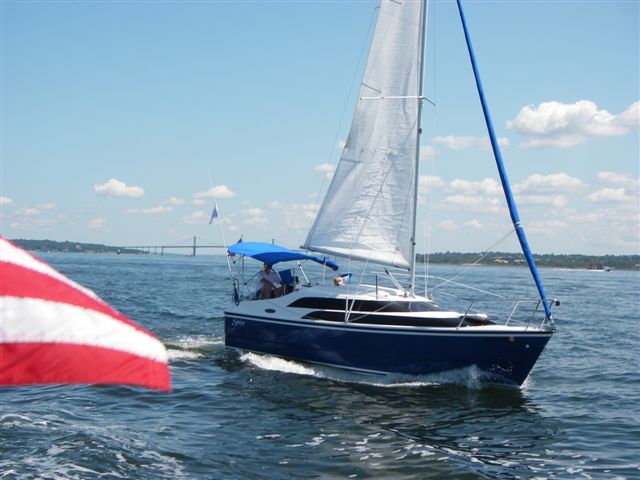 Spice with her 50 hp engine running

We then headed north to a nice sandy beach for lunch. No sooner had Don anchored and the wind came up. (he said he knew it would happen.) Dan's comment: Well, our specialty appears to be rain, so I can't help with the wind! Sunday didn't need any help-the wind was awesome, and I got to see a Macgregor do a round up into the wind-not my own this time.

Rani reported: In spite of the lovely winds which picked up Sunday afternoon, we were so traumatized by our adventures, we were happy to hang out on the mooring, replacing the holding tank vent pipe, and listening on the radio to Harry of "At Ease" trying to maneuver at the dock in Allan Harbor in forward only.

I planned on staying Sunday night so I spent the late afternoon out on the bay having a ball with a decent breeze. I missed the excitement at the launching ramp and the "How much better could it get" Blue Slushies in a cocktail glass while we're packing up. was Dan's comment. I assume Steve had something to do with that.

One last comment. There was one boat we saw little of - Richard and Lynn Strohman on Sea Tramp. They were smart and headed out to sea on Saturday and met the southerly. They arrived sailing into Potter Cove right before dark. They headed out the Sakonnet River on Sunday and arrived at the launching ramp to haul around 6pm - after all the others had left. That's what I call a sailing weekend.

I was up early Monday morning and hauled my boat and was ready to leave at 7am as Ed and Don headed out of the harbor on their way back to the cape.

And thank you's from the group

From Rani: I sincerely hope that our next adventures aboard "Dror" will be a little less stressful and eventful. Had we not had the support of North East Trailer Sailors to fall back on this weekend, we might not have been so brave as to anchor and venture out "so far" on our own. Thank you!

From Roseanne: Please add my thanks to all for helping us to enjoy the outing. I'd like to say nothin to it - it's just like playing golf - after you learn how to hit the ball you have to learn how to manage the course. I'm finding that even though we have some experience finding the wind we need a lot of help learning how to manage the course.
It's great to find a group of people who are willing to share their experience to help the newbies along. We had a good time and even though there was very little wind on Sunday that too was part of the experience.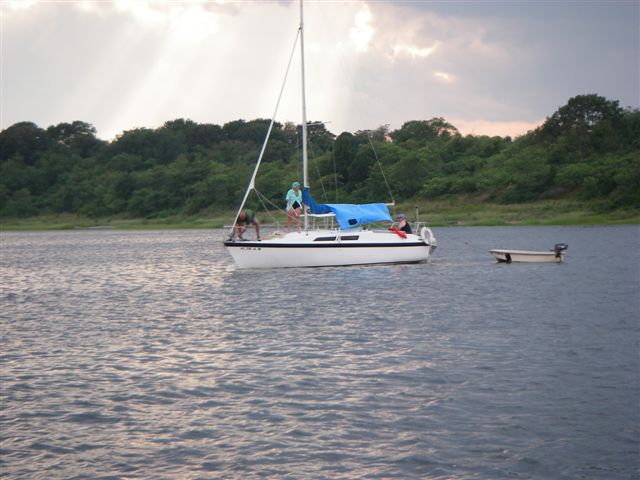 Rosebud

I would add to that - Thank you Al on "Karamal' and Harry on "At Ease" for organizing the rendezvous. And of course Karen "on Karamal" for our wonderful theme "Dog Days" and all the goodies that went with it.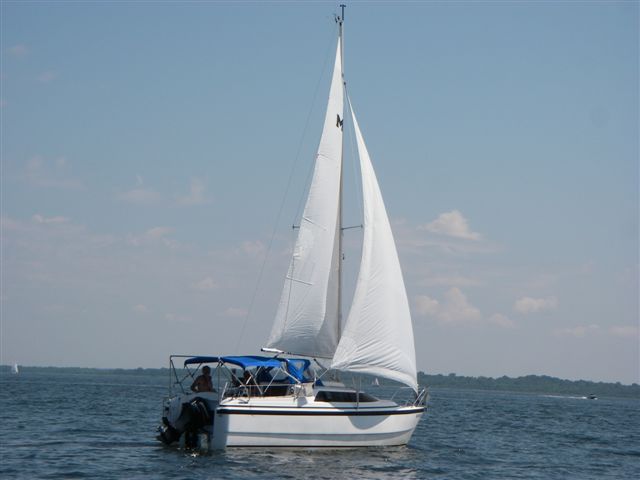 Karamal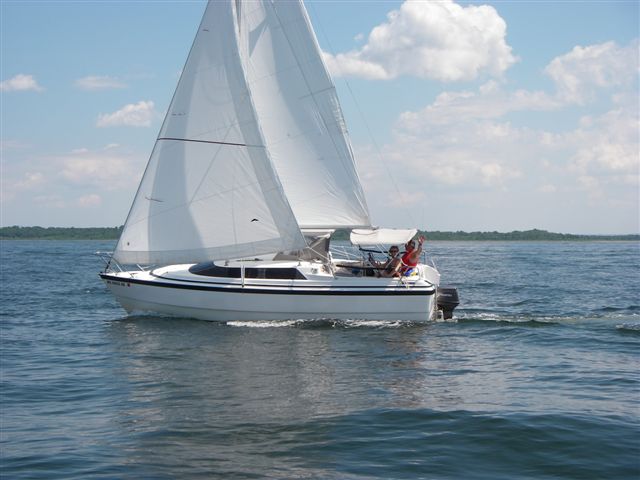 At Ease

<