"Sailing Past the Comfort Zone"
Log of the Gypsy Moon
September 9-10, 2006
Story By Doug Walker - Pictures by Doug and Andrea

"I would really like to make our first rendezvous" said my wife Andrea. "It would be a lot of fun to meet some folks and it would be good for us to check out the other MacGregor boats and see how they are rigged. This will give us the winter to toss around ideas for upgrading the Gypsy Moon".

She had some good points, but I was apprehensive about taking our boat out into Buzzard's Bay. I had my reasons.

The crew of the Gypsy Moon, which included our twin daughters, had very little sailing experience. We had just purchased our Mac Classic this spring and had managed to sail her on Lake Nubanusset and Squam Lake in New Hampshire. Those gentle 5-7 knot winds were perfect for learning the ropes. That was almost the total of their sailing background.

My sailing experience was on small inland lakes and ponds. I had owned a couple of 19' Lightnings and had enjoyed weekend racing on Squam and Bow Lakes in NH. Our classic Mac 26 was the biggest craft I had ever skippered. I had no salt water sailing experience. This seemed like a bit of a leap for me as well.

I e-mailed Barbara and Ed Goodhue 2 weeks before the rendezvous and got opposite responses. Barbara: "I think you may want to hold back from this event, Doug. The wind can really be a handful if it whips up down there in the bay." That made good sense; we decided not to go. A week later the weather was reporting 5-10 knot winds for the weekend. It was sounding manageable. I guess Ed's response was more what we wanted to hear: "I think you will manage just fine ... (and) ... we haven't lost a boat in the 6 years that I have been running this deal." It was a shot of encouragement. With the support of the Trailer Sailors, I knew we could do it. We decided to join the fleet. Hurricane Florence was not in the picture at this point. In the end, both Barbara and Ed would prove to be correct in their assessments.

Our first night in our new boat was in the parking lot. We arrived at 10pm after a three hour drive. We parked the boat and slept. One small glitch: we had to sleep with our heads against the transom underneath the cockpit because of the slope of the parking lot. For anyone who knows this model, if you are lying on your back this leaves about three inches of free space for your face. Oh well, we were too tired to reposition the trailer and it was better than sleeping with our heads downhill.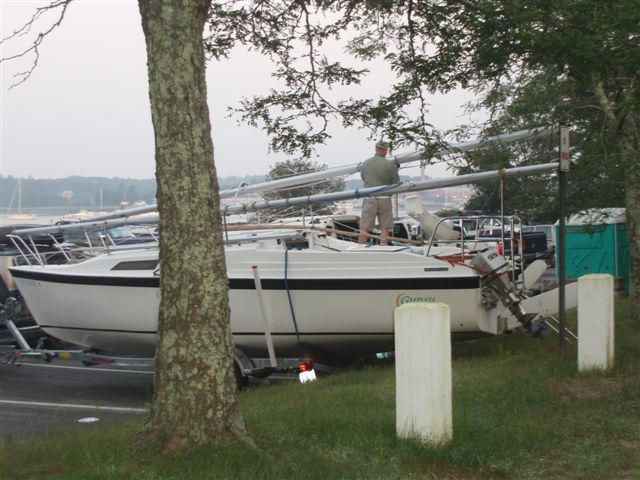 Frank rigging Endurence on Saturday morning

Spice, Endurance, Paw Prints, Puddle Hopper and the Gypsy Moon were the boats departing from the Narrows Ramp on Saturday morning. Florence had made itself known a few days earlier. Wind predictions for the weekend were now 10-15 knots. This was pushing it for us, but we were wholeheartedly committed. As we rigged our boat, we introduced ourselves to Steve of the Puddle Hopper- trip leader for this leg of our journey.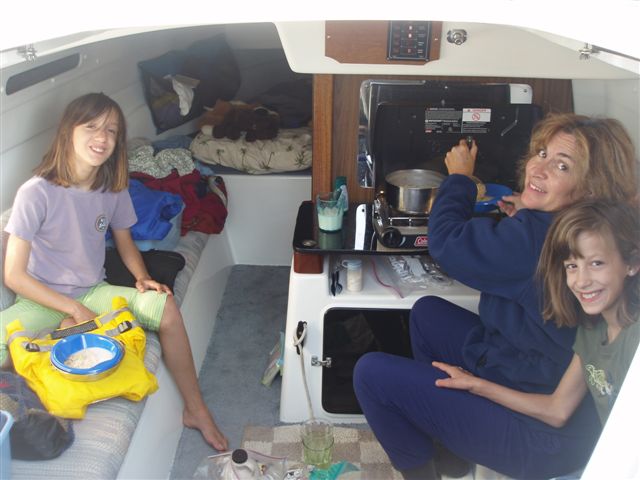 First Breakfast aboard

We slipped our craft into the water a bit after 8am. We had just installed a new VHF radio on our boat. I knew it powered up, but had had no way of checking if the co-ax connections worked. We tied up to the dock and did our first radio check with Steve. "It works honey, we can go sailing on this trip after all," I shouted out to Andrea. Steve told us it was imperative for us with our small 9.9 Honda to get going ahead of the larger motored Macs so that we could all get through the currents of Wood's Hole by noon. The other boats would easily catch up with us out in the bay. As it turned out, we never did connect with our group of boats again, not until we moored up in Lake Tashmoo.

We motored ourselves out of the inlet armed with a radio, compass, depth finder, some newly copied charts and a willingness for adventure. We had no problem following the buoy markers and radioed back to Steve telling him when we had cleared Cromeset Point, about 2 miles out. The other boats had not yet left the ramp. I looked south towards our destination. The bay seemed immense and there was no land on the horizon! Well, let's have at it, we're here now!

We headed alone for Cleveland Ledge out into the immensity of Buzzard's Bay. For the first time, our MacGregor felt small. When we first brought her home in the spring she seemed like an outrageous addition to our collection of worldly possessions. Sitting there on her trailer in the front yard we were a bit numb looking at the size of her. She was huge! "What the heck were we thinking?"

The Ledge was our 10 am rendezvous location where we hoped to join up with the first group of early bird boats. We had our main and jib set and tacked in that general direction. We guessed the wind was about 12 knots. We had 1-2 ft waves, the largest I had ever navigated. Yet, the Gypsy Moon was handling the chop just fine.

The radio chatter between Steve and Ed Goodhue indicated that four boats were still at the Narrows Ramp and that the Pocasset Island bunch had left. Andrea searched with binoculars for Ed's party. There were numerous sailing craft dotting the bay. Which group of boats was ours? We saw some sails over towards Red Harbor and getting out the binoculars again, we spotted a blue hull and finally locked in on the big "M" atop the main sail. A small wave of relief washed over my mate and I. We quietly smiled at each other, feeling that we had just passed a small test.

Since Andrea and I are now functioning at the edge of our comfort zone, we are focused on everything that is happening around us. Andrea is managing the jib sheets and the girls are asleep down below. With all the excitement and too little sleep, they were exhausted. Just as well, we could stay focused on the task at hand. I got used to the Gypsy Moon as it handled the growing waves. Andrea was watching the shoreline and comparing the land features and buoy markers with our charts. The wind was gradually increasing and I was starting to wonder if perhaps this was just a little too much for us to take on. However, we were still under control and we were closing in on two other MacGregors.

The blue hull we spotted was Spirtus with Magic close by. The wind was bearing off and we had to tack more than we wanted to keep up with them. "Wait a minute, Magic is motor sailing, that's how they are heading tighter to the wind and losing us!" Andrea inched forward and dropped the jib. She gritted her teeth and took on a few waves as she sat down under the bow pulpit and attended the jib halyard, securing its sail on deck. We engaged our Honda and slowly gained ground. We were reassured to have a small, growing group of MacGregors lead the way to Wood's Hole. The currents were actually quite manageable as we followed them through that narrow passage in single file. The occasional power boat blasting through with their heavy wakes was the biggest challenge. The crew of the Gypsy Moon seemed to be crossing thresholds of higher learning every thirty minutes.

Breaking out of the Hole we got our first sight of the Vineyard! The winds were picking up a little more but we were starting to feel more confident. The growing field of Macs ahead of us gave us a degree of security as well. "Let's throw the jib back up Hon, this is a bit of a race!" "Are you serious, Doug?"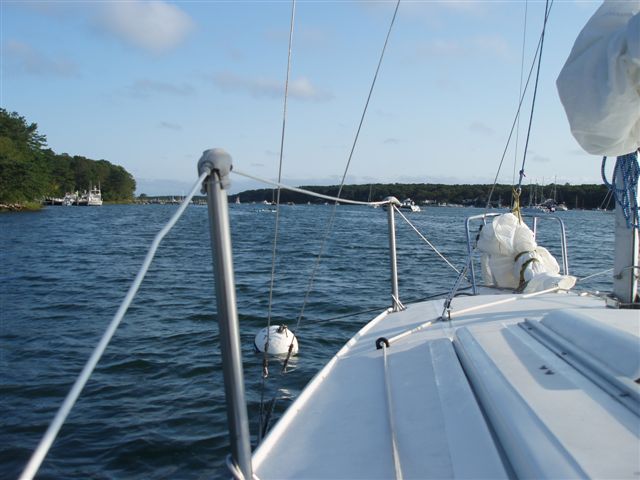 The Inlet to Lake Tashmoo

We continued to motor sail right into Lake Tashmoo on Martha's Vineyard. With very little wind and wave, this was a lot more relaxed. We started to look for a place to nest. Boats were all about, some on moorings, others trying to find a mooring or a raft to join up with. Barbara on the Buckaroo spotted us and hailed us over with an invitation to raft with them.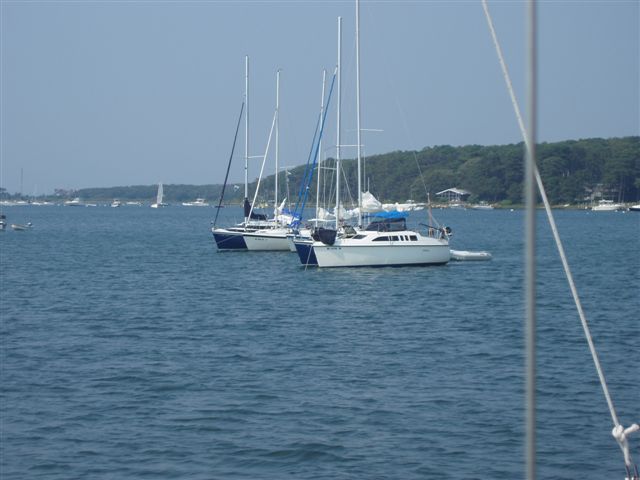 Groups of NE-TS Boats rafting

We sidled up to Charlie's and Nug's boat, the Buckaroo. Barbara jumped aboard the Gypsy Moon and volunteered to set our anchor. It was a bit of a challenge for her to set our undersized Danforth on the grassy bottom. After numerous attempts she got it and then proceeded to tie the two Classics together. This would be a comfortable arrangement - at least until early next morning when the weather had a little surprise for us.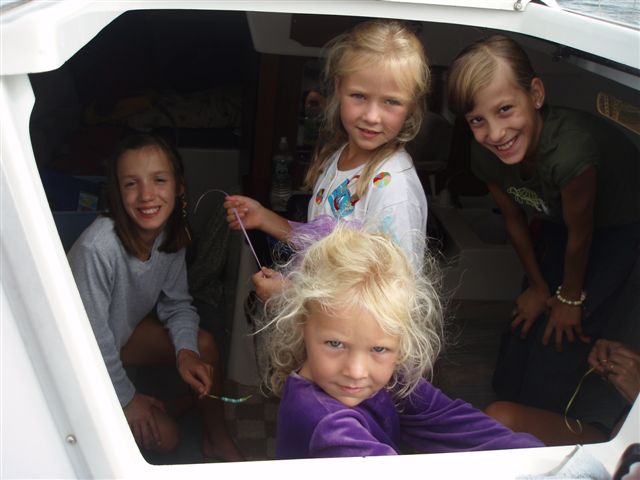 A gaggle of Girls

Julia and Galena re-introduced themselves to Mya and Taya of our companion boat. This little gaggle of girls (great description Nug!) had plenty to keep themselves entertained. From hair tying to DVD movies, this chirpy vortex of energy delighted in having the sailboats rafted up together. Our raft also got a visit from Jack, Rani and Cheni Chadowitz and lots of others.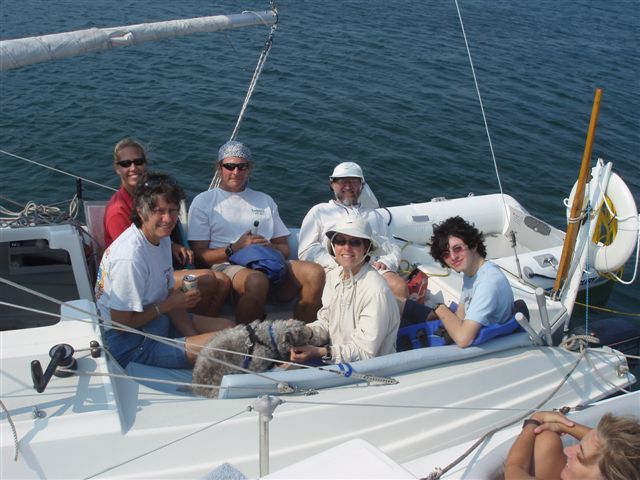 Visitors

Laughter and stories floated about until we all had an urge for ice cream. Dinghies materialized and drained sailboats of their voyagers. We joined up on the town boat ramp and sauntered and yacked our way towards Vineyard Haven.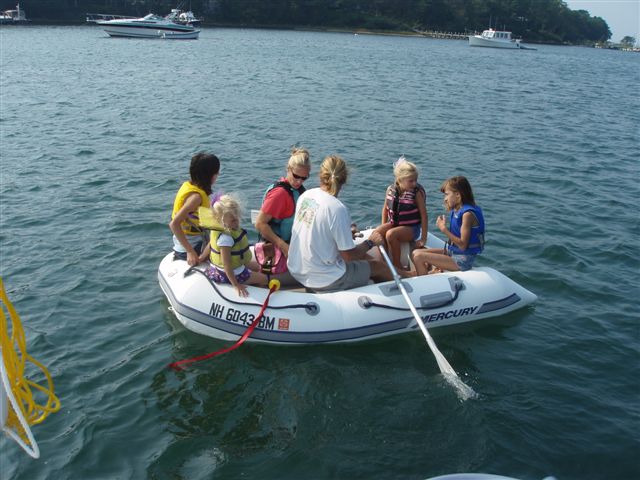 The Dingy ride

Back on our boats, hours later, we rolled into homemade chili, wine, good company and fine moonlight. This was the stuff of dreams. It felt rich and we felt that we had earned it. We weren't just dropped off by a tour bus, it had taken a lot of work to get ourselves to this point. We had reached some new sailing highs for ourselves and in so doing, were feeling somewhat heady. What we did not realize however, was just how soon those newly achieved milestones were to be surpassed. There was talk that the wind was going to increase the next day. We went to our bunks happy and tired, with a bit of anxiety brewing in the back of our minds.

Things can go bump in the night! The Buckaroo and Gypsy Moon had managed to break their anchor set, and consequently drifted a couple of hundred feet with the wind shift. Around 5am we had to pull our little raft off from a fairly good sized blue water sailboat. Her skipper, clad only in his boxer shorts and t-shirt, wasn't too upset from his early morning wakeup alarm. No major harm done, just a few scratches. We separated from the Buckaroo and with the loan of a boat hook, we managed to snag a mooring.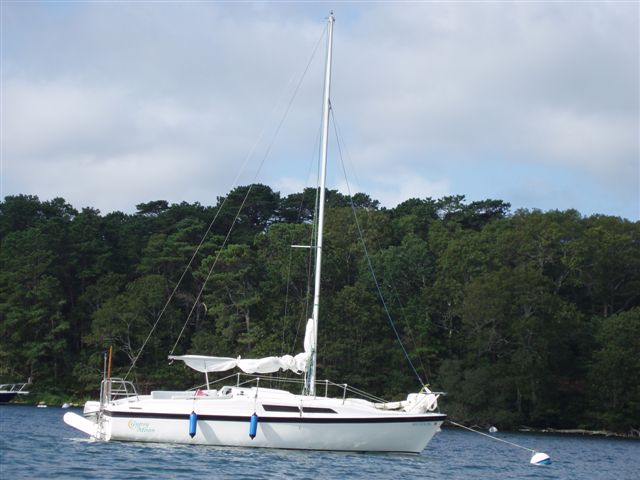 Sunday morning on a mooring

With the coming of the day, the chatter on the VHF increased. There was talk of bigger seas and developing northeast winds. I spent the morning getting our boat in order. I lashed the jib down firmly. I had a feeling that we were not going to use it. We had a little over 1.5 gallons of petrol left in our 3 gallon tank. I felt uneasy about that fact. Fortunately, Ed Goodhue had some reserve gasoline which allowed us to top up. Thanks again, Ed. Yet another lesson learned - lots of lessons in store for us, but we're quick learners! Next time we will bring our spare gas tank (and a boat hook, and a better anchor, and a second anchor, and a better furling system, and, and , and.)

Andrea and I were starting to feel a bit restless with the big unknown waiting for us out past the shelter of our cove. A few lead boats headed out. Finally, around 11am, we heard Barbara's voice over the VHF. The Buckaroo was casting off its line and heading out. Movement would break anxiety's growing grip. We quickly untied and followed the Buckaroo's lead. We reefed down our

main, left the jib stowed and gave the Honda a blessing. It fired up readily. Bring on the day! We kept the Buckaroo off our bow for the entire voyage back to the Narrows Ramp. With Charlie, Nug and Barbara in the lead, it gave us considerable consolation. Fear of the unknown was reduced as we could always see what water action was coming next. I trusted their abilities and judgment.

Upon departure, the wind was already stronger than we had dealt with the day before. When the Buckaroo hit the shallows off the shore of Martha's Vineyard, Andrea and I each skipped a breath; our eyes met. Their craft was getting tossed about like a toy boat in a bathtub. She threw off fearfully large volumes of spray as her bow and hull collided with the onslaught of surf. Waves ahead and abeam. "Oh God" I thought, "We're next!" We were about to graduate from our newly acquired comfort level of one and two foot waves. There were no other options in my mind.

The cross current in the shallows had visible boundaries. There was a defined line at which you entered this high energy sluiceway. When we hit the chop, the spray dowsed the cockpit. The prop on our little Honda was coming up for air from time to time as our bow slid into the numerous troughs. "That's a sound we're not supposed to be hearing," I thought. Play this little event down a bit to my mate. She has enough to deal with.

Andrea took total charge of Julia and Galena and kept their spirits up. She got the girls out from below before they turned green. However, pulling them up on deck had the disadvantage of their being able to see what was ahead of us. Andrea guided their energies and got them to see it as a game! "See the Buckaroo ride over that wave? Taya and Mya are doing it; we can too. It's like a roller coaster, and here comes our ride, wow"! It worked. Mom got her kids to actually see it as fun and enjoy it.

I don't know how long we were in the shallows; Buckaroo off the bow, Zemer Hayem off our stern. It was a long time in my state of mind. But clear it, we did. The wave action subsided even further as we entered the Hole again. It was quite the parade. Two additional MacGregors pulled up and joined the convoy. Add a couple of full keeled blue waters and then a ferry coming out to greet us and offer up its wake. The Honda was strong and relentless. My appreciation for this machine was gaining ever steady ground within me. I knew we were totally relying on it, but what were our choices? My confidence in our abilities and the seaworthiness of the Gypsy Moon was starting to sink in as well. The Hole gave us a brief respite from the wild ride in the shallows. Good thing, for we had a long way to go and the VHF spoke of 20 knot plus winds directly out of Buzzard's Bay to the northwest. The gauge on our gas tank was broken, so I had to pick it up from time to time to sense the volume of gas remaining. We kept the Honda running steadily about three quarters throttle. It seemed like we would have enough gas to get home. One of my favorite quotes was starting to haunt me a little; "Life starts at the edge of your comfort zone."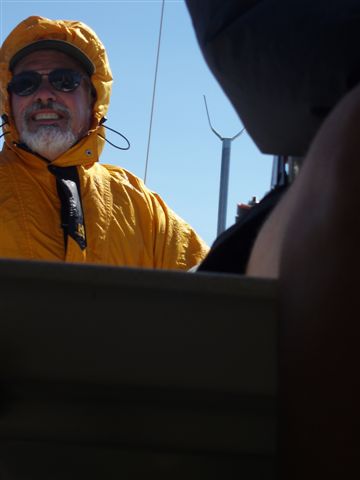 The return trip

The wind came at us dead on as we began the long voyage back to the Wareham ramp. It had indeed strengthened as Hurricane Florence moved up the east coast. Following Buckaroo's lead, we dropped our reefed main as we put Wood's Hole astern. Our bow was coming repeatedly out of the water. By now, I was closer to numb than having fun. Andrea had to put additional layers of clothing on me as I kept one hand on the tiller. Somehow, Galena slept through it all - stretched full out in the cockpit. Julia watched with awe. Wave after wave! She had tried to find sanctuary in her little room, the v-berth, but it "felt too much like flying."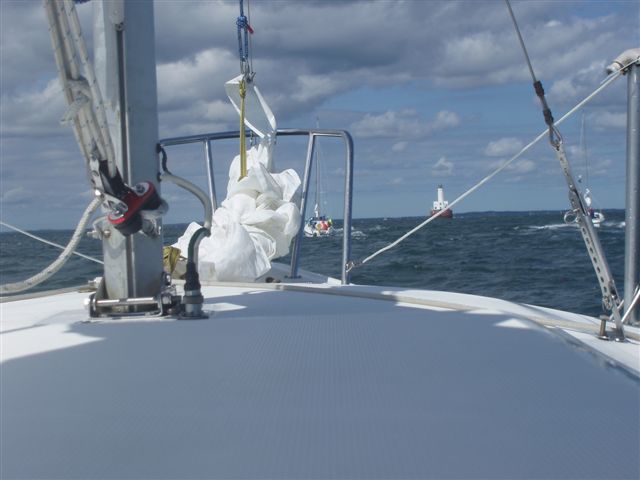 Cleveland Ledge Lightower on the return trip

Spirtus and Magic slowly overtook us. Now we had three boats off our bow blasting into the surf. As we came upon the light tower at Cleveland ledge, we noticed that the wind was starting to abate. We were beginning to feel the buffering effects of the approaching shorelines. I was finally starting to relax as I sensed that we had surpassed the biggest challenges. When the waves subsided down to one and two footers again, it felt like a walk in the park.

At last, the boat ramp and a score of club boats! We jockied around the little harbor as we waited for our turn at the ramp. With a little time to kill, I stole a few glances at my wife. I was so proud of her. She kept the girls in line and had kept their mood upbeat. She had kept the sails in order and was now moving around the decks with a lot more confidence. If she had been worried, she kept it well hidden. After ten years of marriage, my admiration, respect and adoration for this woman has steadily increased.

In the gentle airs again, our little crew laughed and the mood turned light-hearted. We had made it. I was happy to be able to finally release the tiller. I checked the gas remaining in our little three gallon tank. It was about half full after running straight for more than five hours.

Support from the other sailors had made this all possible. We never would have ventured into these waters on our own at this stage of our sailing experience. When asked, our girls said they really had a lot of fun. Later they would recant how at times the constant pounding was a little too much for them. Still, they say they are looking forward to the next sailing season and having a chance to see their new friends again. However, they do ask how big the waves will be!

On the return trip to NH, we found a MacDonald's and gorged on hamburgers. The girls crashed in the back seat for the three hour ride home. I looked from time to time in the rear view mirror to check up on the Gypsy Moon. I could not believe where we had just taken this boat! As the quiet miles clicked by, Andrea and I made notes of all the improvements to equipment we would make for the upcoming season. The list was far different than it would have been had we not had this experience.

Back in our quiet keep in Harrisville, I was exhausted but euphoric. A funny thought came into my head as I climbed into bed with my life mate. I am not the same person that went to bed here just a couple of nights ago!

Perhaps it is appropriate for just one more quote in closing: "Twenty years from now, you will be more disappointed by the things you didn't do than by the ones you did do. So throw off the bow lines, sail away from the safe harbor. Catch the trade winds in your sails. Explore. Dream. Discover." Mark Twain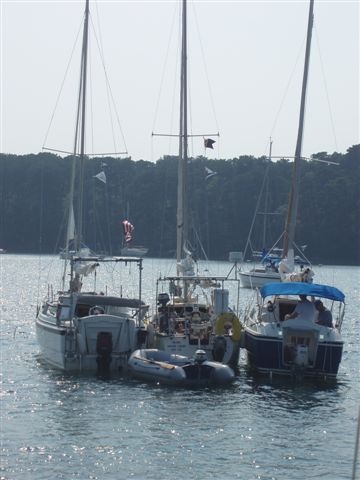 Our Rendezvous leader, Ed on Dolphin (center) rafted to Puddlehopper and Endurance