2000 Allen Harbor Rendezvous
The rendezvous at Allen Harbor on July 21 - 23 went without a hitch. We had 9 members including our newest members Ralph and Carolyn Thomas. They are RI residents and keep their boat at Allen Harbor. They were not able to sail but were around Friday night, Saturday morning and Sunday afternoon. The boats that participated were: Mike & Di Corcoran, Bill & Jeannie Brock, Ed Goodhue (who sailed in from the Cape), Don Huff & his friend Bill, Bob & Barbara Smith, Tony,Jayme & Zack DiStefano, Steve Brissette & Vicki Payne,and Roger & Barbara Garland . That's 4 - 26C's 3 - 26X's and 1 - 19 if you are counting.
4 boats were there for dinner on Friday and one arrived shortly after dinner. We sat around the docks and talked till about 10pm. As we headed out to anchor Mike and Di arrived and shortly after that Tony and his to kids arrived. We had a brief shower sometime during the night. Our Saturday arrivals were late in coming so we headed out at 10am. They arrived shortly after that. The winds were from the South west so we headed toward Newport. We planned to sail the bay and meet up at Potter Cove on Prudence Island for the evening.
The wind was a little stronger than we expected so Mike, Tony, Roger and Ed stopped in a cove near the aircraft carriers for lunch and a change of sails. By the time we were ready to sail again the sky was ominous. So we headed to Potter Cove. One of the group got lost and was having radio problems so headed back to Allen Harbor. One of the group "got a better offer" in Newport so stayed there for the night.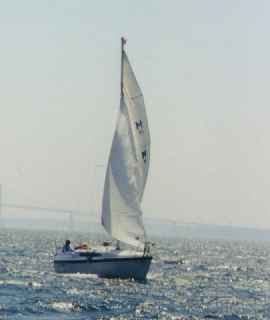 The adventure of the day belonged to Bob and Barbara Smith. They rescued a boater who had run out of gas and was up on a beach on the south end of Prudence Island. They towed the boat home to Portsmouth and arrived in Potter Cove just before dark.
The rest of us spent a quiet late afternoon and evening at anchor. We had a few sprinkles, a wind shift some beautiful clouds and a gorgeous sunset.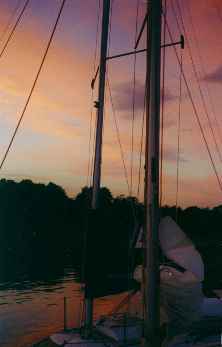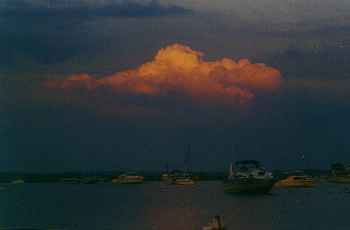 Sunday dawned with a spectacular sun rise.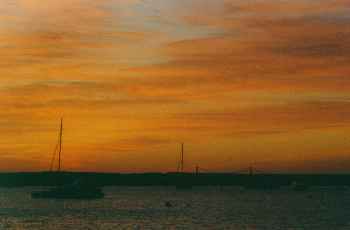 We had a north west wind with a sea breeze predicted for the afternoon so the plan was to head south. Of course the best laid plans never pan out. The wind died as we left the anchorage. Ed headed up the Sakonnet River His plan was to spend Sunday night at third beach in Newport on the Sakonnet River and then sail back up Buzzards Bay on Monday. He reported that he had no wind on Monday (after many days on Buzzards Bay with too much wind) and he motored most of the way home.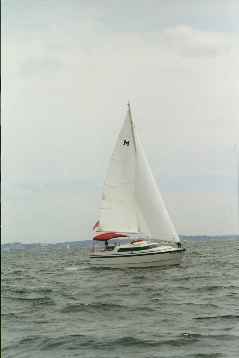 The most interesting thing we saw over the weekend was the catamaran "Play Station" pictured below.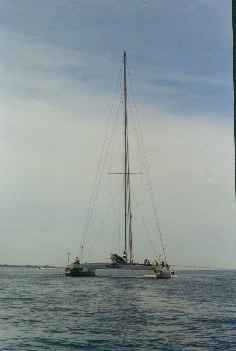 As for the rest of us, our lost boat was in the parking lot. The DiStefano's left just as the rest of the group arrived back at Allen harbor. I got to take lots of pictures of the group hauling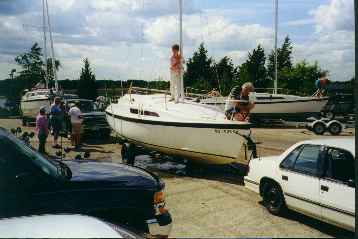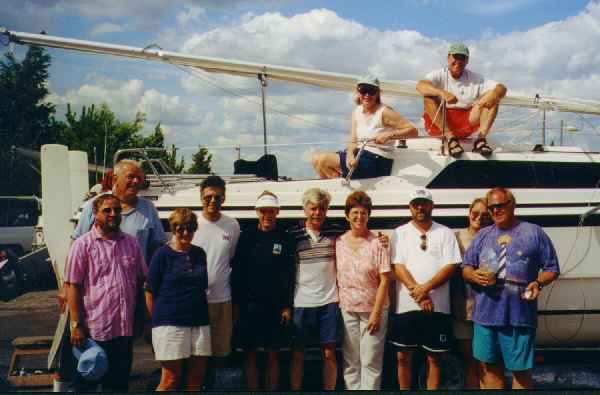 Ralph Thomas, Roger Garland, Carolyn Thomas, Don Huff and crew Bill, Bob 7 Barbara Smith, Steve Brissette, Di & Mike Corcoran. Bill & Jeannie (new grandparents - the baby was born Monday the 24th) Brock on their boat.
These pictures are from Mike Corcoran.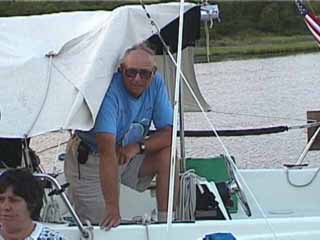 Ed Goodhue on his 26X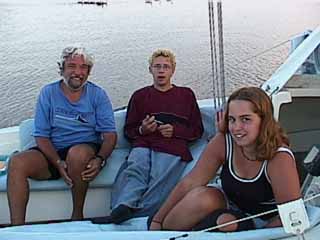 Tony DiStefano and his kids Zach and Jayme on his 26S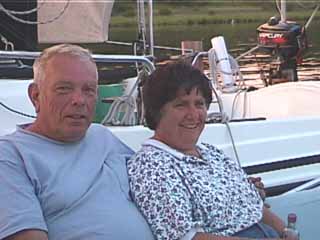 Roger and Barbara Garland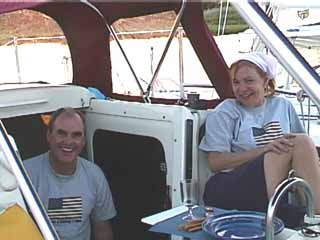 Jeannie and Bill Brock
These pictures are from Carolyn and Ralph Thomas.
These are scenes around the launch ramp.