Allen Harbor Rendezvous 2001
In order to eliminate the conflict of Fathers Day, we scheduled the Alan Harbor Rendezvous on June 8 - 10 this year - however, got many "lame" excuses from the regulars as to why they couldn't make the rendezvous. Not to name any names but the excuses ranged from "My son is getting married" (congratulations Mike and Di), to "my bosses son is getting married" (hope you had a good time at the party Ron and Debbie), to" I broke my wrist" (we here things are getting better Bill, - hope you are back on the water soon), to" it's my new girlfriend's birthday and she would like to do something other than sail" (Don, I hope your new girlfriend appreciates the sacrifice you made).
Anyway we did have 5 boats and one skipper who came without a boat because his crew was sick. After a horrible May - with many rainy weekends, we had excellent weather. Ed Goodhue sailed up from the Cape on Thursday and Friday to meet us in Allen Harbor. We had dinner at the dock with Hal Streeter ( minus boat because his friend was sick). We took Hal for an evening sail and hunkered down for the night in the anchorage. We woke to no wind and a perfectly still harbor.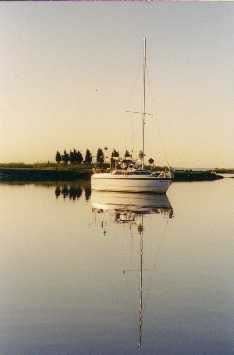 Ed on his anchor in Allen Harbor
Tony DiStefano and friend arrived late and launched early Saturday. Our 3 boats we had expected were here and ready to go so we left the harbor shortly after 8am with a slight breeze. The plan was to sail out the west passage past Dutch Harbor light,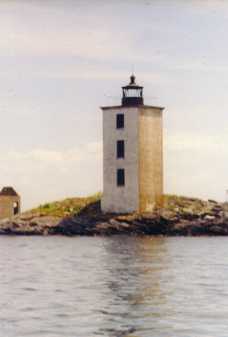 Dutch Island Light - now abandoned
Beavertail Light, around past Newport and up the bay to Potter Cove. We had hoped to meet Hap Aldrich on the water. Some people did see him - though not us.

We had a lovely sail after the see breeze set in about 11:30.

We were first to arrive at Potter Cove. We called to Ed to find out where he was ( he had motored out and had gone as far as Point Judith so he was behind us) and we here on the radio "Whale, Whale, Whale this is Mariah" Bob and Barbara Smith had come down Saturday morning and weren't going to be the last ones into Potter Cove like last year (no one to rescue this time).

After an enjoyable evening of conversation, we headed for separate moorings. Sunday morning dawned with no wind so we sat around enjoying the peace and quiet and company till noon (except for Tony and friend who went looking to purchase bait and went fishing) and had a leisurely sail back to Alan Harbor.