&nbsp


Lake Champlain 2001
Various authors: Barbara Garland, editor

Well, the Lake Champlain Rendezvous 2001 is now history. Knowing that it is like pulling teeth to get someone to write - especially when one could be sailing, I have decided to create a composite of peoples thoughts.
First my own - We arrived Saturday night after a week sailing in the 1000 Islands (another story for another day). We talked to 2 groups of MOANE members - one group anchored at the ramp and one group at the Mallett Bay Boat Club. The group at the ramp decided to head out early Sunday morning - talking by radio at 9 am to the others.
Sunday: We got in about an hour of wonderful sailing on a beautiful morning and then listened to the weather. There was a severe thunderstorm warning winds to 50mph (later upgraded to 70 then 80mph). We headed back into Mallett Bay to the north west corner and waited. Thankfully the bad winds never came (they did further south) but it did rain.
Monday morning - we were well protected from the NW wind. At about 8am we got a call from Frank. He was in his house on the bay and thought he saw us anchored. We discussed the fact that there was a skippers meeting via radio at 9am. We had decided to sail to Mallett Bay Boat Club to meet the Foshays, the Chases and Ron and Kathy. Ed Goodhue and his friend Dennis Wall (who were anchored near us) sailed along with us.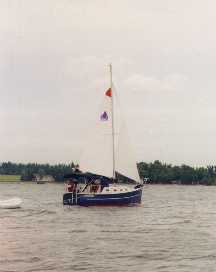 Dennis's Seaward 25 "Freedom"
&nbsp
(Ed's dingy flipped it was so windy) Frank decided he and Sonja would drive over to meet us. The way you sail Mallett Bay is to sail the inner bay. If that's OK venture out to the outer bay. If that's OK head for the lake. Well the inner bay was too much. (NOTE no one ever checked the wind speed while we were out in the bay - we had are hands full sailing.) We spent the day on shore - ending with a bring your own dinner (we all had food that was thawing) at Frank and Sonja's.
Meanwhile in Willsboro Bay - Sam and Arlene Wykoff had launched and spend a rough Sunday night. Bill and Siobhan Baines arrived Monday morning and spent the day on shore.
The Noyes, thinking we had gone out Monday, headed out under motor for Valcour. They finally found us on Tuesday.
Tuesday - we didn't hesitate- It was Butterfly Bay on Valcour or bust. We all made it. By Tuesday there were 10 boats, 3 boats from Willsboro (Bob and Carol on "Time Enough" arrived on Tuesday), 6 from Mallett Bay and one already at Valcour. The wind continued to build as the morning progressed and those who left later had a rougher trip. We met on the beach and had an evening bon fire.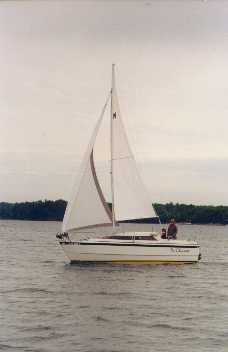 Ms Chevious on the way to Valcour
&nbsp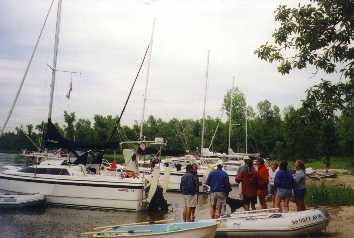 Boats on the beach
&nbsp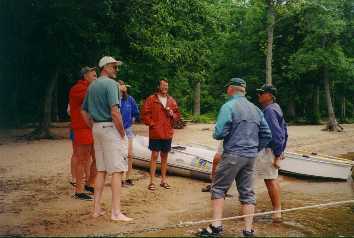 Checking out Ed's generator

&nbsp

Wednesday - knowing the group was thinking of heading north (with a south wind) and not wanting to fight back upwind late in the day, we opted to just leave Wednesday morning. We left at 7:30 under motor. We sailed from 8-8:30 with a genoa and then changed to the little jib. By the time we made it to the railroad fill at the outer edge of outer Mallett Bay at 9:30, the wind was blowing 25 to 30 mph and the lake was getting rough. Once in protected waters we had a nice sail in.

That was the end of our trip but not the rendezvous. Hence my question of the group the week after the trip. I got 5 responses.

Frank and Sonja needed to be back on Wednesday and were going to rejoin the group on Friday. They emailed us "It sure was blowing. We followed the crowd north to the inlet to the Gut then battled the wind south back to Malletts Bay. Sonja and I were pretty exhausted by the end of it all and learned more about sailing the X. We linked up with the crew again in Shelburne Bay on Friday night then headed south to Willsboro on Saturday, back to the bay on Sunday.

Gerold, Carol and Willy (aged 3) Noyes didn't tell us about the whole week but gave us a great insight into Wednesday. They wrote "We had a very nice down wind ride to Burton Island under Genoa sail only. We were on the dock before it got really windy and then went raspberry picking - lots of ripe ones, yummy." Though their note was short they sent me the following pictures.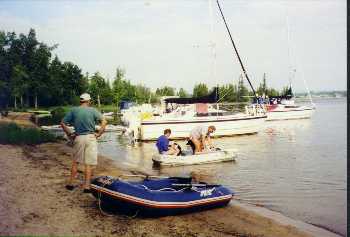 Bruce and Pam Foshay(and dogs) coming ashore
&nbsp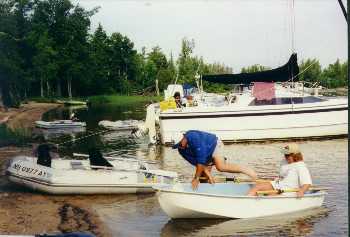 Bill ans Siobhan Baines coming ashore
&nbsp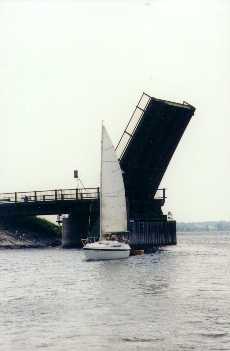 "Time Enough" going through Grand Isle Bridge
&nbsp
'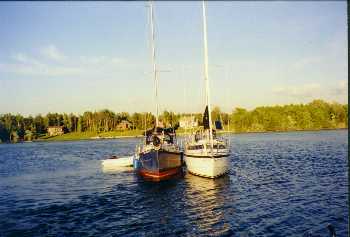 "Freedom" and "Taurus Two" rafting up in Pelots Bay on Thursday night
&nbsp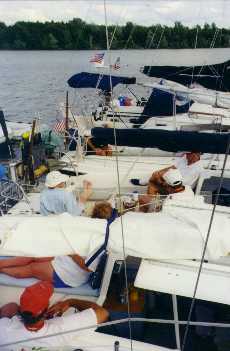 The group rafted up on Thursday night
&nbsp
Bob and Linda Chase (sailing on their Hunter 30 "Change of Heart") gave us a pretty good idea of the week. Bob wrote "Wednesday we all sailed up to Burton. Good wind, but didn't see any 30 knots (thank goodness!!). I think the best I saw was gusts of22 or 23 in the Gut of all places. Other than that it held steady in the 17-20 range. Thursday we headed to Pelots; Friday we were at Shelburne; and Saturday we were at Willsboro with 16 at the upper deck for diner!! Winds held strong all week. Don't ever remember a week quite like this one. Rarely sailed in less than 10 knots, and generally it was 15-20 with higher gusts. Sorry your left early. Once we got out of Malletts, it was one of the definitely the best week of sailing I can remember. Company was not half bad either!!
Bill and Siobhan Baines were staying till Tuesday. They emailed us - "We sailed with just our jib on the way to Burton Island State Park on Wednesday. Once we got to the "Gut" we dropped the jib and motored through the Gut and the drawbridge. We then sailed with a reefed main and jib the rest of the way to Burton Island. There was a threat of strong winds and violent storms but they never came. We had some rain and then it partially cleared and we saw fireworks in the distance in Vermont at about 9:30. Winds were from the South most of the day as I recall, but don't recall wind speed. Just know it was enough to power us nicely with just the jib. We just got back late yesterday afternoon, July 10th, and the logbook is still on board so I can't be too accurate. We will be cleaning out and getting ready to put Mental Floss back in her slip this weekend. I'll double check the log to see if what I've told you is close to what "really "happened on Wednesday. The rest of the week was great and we sailed from Burton Island to Shelburne Bay, then to Willsboro Bay, where a number of folks left the group. We sailed back to Valcour Island ourselves on Sunday and spent the night in Smuggler's Bay and headed back to our trailer at Willsboro Monday morning. Spent the night at anchor in the southern end of Willsboro Bay, just off the launch ramp and left for home early Tuesday morning.
Then there was Steve Vollers. He is new to MOANE this year. He wrote, "Sorry we missed you. My brothers and I arrived at Willsboro Point Thursday night, launched Friday AM at the state ramp and sailed up the middle of the lake meeting the MOANE group about adjacent to Valcour. We then turned Southwards and sailed to Shelbourne bay for Friday night. We met the members present and learned a lot. Saturday morning the group was headed for Willsboro Point but since we had just been there we sailed up to Valcour's Butterfly Bay. It was crowded but many left as the darkness approached. Rained that night and Sunday morning we had strong wind on the nose all the way back to Willsboro. Only 3 days on the water but our Mac 25 Little Rascal was a pleasure and we enjoyed meeting the clubs reps on the water.
Thanks to all the contributors. Also thanks to Bruce and Pam for coordinating the rendezvous again and to Frank and Sonja for hosting us at their house.