Champlain Rendezvous 2002 Leader's Report
by Gerold Noyes
Sailing "3 Breezy Fleas"
Pictures by the Noyes
This year's rendezvous had a record number of boats (17), family (4 boats with children and 3 with dogs), and heat! There was also good sailing, but a number of days were cut short as people decided to motor to the next anchorage and go swimming instead of sailing slowly and broiling in the sun.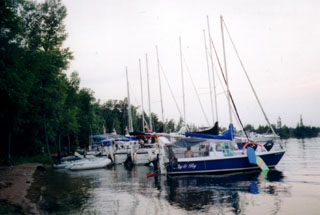 On the beach at Valcour June 30, 2002

This was my second year with the MOANE group and first time co-leading a rendezvous along with Frank Gibney. Many thanks to him for hosting a great party at his home on Malletts Bay. Thank you also Frank, Barbara, and Rani for all the photos.

Boats were launched all weekend from Malletts Bay and Willsboro Bay. By Sunday evening the majority were at the first 'official' anchorage of the trip at Butterfly Bay on Valcour Island. A 2-day plan was made during the Monday morning captain's meeting to take advantage of the usual south wind for the trip to Deep Bay 15 miles north on the New York side and then over to Burton Island for Tuesday night.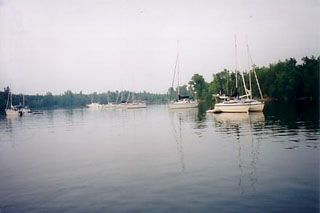 Anchoring at Deep Bay
At Deep Bay Carol, Willy, Don Huff, Steve and Tabby Silvia, and I hiked through the woods taking several wrong turns on the way over to the swimming beach, it was crowded, hot, and muddy! We would have been better off swimming from the boat or shore in Deep Bay, which is what others did.
In a south wind Burton Island is only a short sail on a reach from Deep Bay, and most arrived by 12:30 or 1:00, depending on drawbridge timing. It was another scorcher and swimming was again high on the list of preferred activities. That evening we got together for a potluck picnic and later music and singing. Pam and Bruce (Charis) caught up after flight delays caused a late start for them.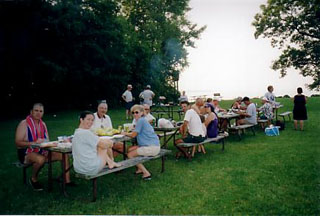 The Group at Burton Island

Wednesday was back to Valcour Island. Several boats stayed behind for another day at Burton Island or Deep Bay. This made for a very bouncy ride coming back, for them on Thursday. Those who went to Valcour on Wednesday had another slow, hot ride, and one by one sails were dropped and motors started - swimming couldn't wait another minute. That night we stayed in the bay south of Bluff Point on the west shore. Through sheer good luck we found Bob and Carol (Time Enough). They started out Tuesday from Willsboro Bay and were spending their second night on Valcour Island, not having heard from anyone, but figuring we would be by at some point.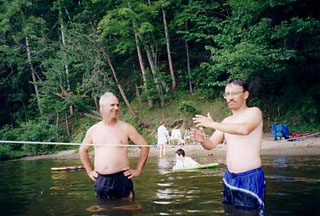 Bob and Gerold at Bluff Point
The rest of the day was devoted to swimming, a campfire, and music and singing. Bill Brock brought a guitar, harmonica, and a bag of kazoos, Bob his fiddle, and Carol a penny whistle.
Thursday, Roger and Barbara after having listened to an ominous weather forecast of thunderstorms, got everyone going early for the trip to Malletts Bay. 3 Breezy Fleas and Puddlehopper dawdled over breakfast before being the last ones to leave. We wound up motor sailing through 2-3' waves and keeping an eye on black clouds passing to the north. However, we always were on the edge of the weather, only hearing occasional rumbles of thunder and seeing lightning in the distance. We anchored on the north shore of Malletts Bay and settled in for an afternoon of swimming. The Kerwins on Buckaroo joined us here. In the evening there were fireworks all around the bay.
Light Winds on Wednesday

The next day dawned 20 degrees colder, cloudy, and quite breezy. Those at Malletts Bay decided to stay put. The water was still warm for swimming, some did a little day sailing around the bay, and a couple crews moved over to the Champlain Marina to enjoy hot showers. We also picked up 4 bags of trash and a brand new water ski vest left by fireworks watchers from the night before. That night Frank and Sonja invited every one to their house on the east shore of Malletts Bay. We had a wonderful cookout and those of us with empty coolers ordered pizza. Linda Chase brought a yummy key lime pie made in the galley of Change of Heart, a Hunter 30. We enjoyed a beautiful sunset over the bay with the Adirondacks in the background and more music.10 to 20 kt north winds with 2-3' waves were predicted through the weekend.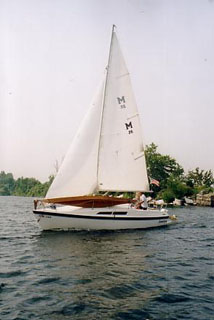 Jamalya

The traditional last night dinner at Willsboro Bay marina would be easy to get to, but the return sounded like more work than some wanted. Many of the crews that had launched in Malletts Bay decided to stay for another day near their cars and trailers. 4 boats that launched from Willsboro Bay, as well as Charis and 3 Breezy Fleas, set off Saturday morning for a dinner date at the Upper Deck. Bill and Siobhan (Mental Floss) also celebrated their anniversary that night.

After motoring out of Malletts Bay, past Stave Island the winds finally picked up and it was good sailing to Willsboro. At one point 3 Breezy Fleas hit 7 kts under reefed mainsail and partially furled genoa. Docking in 20 kt winds was exciting, but we didn't bump anything. Again rain clouds chased us and we sat out a short shower on the dock. Dinner was excellent and a fitting end to the trip.

Sunday wind started light and variable and eventually died completely.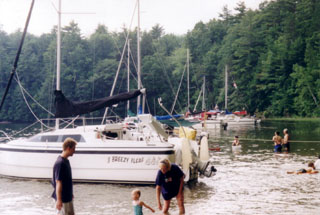 3 Breezy Fleas at North Beach, Mallett's Bay

After drifting about for 2 hours south of Schuyler Island (about 3-4 miles north of Willsboro Bay). Carol, Willy, and I gave up and motored home to Malletts Bay. Because of the forest fires in Quebec, the sun was a murky orange disk. After practicing (and playing) with my new handheld GPS since Christmas, I actually navigated with it for the first time, since visibility was so poor.

See you next year!

We'd also like to thank you for a wonderful job of organizing us. Barbara