New England Trailer Sailors

MacGregor Owners Association of New England

LAKE CHAMPLAIN RENDEZVOUS 2002
AS RECALLED BY
MENTAL FLOSS
Hi, Mental Floss here. Just thought I'd pass along a few thoughts and memories of the latest rendezvous on Lake Champlain. For one thing, Siobhan provisions the boat much better alone without Bill's help. Better food, and I could actually see my waterline above the surface of the water at the start of the week !! Most of my parts worked well this time. No outboard problems, no anchor dragging during breakfast, and the new cabinet over the galley worked rather well. In fact, this trip was rather uneventful compared to some of my past experiences.

However, my self-esteem was badly damaged by the Vermont State Police at Burton Island State Park. After a thorough inspection it was noted that I was missing a required second fire extinguisher. Here I thought I was in good shape safety wise and suddenly I'm in violation. I heard Bill and Siobhan debate whether or not they would get a second one and I'm not sure if they ever decided one way or the other. Boy, was it hot while we were there. Everyone decided to go ashore in the shade to cook dinner and I thought I could see some table maneuvering by Frank and Bill Brock to get a table level for cooking. And I thought my Bill was a stickler for detail !!! I heard lots of laughter and some new liquids in bottles ( one didn't even have a label ) were shared with the group by Hank.

After a lengthy Captain's meeting ashore the next day, it was decided that there were many diverse desires in the group. It was agreed to go our different ways and meet again in a day or so at the NE corner of Mallets Bay, near Frank and Sonja's house. My bow was pointed toward Valcour Island where we spent a cooler evening and enjoyed nature's fireworks in the skies to the east of us.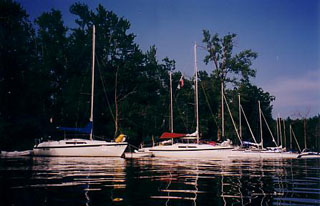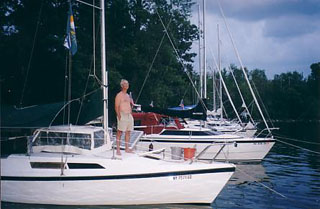 peaceful anchorage&nbsp &nbsp &nbsp &nbsp &nbsp &nbsp &nbsp &nbsp &nbsp &nbsp &nbsp &nbsp &nbsp &nbsp &nbsp &nbsp Bob checking out the sky
&nbsp
I noticed a definite party attitude this year. Maybe it was the heat, but lots of folks were in the water and on the beaches socializing.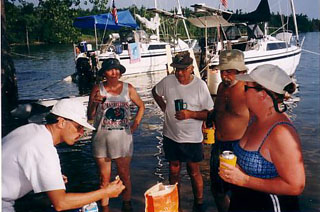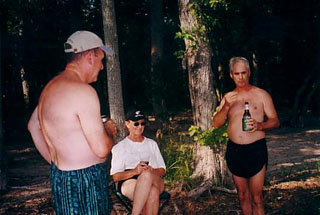 the people socializing on the beach
&nbsp
Bill thought it would be a good idea to put my new table in the sand and water for a party ashore. Table and boat agree: Bill needs to have his head examined.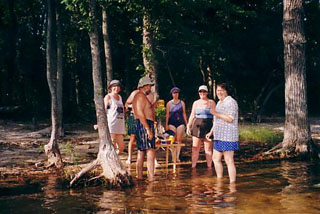 note people and table in water
&nbsp
Siobhan had the right idea when she mentioned the idea of buying a floating bar for next year.
Meanwhile, all of us boats had a great idea. Get the owners to sail us all to Mallets Bay and get Frank and Sonja to host a party. It worked. I hear the party was grand with lots of good food, music, views and a spectacular sunset, not mention the kids having a ball dancing. And yes, all of us boats, wherever we were that night, got some peace and quiet.
It has occurred to me that I will probably not be following that rusty old Pathfinder again next year. I watched as we headed north on the Thruway as the bumps seemed to jiggle the old bumper more and more as each mile passed. This is something the trailer and I need to get together on and convince Bill and Siobhan to buy a new truck. Speaking of buying things. While at the mooring at the Mallets Bay Yacht Club, Bob Chase took Siobhan, Bill and Tony to the West Marine store. They returned with lighter wallets but with heavier bags of goodies for me to carry. Worst of all, the stuff they bought was all for them. Siobhan made good on her promise of a floating bar for next year. It is now stowed in the V-berth.
One of the more pleasant memories is that of Bill Brock's everlasting hope of transforming some of the group into musicians. What folly. Once again he handed out kazoos to anyone nearby and then encouraged them to play along with Bob, Carol, and himself. The time I enjoyed the most, aside from sailing, was the evening time when the soft sounds of fiddles, guitars, wind instruments, and singing drifted through the peaceful quiet. It gave everyone another opportunity to enjoy where we were and whom we were with.
Lastly, I heard Bill and Siobhan talking about organizing a NY State rendezvous on Cayuga and Seneca Lakes in the Finger Lakes Region of central NY. Now that is a great idea. I like the area and hope Bill and Siobhan get heir acts together and pull it off. I'll be keeping you all informed. After all, someone needs to keep Bill busy in retirement, and it might as well be me.
I'm back in my slip on Lake Wallenpaupack in the Pocono Mountains of PA, about 20 miles east of Scranton. Lots of good sailing since the return, but I can't wait to see you all again next summer. Sail safely.
Mental Floss going back to 69
Some of Mental Floss's friends from Champlain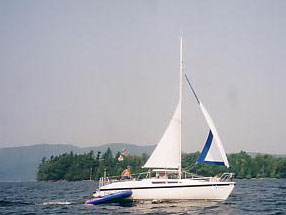 Delos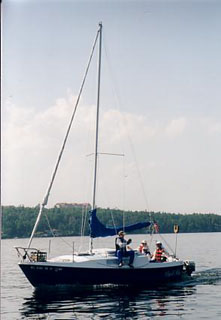 By & By
editors note: This is Mental Floss's second article for MOANE. Mental Floss is owned by Bill and Siobhan Baines. We thank her very much for taking the time to write us. We would encourage other boats to do the same.