2007 Allen Harbor Rendezvous 2
by "Whale" as told to Barbara Garland



I don't know how to explain what's going on. It's August and this is only the second rendezvous I've been on. I understand why I didn't go to Winnipesaukee. It was raining and neither Barbara nor I like the rain.

I didn't get to go to the first Allen Harbor Rendezvous and the weather was beautiful. That worried me. But I did get to go to Lake Champlain - with a new crew for the first time. His name is Loyd and I've seen him before on his own boat years ago. He seemed to know what he's doing - and that's great.

I missed the Casco Bay Rendezvous and I was really excited when they arrived on Wednesday and packed the boat. Then I was on the road on Thursday morning at 9am headed for Rhode Island - my favorite spot - and was sailing by 1pm. It was great to be back in Allen Harbor and on Narragansett Bay. We sailed for 4 hours and then I got to stay at the dock. Dan and Nancy on 'Y'Knot' were there but went home for the night leaving my friend 'Y'Knot' on a trailer in the parking lot. Harry and Nancy were on 'At Ease'. They just took it easy for the day.

I'm glad we went on Thursday because Friday was a wash out. Early in the morning 'Tacit Blue' and Chuck were there. The boat was in the water before the rain and I was worried when Barbara was on the VHF to Ed on my friend 'Dolphin' in the middle of the rain and wind. He finally arrived from Third Beach as did my friend 'Trioomph' with Ken and Judy a bit later. Ed came over and told of 25-30 mile winds on the bay and lots of spray over the boat.

By the end of the day 'Karamal' with Al and Karen and my best friend 'The Beep' with Tony had arrived. All the people were cold so they went out to dinner and left us boats at the marina. It was great fun to see all my old friends and I think the people had fun at dinner and then at Newport Creamery for dessert.

The people arrived back at the ramp to see Paul and 'Mildred Rose.' 2 more boats 'Puddlehopper' with Steve and Karen and 'Up 4 Sail' - a new friend with Ed and Carolyn on board were launched on Saturday morning. Then, as some of us were getting ready to leave, an old friend 'Eave J' arrived with Dave and Mica arrived. I hadn't seen her in years.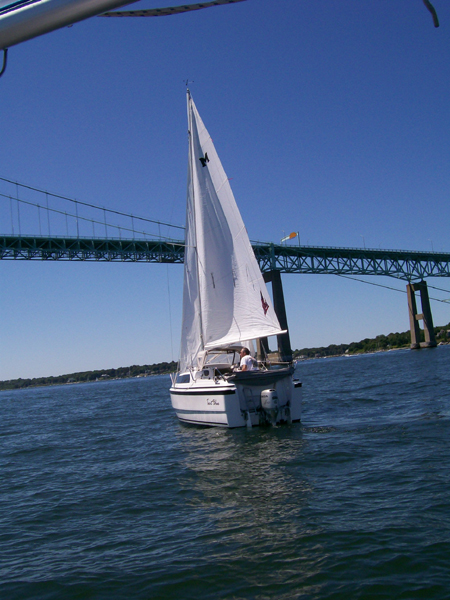 Tacit Blue and Chuck under the Newport Bridge
&nbsp
I'm glad Barbara and Loyd wanted to get sailing. We headed out with 'Tacit Blue' to show her how to SAIL the bay. We headed south in a north wind to Newport. We got to hear the Newport Jazz festival, saw lots of boats including a 12 meter, and sailed almost out to Beavertail light.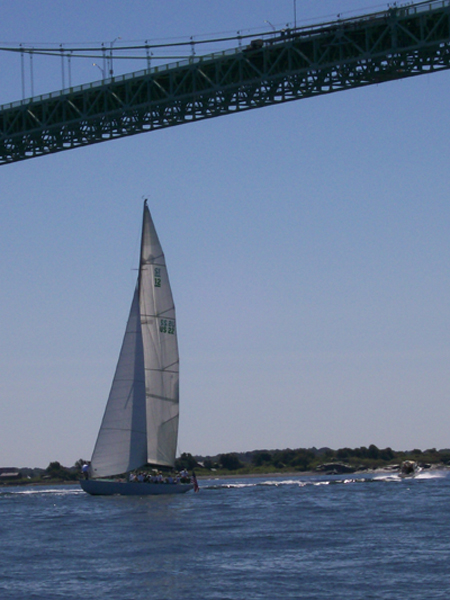 One of the 12 meter boats under the Newport Bridge
&nbsp
The south wind came in and we sailed all the way down to Potter Cove on Prudence Island. We met up with Y'Knot on the way to Potter Cove - it's nice to see that other skippers know how to find the wind. The boats that left Allen Harbor later never got the wind and they motored all the way to the cove. What fun to see one of my big boat friends 'Dror' with Jack and Rani anchored in the cove.
There was lots of talk as the boats rafted up for the night.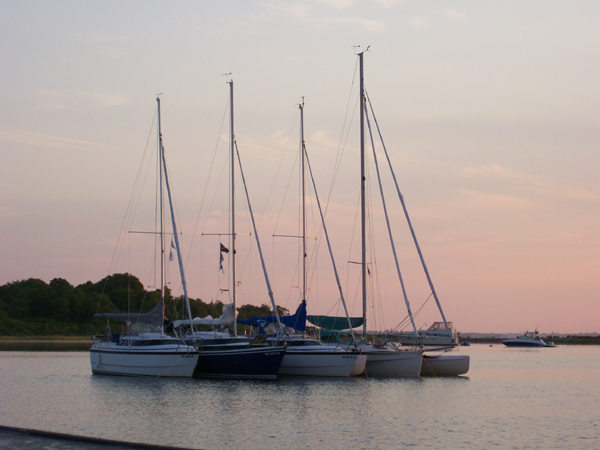 Some of the boats rafting
&nbsp
Several people were up to see a beautiful sunrise and some people tried to see the Perseids Meteor showers.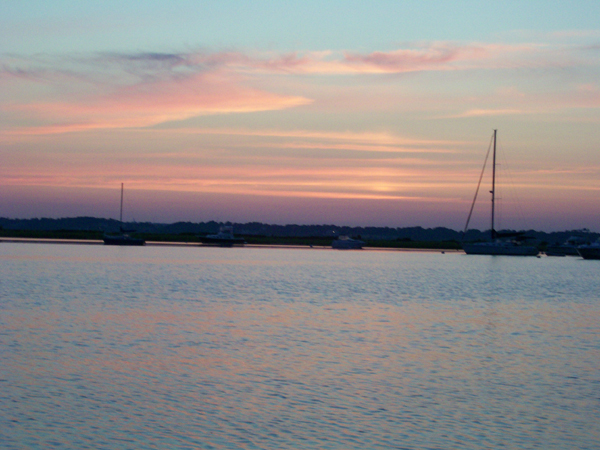 early morning sky
&nbsp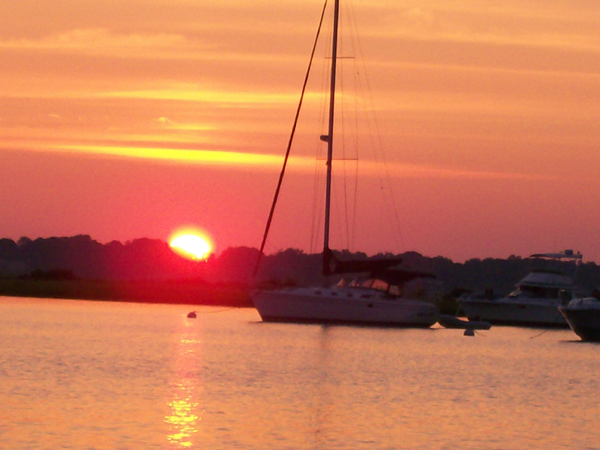 Sunrise
&nbsp
The winds were light on Sunday morning but true to form, 'The Beep' and I left the harbor and sailed together back to Allen Harbor. 'Dolphin' and 'Trioomph' were sailing back up Buzzards Bay on Monday so they left for Third Beach. Tony had car trouble so he left 'The Beep' at Allen Harbor. Hope all my friends got home OK. As for me - I'm, back home, cleaned up and some repairs under way. I don't know if I'll be sailing again this year, but I hear that I might some day get to meet 'Serenity' the "big boat" that Loyd owns. It's sad not to sail so much but so long as Barbara is sailing, that's great. I'll sit in my boat garage; just waiting for the next time I get to sail with them.