Sunny and bright, with a mild breeze and just a touch of clouds - I arrived around 9 am at Fay's Boat Yard, Lake Winnipesaukee.
Soon Barbara Garland pulled up. She pitched in to rig Lady-in-Red. A few moments later George Lavoie and his friend Ron showed up with his 26x Nauti 'N Nice — striped with a sharp looking blue line just under the black strip under the rub rail. Really really sharp.
George removed my rudder safety bolts which I had overlooked. Lady-in-Red was set to go!
I invited Barb to sail with me, and we took off to find some wind. Now and again we found some, but overall, not much more than a occasional puff. Still, it was great to be on the water. I had not seen Barb since Lake Champlain so we NE-TS webmasters caught up on the year.
Meanwhile, Back at Fay's Boat Yard
Barb and I decided to head back to Fay's Boat Yard and check on the rest of the group.
On return, we found Chuck Healey, our trip leader for Winnie, helping other members tie up. The picture at top shows Chuck helping new members Al and Karen.
My wife Kathleen and son Jacob arrived after working and school.
That evening, most participants of the rendezvous decided to eat at a nearby and very popular restaurant. MMMmmm.. their ice cream was particularly tastee!

Day 2, Sail to Wolfeboro
The fleet set sail to Wolfeboro - approximately nine miles to the east/ south east of Fay's.There were north /north west winds. (See the GPS map, at top.)
The sail was nice. We had steady winds for the most part, at least until Wolfeboro. Lady-in-Red were the last to arrive.
Lady has a very important job in NE-TS. Most people think of us as one of the two webmasters for the NE-TS site. But a far more important role is safety observer. For that reason, it is our job to be last in any sail, so that we can watch all other boats from the rear. This is a critically important job which we take very seriously. :-)
Indeed, we took up the safety observer position for the sail down to Wolfeboro. We are happy to report that we did not have to rescue any rendezvous members.
Wolfeboro is a quaint small town which is a well known destination for many boaters. We were able to tie up at the town landing. We stretched our legs on shore.
Possible thunderstorms were forecast for the afternoon. Darker clouds had arrived. After some 30 minutes on land, we departed, bound for Fays with the rest of the fleet.
The wind had picked up, but in an odd way - shifting directions. Just when you thought you've caught the wind it would change direction or drop off completely.
Several of the saltier boats were making good time, while Lady-in-Red assumed a near safety position.
All of a sudden, Kathie looked ahead and could see something had changed in the water - whitecaps had appeared. Then boom! A gust hit us before she could say "look!". It was at that point that I knew we'd better drop the sails and get back to Fay's before the weather reached us.
We just made it - the downpour started 10 minutes after arrival. And it was a DOWN... POUR!!!
That night the group ate at a nice restaurant while the lightening played out its dance outside. By the time we arrived back at the boats the worse weather was subsiding. Rain came and went all night. It was a nice sound to sleep to!
Day 3 - The Clouds Never Ended
We awoke to the weather forecast promise of cloudy skies giving way to partly cloudy. But I don't think they had told the rain that. Yet we still had a good time. Huddled under hulls of boats stored on shore, we stood chatting on the dock, with warm coffee provided by Al and Debbie of Magic. The rain came and went, then came and went, then came.... but we all kept talking.
Pretty soon we were going boat to boat looking at each other's modifications. We all liked Jim and Venessa's mod to stow the 26x hatch behind the Captain's seat. It included a couple safety rests with lanyard to prevent seat loss in rough seas. Not to mention their yellow 26x - which many people said looked great! Al and Karen showed us some self-releasing cleats that could save some rudders in the event of obstruction. They are definite must haves for Lady-in-Red. And of course, a number of people positively remarked about Bill and Jeanne's boat enclosure.
With the morning basically gone, no wind, clouds and on again off again rain, most people decided to pack it up for the weekend. Kathie and I had a three hour return trip to Maine.
Winnie was a great time despite the challenging weather. Great sailing and some great people to do it with.
Note: When I returned from Winnie, I learned that my daughter in-law Heather had given birth to my first grandchild. A beautiful boy named Flynn William Dieffenbach. Life is good!
Until next time,
Rick and Kathie Dieffenbach
e-mail us webmaster2@ne-ts.com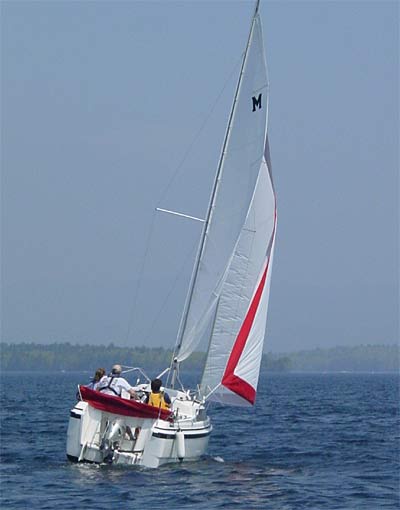 Above: Saturday, our Lady-in-Red returning from Wolfeboro. Photo by Ron.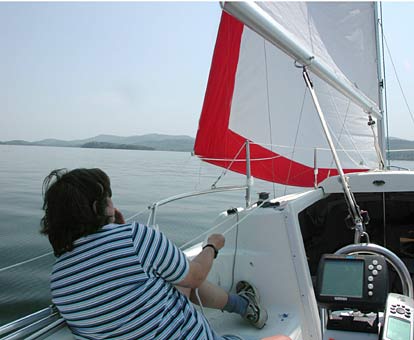 Above: Friday, Barbara Garland handles 'Ladys new-for-2004 Genny.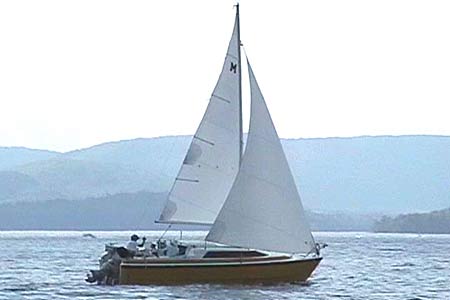 Above: Jim and Venessa Williams. The photo does not show this well- but their 26x is painted a bright yellow! It really stands out in a crowd!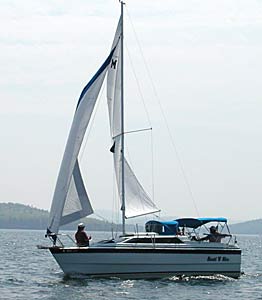 Above: George Lavoie and friend Ron come about in Nauti 'N Nice.

Above: NE-TS has arrived. Helen looks on while daughter enjoys a snack. Al (sitting, at right) talks with George and Barb.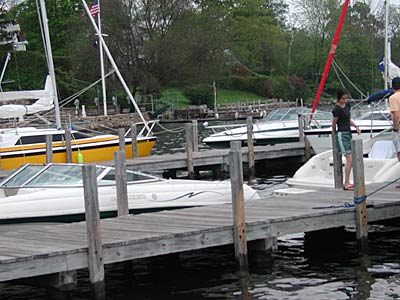 Above: docking at Wolfeboro. Jim and Vanessa's 26x is on the left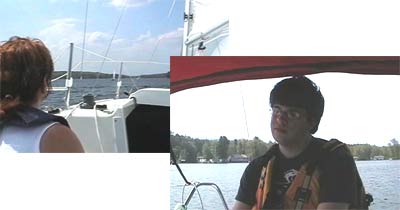 Above: Lady co-Captains Kathie and Jacob.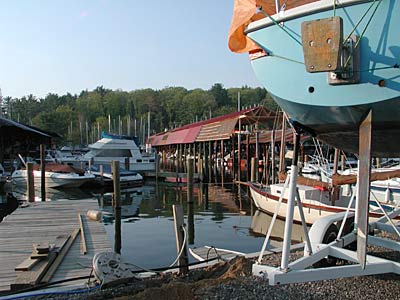 Above: Another view of Fay's. The docking is pretty compact, but well protected.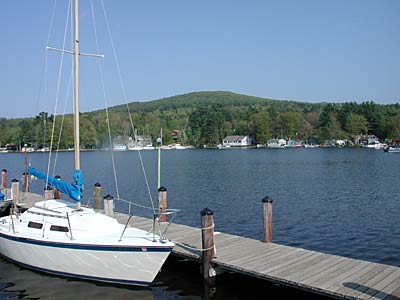 Above: Winnie is quite beautiful. We happened to be here while a fishing tourney was underway. While there were a goodly number of boats already out on the water, most were standing still or trolling at a few knots.