Why Join North East Trailer Sailors?
Click here to view the
member's section
(sample)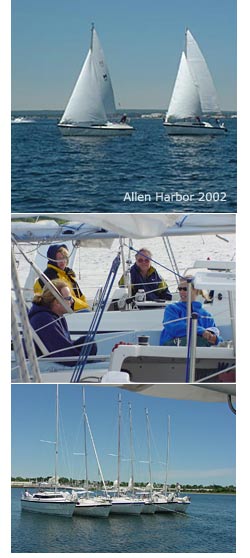 Noth East Trailer Sailors are people who enjoy sailing. Some of us like to sail by ourselves. Others enjoy group events. But "enjoy sailing" is probably at the core of who we are and what we do.
One thing we are not is stuffy. We simply enjoy sailing. It costs $15 to join unlike some groups with fees of hundreds or thousands of dollars. The money is used to cover expenses such as this website, but most are returned to club members in the form of bumper stickers, discount cards, and more.
Our members come from every age group and family situation. There are single sailors, couples and families with children. When we get together (see the schedule) we sail then party on shore. Kids play, barbeques cook, people chat or take walks, etc. A very nice time.
At one time we were a "MacGregor owners group". That's no longer the case. Although many of our members own Macgregors, there are members with Hunters, Catalinas, and more. All are welcome.
During the cold winter, meetings are held in the warmth of indoors. There's an annual party during the holidays that is very festive. And in late winter we meet then travel to the Boston Boat show.
A number of members never attend parties or group sailing events or only participate occasionally. These 'lone' members still benefit from NE-TS by tying into our network of experienced sailors such as through our 'Hail a Member' system (Accessible in the members only section). Other member-only services include the trading board and the travel board. We've got new member benefits in the pipeline as well.
Enjoy sailing rendezvous from New York to Maine, each hosted by experienced club members. Whether this is your first sailing season or your 50th, everyone is welcome;

Participate at winter events which help tie sailors over until the next season;

Access a network of experienced members who are willing to offer advice or suggestions (we've seen examples just within this last year of members doing extraordinary things for other members. Read this article for example;

Obtain a discount card as part of your membership;

Access to exclusive member-only features, such as Hail a Member, Trading Board and Sail Together .

The dues for NE-TS membership are $15 per year.