2006 Winnipesaukee Rendezvous
By Barbara Garland - Pictures by Chuck Healey

The weather wasn't great but if one has a really strong desire to sail, one puts up with a lot. I hadn't been sailing since the 10 of September last year so I was ready. The weather man promised that the rain would come through in about 6 hours and he wasn't too far off. So rather than leaving at 10 am I didn't leave till 3 pm.

I arrived at Fays Marina at about 5pm. We were scheduled to go out to dinner at 6. Problem 1 - the water level was so high that we launched the boat with a tractor. That way we didn't send the car for a swim. I docked the boat, put up the mast and pop top cover and was ready to head out to dinner with the group. I haven't lost my touch of rigging quickly. Our group of 11 boats was dwindling fast but Al & Karen Hill, Chuck, Helen & Brianna Healey and George Lavoie & Ron Couture were there.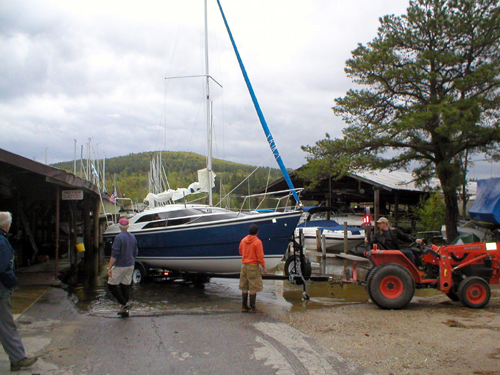 Launching the 26M on Saturday morning

We had a great dinner at Patrick's (right around the corner from Fays) and we arrived back at Fays to find Dan and Linda Lacey - new 26M owners. It was dark and the tractor driver had gone home so they slept in the parking lot. The group gathered on Whale for the evening for some good conversation. It started raining and everyone hung out hoping it would stop. It didn't till well after everyone left.

Saturday dawned cool and cloudy. There were peeks of sun on occasion. At about noon (once the M was rigged) we headed to Weirs Beach for lunch, glasses, T shirts, jewelry and of course an ice cream cone.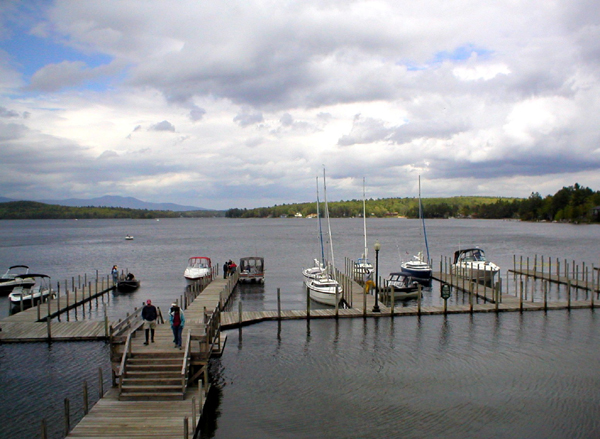 Docking at Weirs Beach

I chickened out on my first solo sail and sailed up with Al and Karen and back with Dan and Linda. The trip back had a first for a Winni rendezvous. We had a rain shower (definitely not a first ) and then a beautiful rainbow (that was a first).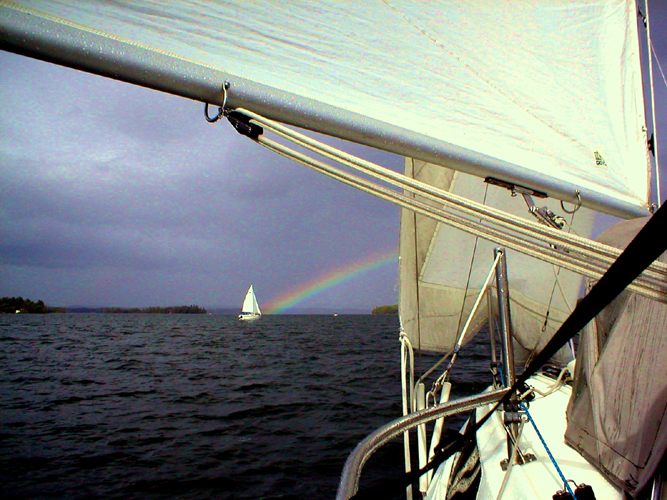 Dinner was again at Patrick's - we liked it so much we went back a second night. The gathering was at George's boat Saturday night. The talking went to kayaking and winter camping as well as sailing and how Dan and Linda met. (ask them some time - it's a great story).
Sunday morning dawned sunny. I finally took my sweat shirt off (but still had the long sleeved turtleneck on. The goal for me for the day was the first single handed sailing experience. Whale was chomping at the bit. She doesn't like sitting at a dock. Her skipper felt the same so at about 10:45 I finally gave up waiting and headed out. I was out about 2 hours and didn't go far - as I was waiting for the other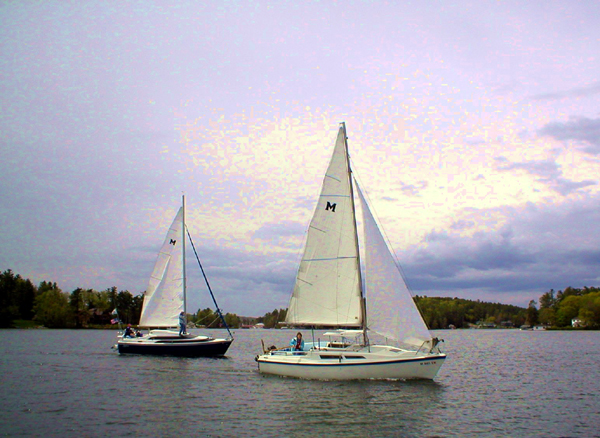 I finally got Whale out by myself - with Spice as a wittness (and Chuck and his camera)

The weather started looking bad around 12:30 so we all headed in and packed up to head home. I left but came right back. I had an unhappy tire and Al helped me change it and lent me his spare for the trip home. Next trip there will be a new tire and a spare.

It was a successful rendezvous as far as I was concerned. Getting back on the water, sailing by myself, seeing old friends, getting to know new ones was great. Oh! I can't forget the hats that went with the theme and the stuffed penguins too.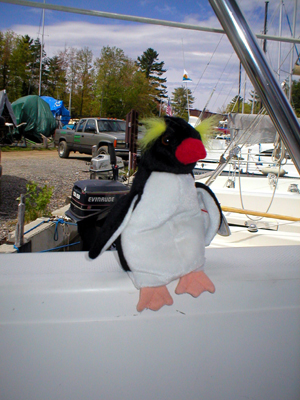 Our mascot

Thanks to Karen for being cruise captain, for Chuck for running the rendezvous, to Al for the loan of the spare, to Dan and Linda for joining the group and being willing to put up with us, and to George and Ron for their smiles and the birthday card.

For those of us there, it was a great (but chilly) start to the 2006 sailing season.

AND WE DID ALL GET TO SAIL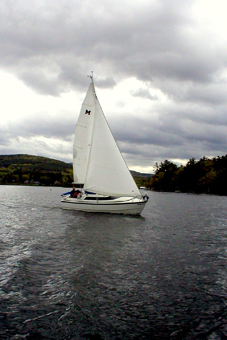 Karamal a 2001 26X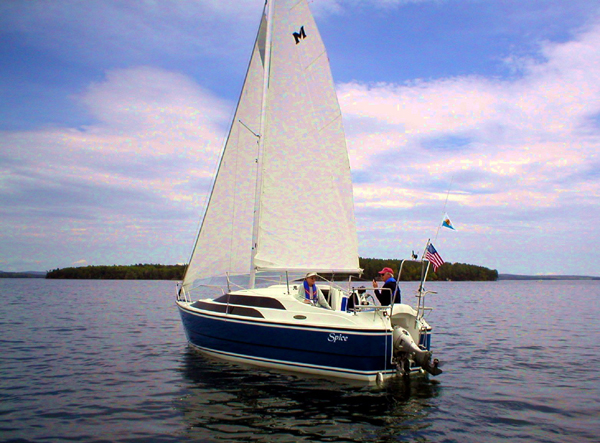 Spice a 2006 26M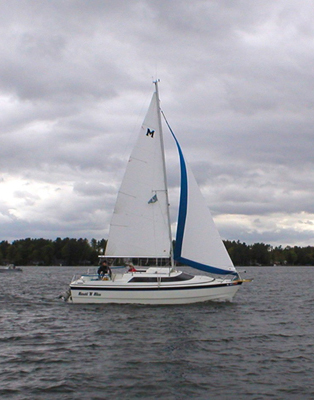 Nauti N Nice a 2001 26X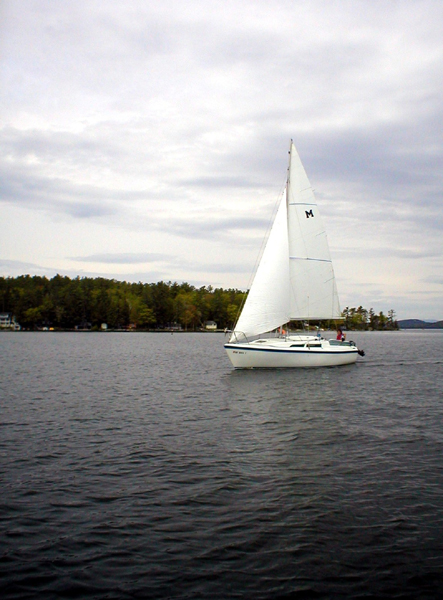 Whale a 1988 26D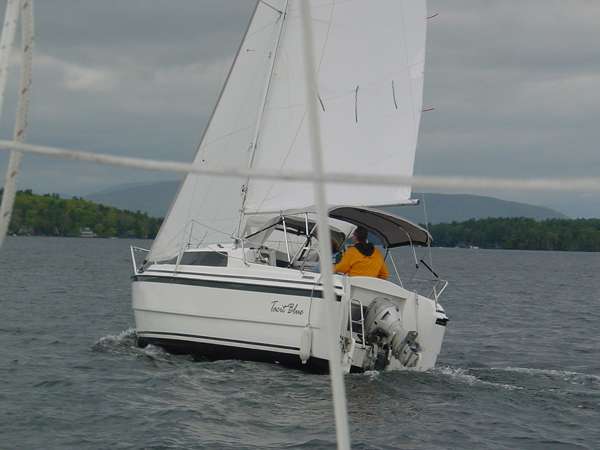 Tacit Blue a 1999 26X

George Lavoie took the picture of Tacit Blue

Additional pictures from Chucks and pictures from George and Ron can be found on the following link. photos