2007 Commodore's Message

Its 6th January 2007 and today the temperature was in the sixties, a real change from previous years. Our first 2007 meeting is in 10 days and new articles for the web site are pouring in. A great start for 2007.
I am honored to have been elected Commodore of NE-TS for 2007 and I appreciate the members of the board who agreed to be elected to help run our unique club.
I was looking at the NE-TS by laws, specifically Article II our object statement.
"The object of the organization is to encourage and foster sailing skills and fellowship among MacGregor owners and other interested parties in the Northeastern United States."
This really expresses what our club is about. The spirit and culture of NE-TS truly does encourage and foster sailing skills and fellowship. I am constantly amazed how a group of people, from all walks of life, and from all over the country, altruistically contribute to this club and promote this culture. The club continues to grow and members continue to contribute.
Like many of our members I joined having minimal sailing skills. I had bought a Venture 22 after a short period "teaching" myself to sail on a local lake in an unsuitable dinghy I happened to purchase. After a few sailing episodes, which were very entertaining to those watching and a 80-20 mixture of terror and pleasure, I attended a MOANE land meeting. I then convinced my family to join a MOANE (now NE-TS) rendezvous on Lake Champlain.
By the end of that week my crew's attitude went from "You must be crazy, lets go home!" to "We are coming back every year!". I think back now about the help and support of club members who went out of their way to help and encourage us, a family of 4 with little sailing skills on a small slow blue boat aptly called Bye & Bye. I have MOANE/NE-TS to thank for my cohesive family who have developed a love for sailing.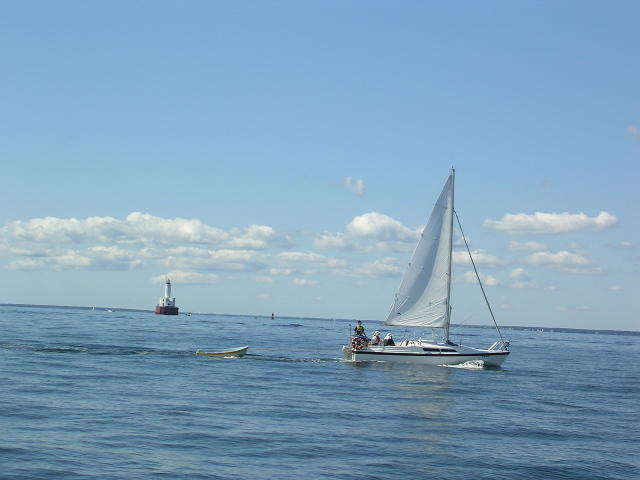 Our club culture is infectious; I see it over and over again, members help each other, embrace new members and do their best to encourage safety, learning and independence. Club members volunteer their time to organizations like the Power Squadron and to giving seminars at shows such as Strictly Sail. Simply part of the culture.
I am really proud to be part of this amazing group known as NE-TS.
I encourage members to try our rendezvouz , most who attend keep on coming back. Our Lake Champlain rendezvous last year was so popular that we formed 2 groups for part of the trip. Our Buzzards Bay/Marthas Vineyard rendezvous was extremely well attended in spite of the bad weather from an off shore hurricane. ( I really appreciated the security of being part of a group on that trip)
We are increasing the amount of sailing seminars at land meetings with topics based on feedback from members. I also encourage all that can, to take advantage of these seminars and the informal sailing related seminars we have (when the weather is bad) during rendezvouz .
Trailer sailing is an affordable way to get on the water and have fun. Take the time on a rendezvous to visit other boats, see the inventive modifications s that others have made and learn from them. I learn't that you can easily "sail big" on a small boat and even cruise in the Bahamas for months, like some of our lucky members.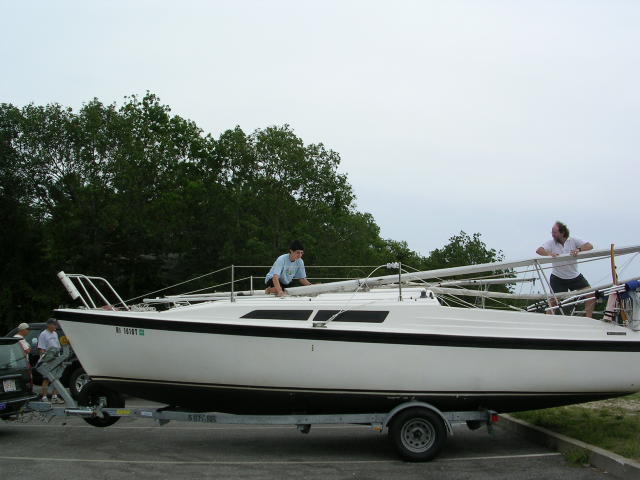 Its only January and 2 members are preparing investigative articles for publishing on our website. One on a "coastal ditch bag" and the other on boat insurance. Keep those articles and pictures coming. For those who can't get together with us in person, the www.ne-ts.com website remains a great way to enjoy NE-TS.
Our extremely impressive website was created by Rick Dieffenbach, who due to work pressures has stepped down from running the site. On behalf of us all I want to thank Rick for the work he did and best wishes in his endeavours. We are lucky to have Paul Seeberg who is taking over as webmaster, I already see some impressive additions. I also want to thank our "mother hen" Barbara for her continuing guidance and help in all areas of running the club.
In 2005 Rick updated our website and added the "Sail with Us" feature that allows members to create their own informal rendezvous which magically seem to happen. I see the product of these rendezvous as articles on the website that create envy of what we have missed. I encourage us all to take advantage of these informal opportunities to sail or even get together. Not only is sailing with others fun, it also adds safety, and members get to share their local knowledge with others.
As life progresses, a few members have been infected by a virus called "bigboatitis". Myself included. MOANE started as a MacGregor owner group and embraced members with other types of trailerable sailboats. Although our new name includes trailer sailing, and the club has a MacGregor heritage, we include "other interested parties" in our Article II. We have a small group of members whose boats are not trailerable. This makes it difficult for them to attend rendezvous outside of their immediate area, but their participation in rendezvous in their sailing grounds is welcomed and appreciated. NE-TS is about a culture which fits well with trailer sailing but is really not limited to the sailboat you have.
Although we are a North East organization, we have members from many parts of the US and Canada. Some of our members sail in Florida and the Carribean in the winter and we have members who travel the length of the US and Canada to sail with us on Lake Champlain.
Truely an amazing organization with a culture that quietly encourages people to meet their life's potential.
Lastly, I see sailing with NE-TS as a family experience. I enjoy seeing the kids who join our rendezvous, and how they are also infected by our culture and get along so well in spite of age and gender differences. In sailing families there is often crew who has been dragged on board, (emotionally rather than physically). At our October meeting a member (the 2006 club secretary, who just happens to be my wife Rani), started exploring this phenomenon and found this to be a popular topic for discussion. Based on interest, we hope to have seminars that help members explore their concerns, fears and captain - crew communications , so that hopefully there will be less crew to be dragged, and that crews will find the aspects of sailing they enjoy. Hopefully communication and learning to share roles will make sailing safer and more enjoyable for all.
I want to thank out going Commodore Bill Brock for leading us during his 2 years as Commodore. In his words (which I took from his 2005 message)
"Please continue to send in your stories, ideas, and photos to share with the group. Get it to the webmasters and they'll take it from there." Here's wishing all of you a great sailing season. We'll see you on the water.
Jack Chadowitz